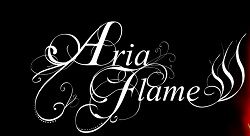 Interview by Jack Williams
Aria Flame was created in the spring of 2011 by dramatic mezzo soprano singer and composer, Aziza Poggi and percussionist, Erik Sales. Before putting a live unit together, Aziza started composing melodies and writing lyrics on her piano. Guitarist Dan Cruzan and bassist & producer Greg Cloon and later joined in as full time members. They are described as a neo classical dark hard rock outfit with a circus like flare, which was created out of the ashes of progressive Egyptian themed metal band Dendura. Whom which was heard on Comedy Central Network, featured in national magazines such as Metal Hammer and Vocals, and also opening for several international acts such as Epica, Unexpect, Scar Symmetry, Edguy, Doro Pesch and The Agonist. They disbanded in late 2010. Their music is inspired from movie soundtrack composers Danny Elfman and John Williams, classical and baroque composers, Beethoven and Handel, and metal bands such as Korn, Nevermore, Revamp. On occasion, Aria Flame will perform Dendura music as well.
Aria Flame's music features classical and haunting rock style female vocals with classical and symphonic keyboards, electric guitar and intricate bass and drums.
Continue reading »
Label: Livewire/Cargo Records
Review by Tony Cannella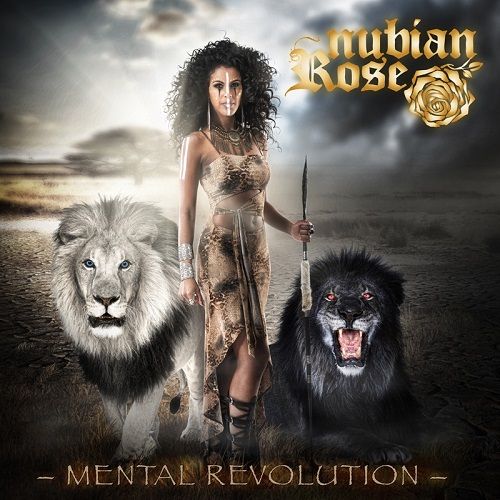 Wow! To say that the Swedish powerhouse metal band Nubian Rose has released their best album would be an understatement. Granted this is only their second record but it is miles ahead of their 2012 debut "Mountain" in terms of production, writing and presentation. I thought "Mountain" was a good enough debut but with their new album "Mental Revolution" the band has really turned it up a notch (or several).
"Mental Revolution" is a high energy, power packed sophomore record with a guitar sound that is just freakin' massive. When the monstrous riff that accompanies the opener "War" kicks in it's time to buckle in and enjoy the ride. Sofia Lilja's vocals are huge throughout the record and soars with the music. Continue reading »
Label: Suburban Records
Review by Tony Cannella
Wow! The new album from Dutch prog metallers Kingfisher Sky is pretty freakin' good. Their 3rd album "Arms of Morpheus" continues on the bands progressive/folk-ish path which began with their 2007 debut "Hallway of Dreams" and things just keep getting better and better.
Opening with "Hypnos", this is a great moody track with changing tempos and a bit of a dramatic vibe; this is a good way to start things. From there we go into "At Least You Tried" continues the album on a positive course. "King of Thieves" is the first single and features a good amount of symphonic and folk elements to go with the prog. Other highlights include: "Open Your Eyes", "Strength of the Endless" and "The Morrigan". Continue reading »
Label: Atlantic Records
Review by Tony Cannella
After releasing four albums for Century Media the American Metal core outfit In This Moment has taken their act to Atlantic Records and have released their 5th album "Black Widow".
I really love the dark and sinister vibe that permeates "Black Widow". It all begins with the intro "The Infection" and continues into my favorite track "Sex Metal Barbie". From there we get the frenzied "Big Bad Wolf". Maria Brink continues to prove that she has one of the most unique voices in their genre of music. Lyrically and musically the band has really outdone themselves and the album has a lot of energy and aggression. "Dirty Pretty" is another favorite as this song has a strong – almost danceable – groove. Other highlights include: "Black Widow", "Sexual Hallucination" and "Sick Like Me". Lyrically, Maria Brink has a lot to say and she says it plenty of vitriol. Continue reading »

For the first time ever many of the biggest and emerging artists of the NL Heavy Music Scene have collaborated to record and release a track to help raising funds for the Red Cross, in occasion of 3FM's Serious Request 2014, a massive dutch charity event that is organised every year by one of Netherland's biggest radio stations. From December 8th 2014, on www.thepoweroflove.nl, fans will be able to give a donation and download a heavy cover of "The Power of Love", originally performed by Frankie Goes to Hollywood. Continue reading »
6 color styles available:

Style switcher only on this demo version. Theme styles can be changed from Options page.
Archives