Label : AFM Records
Review by John Davies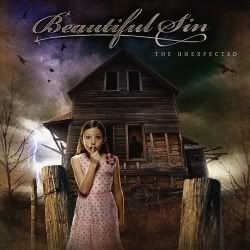 I've been looking forward to writing a review for this album, because it's easily one of the top five albums I've bought in the past couple of years. The sound on this album is huge! It's freakin' colossal! If you're lucky enough to still own a pair of those huge speakers from the old days, with twelve inch bass drivers and a full midrange, then crank it up and just immerse yourself in this glorious metal! This band was formed by Uli Kusch (Masterplan, ex-Helloween) and Belgian singer Magali Luyten, and together they have created one heck of an album. Magali Luyten's vocals are powerful and captivating and the guitars are super sharp, with some very original solos. The song writing is incredible, with every track being an outstanding metal masterpiece. I can't do this album justice with words. The power and passion in these songs just escalates to infinity. The first song "Lost" opens with mega-huge, reverberating guitar notes, followed by Magali's robust vocals, then joined by the hard driving rhythm guitars. Right away you know you are in for a great ride on this album. "This is Not the Original Dream" has a great pounding guitar line that supports enchanting vocals in this anthem style song. "Take Me Home" breaks right into a fast paced, energetic thrill ride, and Magali's voice adds passion galore to this great cut. "I'm Real" has a great, melancholy opening countered with hammering guitar riffs, followed by an amazing, soaring chorus."Spark of Ignition" – Wow! Just wow! An excellent metal song with a very powerful vocal melody, made all the better by Magali's amazing voice. The chorus is just spellbinding, and the guitar solo is absolutely unique. One of the best songs on the album. I could go on, but I think you get the idea. This is a top notch power metal album, filled with awe inspiring songs, enthralling, passionate vocals, and one of the best sounding guitar tracks I've ever heard. The production on this album is incredible, making the guitars leap right out at you and the drums and bass will shake your house to its foundations. I really don't think you can get any better than this. The music is outstanding, and so powerful and Magali's vocals are mind blowing. I love, love, love this album. Power metal as good as it gets.
Rating – 100/100
Tracklist
Lost

This Is Not the Original Dream

Take Me Home


I'm Real

The Spark of Ignition

The Pact of Silence

Closer to My Heart


Give Up Once for All

Brace for Impact

Pechvogel

Metalwaves

The Beautiful Sin
Line Up
Magali Luyten – Vocals

Axel Mackenrott – Keyboards


Jørn Viggo Lofstad – Guitars

Steinar Krokmo – Bass


Uli Kusch – Drums, Backing Vocals
Links
6 color styles available:

Style switcher only on this demo version. Theme styles can be changed from Options page.