Independent Release
Review by Tony Cannella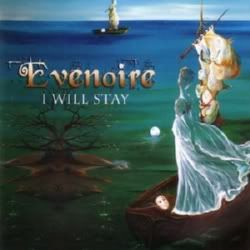 Is Italy fast becoming the capital of the female fronted metal world? It sure seems that way. Another great band to emerge from that country is Evenoire. They have just released their new EP titled "I Will Stay" and man I have to say, that after one listen, I was rendered speechless and that is no easy feat. The band is fronted by vocalist extrodinaire Elisa Stefanoni who also plays flute. The band is completed by Giada Delmiglio (Keyboards), Alex Gervasi (Guitars), Marco Binotto (Bass) and Daniele Foroni (Drums). The music is a heady concoction of power metal, progressive metal and bit of folk metal thrown in for good measure, it all comes together perfectly to produce one great CD. The first song "Azzurrina" really sets the table for what is to come. The song starts off with an eerie keyboard intro before a heavy guitar riff joins the fray. The vocals of Elisa Stefanoni are very good and energetic. She has a great range and excellent sense of melody. The song speeds up a bit and continues with a heavy guitar riff and is a melodic metal masterpiece with a lot of changes in the tempo. This song is a great opener and one of the best tracks this CD has to offer. Near the end of the track Elisa goes into an opera style which is quite astonishing. She certainly has a lot of range and can pull off various styles. The next song "Mirror Lies" is another solid number. It begins with a dreamy, ethereal vibe and again evolves into just a great melodic metal track. Check out the fantastic guitar solo by Alex Gervasi at the end of this track. After another brief keyboard intro, the song "Aries" kicks in. Elisa's powerful vocals lead the way here, near the end she once again adds her opera touch. It is hard to believe that it is the same singer (I believe it is, since no other vocalist is listed on the notes for the CD). She doesn't over-do it with the opera style and that gives it an even bigger impact once it is employed. Final track is the 7-minute title track "I Will Stay". I have to admit that I am partial to longer, epic type numbers, provided they keep the listener interested. "I Will Stay" does just that. Musically the track reminds me a bit of Blackmore's Night, only heavier. The flute – also played by Elisa – is featured prominently throughout the CD and provides a nice touch. It's been awhile since I have been this excited about a new band, but I am pleased to say that Evenoire really are worth getting excited over and are one of the best new bands I have heard in quite some time. The songs and the production are very good with each musician given equal opportunity to shine. I can't say enough good things about this band. Each member is extremely talented and Elisa Stefanoni is one of THE best vocalists I've heard in a long time. After listening to these 4-songs and 25-minutes worth of music, It is my hope and belief that Evenoire with be heard from in a big way.
Rating – 100/100
Tracklist
Azzurrina

Mirror Lies

Aries


I Will Stay
Line Up
Elisa Stefanoni – Vocals & Flute

Alex Gervasi – Guitars

Giada Delmiglio – Keyboards

Marco Binotto – Bass

Daniele Foroni – Drums
Links
6 color styles available:

Style switcher only on this demo version. Theme styles can be changed from Options page.