Label : Maestro I Productions
Review by Tony Cannella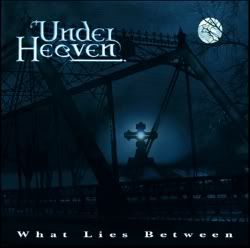 Under Heaven are a Gothic/ambient duo from Toronto, Ontario, Canada. Their line-up consists of only two members, singer Tammy Everett and Matthew Binks who make up the core of Under Heaven. Their debut album – out now on Maestro I – is titled "What Lies Between" and sees the band setting out to take the goth genre to a whole new level. After listening to this 11-song CD, it is apparent that Under Heaven are on the right path. The CD opens some hauntingly beautiful cinematic type music as the opening track "Cryptic" kicks in and right away you can tell Under Heaven are something a little bit different from the norm. The song really gets going as it gets heavier and the soaring vocals of Tammy come in – a nice opener that weaves a beautiful musical tapestry. Next is "Behind The Shadows". It's starts with some excellent piano before launching into a crunchy heavy riff and Tammy's hauntingly beautiful vocals come in once again. Next is "The Line".This is where the band shows off a bit of a Celtic influence, with a nice, bouncy violin intro. In fact, violin is featured prominently throughout this song. Next up, we have the first of two cover songs. It is a version of the Chris DeBurgh song "Spanish Train" and man this version is a real treat to listen to. It starts off with some Spanish guitar and it really moves along like a train. Tammy incorporates a different style here as the she take on the role of story teller. She is joined by two male vocalists: James Everett (as the Devil) and Mike Ferfolia (as God). The song also features some cool orchestration and such great peaks and valleys, that it instantly became one of my favorites. Next is "Die a Little More". It begins with some melancholy sounding piano and Tammy's wistful vocals come. The song gets heavier around the chorus, but it is still a powerful, heartfelt number. The songs are very well written and lyrically many of the tracks are dealing with very real emotions and the musicianship really makes them come alive. Continuing on "Home", the 7-minute "Pandora", "Inner Sun" and "My Crystalline" are definitely four more highlights. Their version of the Depeche Mode song "Enjoy the Silence" is the second cover presented here and once again the band do a great job with it. The final song "We Go On" is just pure beauty and emotion and a nice way to end things. It is hard to really find any band to compare them to, but they remind me a bit – at times – of the great Norwegian band The 3rd and the Mortal. The songs on "What Lies Between" have so much depth and emotion that it is hard not to root for a band like this. They may be a goth band at heart, but they are also not afraid to come out of that box and go in a different direction. Throughout the 11 songs and 55 minutes worth of music contained here, you can also hear some Celtic influences as well as 70′s prog rock. I'll be the first to admit that I am no goth aficionado, but you don't have to be to enjoy Under Heaven. They can – and should – be enjoyed by all.

Rating – 80/100
Tracklist
Cryptic

Behind the Shadows

The Line


Spanish Train

Die a Little More

Home

Pandora

My Crystalline


Inner Sun

Departir

Enjoy the Silence (Depeche Mode Cover)

We Go On Amin

Levis

Under der Linden

Line Up
Tammy Everett – Vocals

Matthew Binks – Composer & Musician
Links
6 color styles available:

Style switcher only on this demo version. Theme styles can be changed from Options page.