Label: Spinefarm Records
Review by Tony Cannella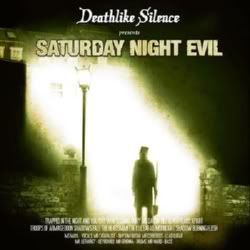 Appearance's can be deceiving. Look no further than Finland's Deathlike Silence. I was all ready to write them off as some Gothic wannabes based on their album cover, song titles and lyrical subject matter. Then I listened… and man that assessment could not be further from the truth. After listening to their new CD "Saturday Night Evil" I was shocked (and in a good way) with what I was hearing. I'll let the listener decide which genre the band should fit in, but to these ears they are definitely not Gothic. Before getting into the music on this stunning CD, I will introduce the band line-up to you. Ms. Maya (Vocals), Mr. Catafalque (Guitar), Mr. Cerbeross (Guitar), Mr. Ward (Bass) and Mr. Thomas Lethargy (Keys). Without further adieu, it's time for some "Saturday Night Evil"."Trapped in the Night" starts things off in a powerful way with a great guitar riff as the vocals of Ms. Maya come in. A solid first track that immediately grabbed my attention and raised an eyebrow or two. The next "And You Cry" has a classic Rainbow vibe to it and the song just soars. One of the many highlights on this CD. "Who's Gonna Bury Me" begins with a pretty piano passage, before giving way to just heavy riff and the song really starts to take off. The vocals of Ms. Maya are crystal clear and just plain phenomenal. Lyrically the band draws on horror movie themes and even the band's name comes from a line in the movie Dracula so that should tell you where their inspiration lies. Personally, I enjoy the lyrics a lot as the band definitely paints a dark, sinister picture with their subject matter, yet also maintaining a sense of humor as well. "The Headsman" features a great sing-along chorus that is also very powerful and forceful. "They'll Eat Us" is a hauntingly beautiful ballad that really sets a definite mood and atmosphere as the surprises just keep on coming – out of the 11-songs on this CD, I would have to say this one is my favorite – for now. I will go out on a limb and say that this is THE best song about cannibalism ever written. The final two songs "Moonlight Shadow" and "Burning Flesh" really end things on a strong note. "Moonlight Shadow" in particular features a smoking guitar solo. Other highlights include: "Dagon" (another powerful chorus and strong vocals on this one), "Till Death Tears Us Apart", "Troops of Armageddon" and "Shadows Fall". "Saturday Night Evil" is a CD that really caught me by surprise and an album that I enjoyed immensely. The band has put out an album that has no weak songs and you can listen to it from beginning to end. Don't let the band name and subject matter scare you off. Deathlike Silence are just a good band that play metal with large doses of melody, excellent vocals and strong musicianship. Here's hoping that "Saturday Night Evil" propels this Finnish band to great heights. Judging by the 11-songs and 44-minutes worth of music on this CD, they deserve it!

Rating – 90/100
Tracklist
Trapped in the Night

And You Cry


Who's Gonna Bury Me

Dagon

Till Death Tears Us Apart

Troops of Armageddon

Shadows Fall

The Headsman

They'll Eat Us

Moonlight Shadow

Burning Flesh

Blown Away

One Heart

Unchained Someday

For Love
Line Up
Maya Liittokivi – Vocals

Ville Taina – Guitars

Elmo Karjalainen – Guitars


Tuomas Yli-Kovero – Keyboards

Tobias Björkwall – Bass

Janne Venho – Drums
Links
6 color styles available:

Style switcher only on this demo version. Theme styles can be changed from Options page.