Label: KE Records
Review By Tony Cannella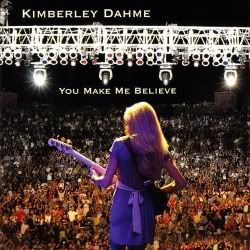 Now for something completely different. Kimberley Dahme is an American singer/songwriter from Nashville, Tennessee. She plays a mix of rock, country and blues, okay she really is not metal at all, but her new CD (which is her sixth overall) titled "You Make Me Believe" really rocks. In addition to her solo career, Kimberley also serves as the bass player for legendary American AOR band Boston. In fact, two members of Boston appear on this CD as Gary Pihl and Jeff Neal both lend their immense talents and abilities."Can't a Girl Change Her Mind" is the bouncy country tinged opener, that sets the mood. "Rock You Like a Baby" follows that up and it is more of a laid back number, but one of the highlights on this 11-track 38-minute release. The next track "Lighthouse" slows things down even more with Kimberley sounding a bit like Johnette Napolitano (ex-Concrete Blonde vocalist). The biggest surprise on the CD is "No Question", an acapella song that features some beautiful choir-like background vocals that give it a rich texture. Other highlights include: "You Make Me Believe", "Jet Lag City", the sax heavy "Something We Do" and the final track "With You".I was a bit surprised when this CD came my way, since it is decidedly un-metal but "You Make Me Believe" is a good release, that offers something a little different than what the average metal head is accustomed to. Hey, you can't bang your head all the time and besides no matter what genre of music you are a fan of, there is no denying the talent of Kimberley Dahme and the quality of the music on "You Make Me Believe".
Rating – 78/100
Tracklist
Can't A Girl Change Her Mind

Rock You Like a Baby

Lighthouse

You Make Me Believe

Something We Do

No Question

Jet Lag City

The Only Man

Love Don't Leave Me Now

It Takes Two to Fall

With You
Line Up
Kimberley Dahme – Vocals & Bass

Gary Pihl – Guitars

Jeff Neal – Drums
Links
6 color styles available:

Style switcher only on this demo version. Theme styles can be changed from Options page.