Label : Firedoom Records
Review By Tony Cannella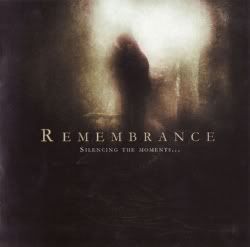 Carline Van Roos and Mathieu Sachs are very busy people these days. Not only are they part of the French Doom Metal band Lethian Dreams but they also front the band Remembrance also from France. The band describe themselves as funeral doom/death metal, so that should tell you all you need to know about where this band is coming from. Joining Carline (Keyboards, Vocals and Bass) and Mathieu (Guitars and Vocals) in the band is Norman Muller (Drums). The band has just issued their album "Silencing The Moments…" and it is a brilliant slice of down-tuned, doom metal of the finest and fiercest order. Like Lethian Dreams, Remembrance's "Silencing The Moments…" contains only 6-songs, yet clocks in at 56-minutes long. Most of the songs are between 9 and 12-minutes long. There is a lot of music hear. The song "Thief of Light" starts the doom. With it's eerie intro that builds to a crescendo as the track kicks in. The majority of the vocals are handled by Mathieu on this song and his style is of the more extreme nature. Carline joins in near the end of the song. The song builds nicely and it really is a great indicator of what Remembrance is all about. "Death Diaries" is next and it begins with a nice keyboard intro before the heaviness kicks in. This song is just out-and-out down tuned heaviness. Once again Mathieu handles most of the vocal duties with Carline providing background and harmony support. This song is very atmospheric and a definite highlight. Track 3 is the title song. "Silencing The Moments…" begins with a nice piano intro and Carline's vocals coming in over it. As the heaviness picks up the pace, the vocals of Mathieu comes in and really take over the song. This track is another highlight and it is obvious that Mathieu and Carline have great chemistry together. The next song "These Hallways Are Eternal" is also the shortest at almost 3-minutes long. It features some eery keyboard music with Carline's soft voice spoken over it. It creates a cool vibe and offers a bit of a change of pace. The final two songs "Fragments" and "One Reckless Sleep" end things on a heavy, doomy note and are two more highlights and a solid way to bring things to a close.What can I say? With "Silencing The Moments…" Remembrance have put out a solid release that is another fine statement in the doom genre. The songs are well written, well produced and the CD as a whole is very impressive and a great accomplishment for this trio of musicians.
Rating – 75/100
Tracklist
Thief of Light

Death Diaries

Silencing the Moments

These Hallways Are Eternal

Fragments

One Reckless Sleep
Line Up
Matthieu Sachs – Guitars, Vocals

Carline Van Roos – Keyboards, Bass, Backing Vocals, Drum Programming

Norman Müller – Drums
Links
MySpace * Facebook * Twitter * Site
6 color styles available:

Style switcher only on this demo version. Theme styles can be changed from Options page.