Label : Recital Records
Review By Tony Cannella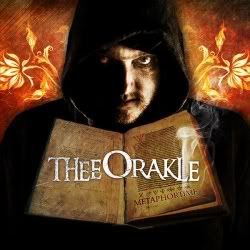 From Portugal, Thee Orakle play gothic/death/doom metal. Their full-length debut is titled "Metaphortime" and it is out now via Recital Records. The band utilizes the tried-and-true formula of aggressive death metal-like male vocals (provided by Pedro Silva) contrasted with angelic sounding female vocals courtesy of Micaela Cardosa. The results are definitely positive throughout the course of the CD. "Metaphortime" features 10-songs and about 52-minutes worth of playing time with several songs in the 7-8 minute range. Even though the bands sound is often described in the Death/Doom metal sub genres, the band changes moods and tempo effortlessly throughout the CD and this really keeps things interesting, but make no mistake about it, the music on this CD is almost always heavy. Highlights include: "Knowing Anguish", "All Way Down", "The Great Masterpiece", "Never-Ending Dilemma" and the beautifully melancholic outro piece "Feeling Superior Knowledge". Another favorite is "White Linen" featuring vocal and guitar contributions from Daniel Cardoso and Pedro Mendes, in fact I was really surprised by this song, it definitely has the potential to be successful for the band if they choose to release it as a single – all of the vocals are handled by Micaela and Daniel Cardoso on this one. It definitely stands out amongst the heavier more brutal music on "Metaphortime".With "Metaphortime", Thee Orakle have certainly recorded a strong debut that really benefits from it's great production provided by Daniel Cardoso and Pedro Mendes. The sound of this CD is so huge and in-your-face that it is impossible to dismiss and so are Thee Orakle.
Rating – 80/100
Tracklist
Knowing Anguish

All Way Down

Ghost Memories

The Great Masterpiece

Quimera Metalmorphosis

Never-Ending Dilemma

White Linen

Alchemy Awake

Unexpectable Condormity

Feeling Superior Knowledge
Line Up
Micaela Cardoso – Vocals

Pedro Silva – Vocals

Romeu Dias – Guitars, Samplers

J. Ricardo Pinheiro – Guitars

Luis Teixeira – Keyboards, Samplers

Daniel Almeida – Bass

Frederico Lopes – Drums
Links
6 color styles available:

Style switcher only on this demo version. Theme styles can be changed from Options page.