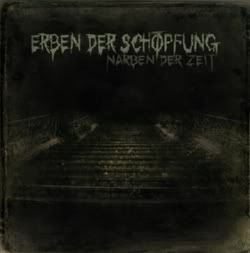 Hailing from Lichtenstein Erben der Schöpfung have been in existence since 2000 and have just released their second full-length CD titled "Narben der Zeit" and it features 10-songs and 56-minutes worth of some pretty good goth/electronic metal with an emphasis on melody. Usually whenever this band is mentioned, it is in conjunction with fellow countrymen Elis, since Elis includes several former members of Erben der Schöpfung, but this band is good enough to stand on their own and the music contained on "Narben der Zeit" is a testament to that. "Frequency" is the first track and it combines the heaviness of metal with modern electronic sounds, it is a good opener that is very catchy. The band follow that up with the track "Jane Churm", a good melodic track that sets the right tempo and is one of the absolute highlights. The third track "Homeless" slows things down a notch. It is a stirring ballad and the vocals of Dina Falk are nothing short of breathtaking on this one. The song also feature some nice orchestration and it has a different tone than the other songs on this CD, making it another track that definitely stands out. "Der Tote See" speeds things up a bit and brings back the electronic elements. Other highlights include: "Leaving", "Locked", "Your Lullabies" and "Twisted" closes the album. It's amazing to me that Erben der Schöpfung have been around for as long as they have, yet still have gone relatively unnoticed. This band has a lot to offer the metal world and after listening to their newest output "Narben der Zeit" one can only hope that they get the attention and support that they so richly deserve.
Rating – 80/100
Tracklist
Frequency

Jane Churm

Homeless

Der Tote See

Leaving

Freeze My Soul

Locked

Krähenaugen

Your Lullabies

Twisted
Line Up
Dina Falk – Vocals

Rino Vetsch – Guitar

Florian Riederer – Guitar

Oliver Falk – Keyboards

Jens Wagner – Bass, Vocals

Pady Margadant – Drums
Links
6 color styles available:

Style switcher only on this demo version. Theme styles can be changed from Options page.