Label : Metal Mind Productions
Review By Tony Cannella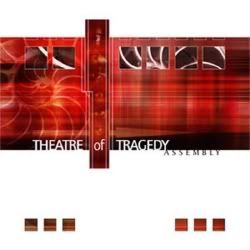 The Polish label Metal Mind have re-issued two of the more interesting albums from Norwegian metallers Theatre of Tragedy. "Musique" and "Assembly" are the last two CDs that the band recorded with current Leaves' Eyes singer Liv Kristine and they also saw the band abandoning their gothic metal sound for a more industrial/electro pop direction. The second of those releases is "Assembly" – which was originally released in 2002. This re-issue features the full CD along with 3 unreleased tracks. The CD begins with the up-tempo robotic number "Automatic Lover". The vocals are mostly handled by Liv on this one and she employs a different style than what we are used to. Raymond Rohonyi joins in for the chorus. The guitars are more pronounced and heavier than on "Musique". As I said this is the second album of their electro pop phase, so the shock should be worn off. A solid opener, for sure and a good way to get things started. "Universal Race" is next and it is a fast, bouncy, up-tempo track and once again the guitars are more noticeable. Track 3, "Episode" begins with one of the heavier guitar riffs that can be heard on either of these two CDs, before settling into a comfortable groove. "Play" and "Superdrive" are two more strong tracks. "Let You Down" is next and it is perhaps the best song on this CD. If I remember correctly, the band made a video out of it and it is a solid choice. Other key songs are: "Starlit", "Envision" and "Liquid Man". A cover of the Supremes song "You Keep Me Hangin' On" is the first of the three bonus tracks, I'm more familiar with the Kim Wilde version that came out in the 80′s, so this was a bit of a surprise to hear this, but it is still quite good. The final two tracks are re-mixes of "Let You Down" and "Motion". The version of "Let You Down" in particular is quite good and it is interesting to hear a bit of a different take on the song. The guitars are brought out more on this version and it is 3-minutes longer than the original version. In my opinion, "Assembly" is the better of the two releases. The band seem much more confident in finding their way with the new musical direction and the songs are more guitar driven, diversified and melodic. It has been a while since I listened to these CDs, but with the passage of time I have come to realize that these CDs are not bad at all. One of the more interesting things is the vocals of Liv Kristine as she proves that she can do more than the soprano thing and she pulls it off quite well. Whatever you think about the new direction ToT adopted for these two albums, you have to give them credit for trying something a little bit different and doing a pretty good job at it as well. "Musique" and "Assembly" remain two of the more fascinating albums in the catalog of Theatre of Tragedy.
Rating – 75/100
Tracklist
Automatic Lover

Universal Race

Episode

Play

Superdrive

Let You Down

Starlit

Envision

Flickerlight

Liquid Man

Motion

You Keep Me Hangin' On (Bonus Track)

Let You Down (Remix) (Bonus Track)

Motion (Funker Vogt Remix) (Bonus Track)
Line Up
Raymond István Rohonyi – Vocals

Liv Kristine Espenæs – Vocals

Vegard T. Thorsen – Guitar

Frank Claussen – Guitar

Lorentz Aspen – Keyboards

Hein Frode Hansen – Drums
Links
6 color styles available:

Style switcher only on this demo version. Theme styles can be changed from Options page.