Label : Grau/Greyfall
Review by Tony Cannella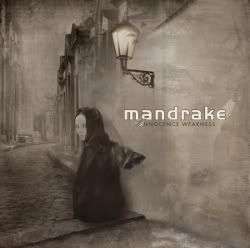 Mandrake is a Gothic Metal band from Deutschland. Their latest – and fifth – full-length release is titled, "Innocence Weakness" and features 12-songs and 50-minutes worth of high caliber dark, Gothic metal with a hint of Doom Metal sprinkled throughout the CD. Mandrake was originally formed in 1995, making them veterans of the metal scene. I had no idea that they had such a rich heritage but after listening to "Innocence Weakness" it is no wonder that the band has been able to stick it out, as the quality music on this CD will attest to. The band is led by the duel male/female, beauty and the beast type vocals of Birgit Lau and guitarist Lutz de Putter. The result is quite satisfying indeed. The opening intro track "Prelude" truly sets thing in motion for the powerful track "A Secret to Reveal". "Save Us from Ourselves", "A Serenade to the Sea" and "Among the Demons" keep the momentum going, before the instrumental "Innocence" gives the listener a chance to catch their breath. The next track, "Autumn Infinity" is probably my favorite, as the band brings the tempo up a bit.The beautiful country of Germany has a long history of supplying the world with some great metal bands, of all shapes, sizes and styles. Mandrake is yet another band to add to that countries metal legacy.
Rating – 83/100
Tracklist
Prelude
A Secret to Reveal
Save Us from Ourselves
A Serenade to the Sea
Among the Demons
Innocence
Autumn Infinity
Coma
Indignation
Existence
Silhouette
Weakness
Line Up
Birgit Lau – Vocals
Lutz de Putter – Vocals, Guitar
Julius Martinek – Guitar. Keyboards
Garvin Bösch – Bass
Jörg Uken – Drums, Keyboards
Links
6 color styles available:

Style switcher only on this demo version. Theme styles can be changed from Options page.