Label : Nuclear Blast Records
Review by Tony Cannella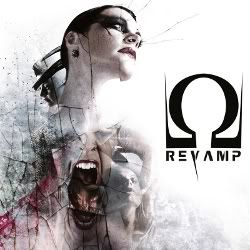 Many were absolutely blind-sided when it was announced that the legendary, long running Dutch band After Forever had decided to call it a day, especially because their self-titled final album saw the band at the top of their game. Now, AF fans can rejoice, because singer Floor Jansen is back with her new project, ReVamp. This new musical endeavor sees Floor picking right up where her previous outfit left off, while adding new and different elements to keep things progressing at a steady pace. ReVamp has many of the same bombastically, symphonic vibes that After Forever had. Floor sings better than ever and on this debut she is joined by three different male vocals to add their talents. The CD begin on a seriously ferocious note from the opening riff of "Here's My Hell". This is just a heavy, go-for-the-throat opener that sees ex-Orphanage grunter George Oosthoek adding some vocals to the track. This song also features a huge After Forever like chorus. If there were any doubts concerning Floor's post AF career, they were quickly erased after hearing this stormer of an opening track. The next track, "Head Up High" slows the tempo a bit whilst not sacrificing any bombast or melody. The third track, "Sweet Curse" is a duet with Floor and Symphony X frontman, Russel Allen. This is a beautiful duet with the two great vocalists and one of the highlights, for sure. There is plenty of variety to be found on ReVamp, which is a huge strength for the CD. Other highlights include: the melodic, "Million", "Disdain" (featuring Bjorn Strid from Soilwork on vocals), "The Trial of Monsters", "Under My Skin" and "I Lost Myself". But honestly, it's all pretty solid. I am a little bit biased, because quite simply Floor Jansen is one of my favorite singers, and the debut album by ReVamp does not disappoint, not for a minute. ReVamp is an inspired release from start-to-finish. A great album that fans of After Forever and symphonic power metal should love. Welcome back Floor!
Rating – 95/100
Tracklist
Here's My Hell
Head Up High
Sweet Curse
Million
In Sickness – 'Till Death Do Us Part: All Goodbyes Are Said
Break
In Sickness – 'Till Death Do Us Part: Disdain
In Sickness – 'Till Death Do Us Part: Disgraced
Kill Me With Silence
Fast Forward
The Trial of Monsters
Under My Skin
I Lost Myself

Line Up
Floor Jansen – Vocals

Jord Otto – Guitar

Arjan Rijnen – Guitar

Ruben Wijga – Keyboards

Jaap Melman – Bass

Matthias Landes – Drums
Links
MySpace * Facebook * Twitter * Site
6 color styles available:

Style switcher only on this demo version. Theme styles can be changed from Options page.