Label : Pervade Productions/Thundering Records
Review by Tony Cannella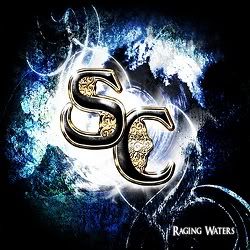 France's Syrens Call has a long history that began in the late 90s. They play melodic Progressive Metal filled with rich harmonies and melodies, all of which can be heard on their just released third mega-opus, "Raging Waters". "Raging Waters" kicks off with the pounding, up-beat "Hang On to Life". Syrens Call manages to write great songs that should please the progressive crowd while still managing to incorporate a classy commercial appeal to the songs. Highlights include: "I'm Your Only One", "Ashes of Destiny", "Perfidious Paradise", the haunting "Never Come Back Home" and "Desecrated Past" which starts of as a ballad and quickly picks up the tempo as the song progresses. The Coup de grace is the final track, the epic musically bombastic over 13-minute "The Dance of Light". This is just a wonderfully, huge way to end things that really left me wanting more. I love progressive music as much as the next guy but Syrens Call manages to avoid the traps that many prog bands fall into, writing songs with endless arrangements and performing musical gymnastics. There is some of that on "Raging Waters", but the band also proves that they are well adept in writing good songs, whether they are 4-minutes or 13-minutes long. In the end, it is all about the songs. "Raging Waters" by Syrens Call is as good as any female fronted prog-metal that I have heard in years. The band does a masterful job at mixing the intricacies that progressive bands are known for, while still maintaining a solid melodic base that could please fans that are not necessarily into Progressive Metal.
Rating – 92/100
Tracklist
Hang On to Life

I'm Your Only One

Ashes of Destiny

Cruel Love

Perfidious Paradise

Never Come Back Home

Desecrated Past

One Bloody Kiss

Relapse

The Dance of Light
Line Up
Soraya Hostens – Vocals

Thibaut Coisne – Lead Guitar

Stéphane Thuriot – Rhythm Guitar

Frank Manier – Keyboards

Eric Serre – Bass

Sébastien Paul – Drums
Links
6 color styles available:

Style switcher only on this demo version. Theme styles can be changed from Options page.