Label : Frontiers Records
Review by Tony Cannella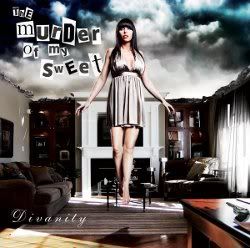 I realize that 2010 is only a few weeks old, but the debut release from the Swedish band The Murder of My Sweet is the best album I have heard so far this year. Okay, maybe that's not saying much given the fact that the new year has only just begun, but "Divanity" is also as good as most anything I heard in 2009 as well. The style that prevails throughout the CD is hard to nail down. "Divanity" features some truly complex pieces of work, but the band is also quite skilled at playing melodic hard rock and metal. The songs throughout "Divanity" are delivered with a great deal of passion, energy and conviction. From the very first track, I was hooked. This 53-minute opus really delivers from the very first song "No Evil" and there are hardly anything that can be considered fillers. The songs flow together nicely and the lyrics are really interesting as well, as they seem to tell stories within the songs. The vocals of Angelica Rylin are really excellent as well. Some favorites include: "Follow the Rain" and "Bleed Me Dry" (the videos for these two songs can be viewed at their official My Space profile), "Chemical Attraction", "Kiss of Death", "Revolution" and "Valerie". The final track "Death of a Movie Star" is a masterpiece that brings "Divanity" to a hugely bombastic conclusion, with it's complex, orchestral arrangement and it's "Bohemian Rhapsody" kind of feel to it. This song is literally all over the place and just an overall big rock track. When all is said and done The Murder of My Sweet have delivered a huge sounding CD in "Divanity" that melds listener friendly hard rock with melodic metal and complex musical arrangements. It is a perfect combination that never fails to succeed and "Divanity" is a release that never fails to impress.
Rating – 95/100
Tracklist
No Evil

Follow the Rain

Bleed Me Dry

Chemical Attraction

Kiss of Death

One Bullet

Tonight

Storms of the Sea

Destiny

Revolution

Valerie

Death of a Movie Star
Line Up
Angelica Rylin – Vocals

Daniel Palqvist – Guitars

Andreas Lidahl – Keyboards

Johan Niemann – Bass

Daniel Flores – Drums & Strings Arrangements
Links
MySpace * ReverbNation * Facebook * Twitter * Site
6 color styles available:

Style switcher only on this demo version. Theme styles can be changed from Options page.