Label : Frontiers Records
Review by Tony Cannella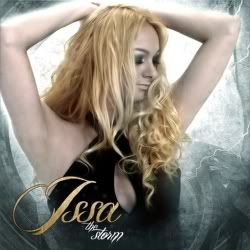 The Norwegian queen of Melodic Hard Rock returns with her second album "The Storm". On her debut album "Sign of Angels" Issa filled in a niche which not many people are doing these days, easily digestible Hard Rock with tons of melody and a lot of commercial potential. She continues on that path with her sophomore effort "The Storm" which is released by the prolific label Frontiers. The first thing that catches your attention is Issa's voice. This lady can really sing, and whether or not you like this type of music there is no denying the power and emotion behind her voice. A lot of the songs deal love, loss andmore love, so don't expect anything lyrically groundbreaking here. The opening two songs "Looking for Love" and "Please Hold On" set the tempo. The 3rd song "Take a Stand" is a very memorable track, that relates a positive message and is one of the best tracks, in my opinion. "Invincible" is next and is your basic power ballad, but still very well done, you can almost envision this song in a movie. "Two Hearts" has a nice melodic hook and a strong rhythm to it. "Black Clouds" is a song that I really loved. The song has some teeth to it and displays a bit of attitude which immediately makes it stand out. As with "Sign of Angels" Issa has once again surrounded herself with some great musicians, producers and songwriters, but there is no doubt that Issa is the star here and the main focus. She deserves to be (it is her name on the album after all), but beyond that she is a huge talent who continues to grow. Maybe there is not much here that would appeal to your average metal fan, but if you were a fan of her debut than you should love "The Storm". Issa is a change of pace for any metal fan, but it does satisfy a segment of fans who like quality melodic AOR flavored rock, which is hard to find these days.

Rating – 75/100
Tracklist
Looking for Love

Please Hold On

Take a Stand

Invincible

Two Hearts

Black Clouds

You're Making Me

Gonna Stand by You

We're on Fire

Too Late for Love

What Does It Take

The Storm
Line Up
Issa – Vocals

David Sivelind – Guitars & Bass

Johnny Trobro – Bass

Daniel Flores – Drums, Keyboards & Bass
Links
6 color styles available:

Style switcher only on this demo version. Theme styles can be changed from Options page.