Label : Nuclear Blast Records
Review by Tony Cannella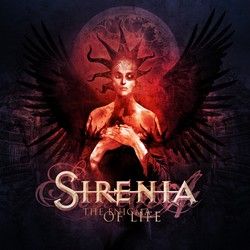 The long running Norwegian Symphonic/Gothic Metal band Sirenia has always managed to write good songs, going all the way back to their 2002 debut, "At Sixes and Sevens" right on up through their excellent 2009 release "The 13th Floor" – which was the first album to feature new vocalist Ailyn. Now, the band returns with their fifth full-length release "The Enigma of Life". Sirenia has always done a great in incorporating choirs and symphony elements into their music and "The Enigma of Life" is no different, they also don't stray too far from what their fans love about them. As on their previous album, vocalist Ailyn does a great job throughout the course of "The Enigma of Life". The melodically charged opener "The End of It All" begins things, with a big symphonic arrangement and a wickedly infectious chorus and melody. That is pretty much what you can expect on "The Enigma of Life", plenty of well written songs, with thoughtful and articulate lyrics. Morten Veland adds his vocals (both harsh and clean) to the mix at certain points throughout the CD. "Fallen Angel", "All My Dreams" and "Darkened Days to Come" are three more highlights, while the album is concluded by my favorite song "The Enigma of Life", which ends the CD on a definite high. It is good to see that Sirenia continues to grow and mature. With Ailyn firmly entrenched now and fitting in quite well in the vocalist role, "The Enigma of Life" is sure to please die-hard fans and just may acquire Sirenia some well deserved new fans as well.
Rating – 87/100
Tracklist
The End of It All
Fallen Angel
All My Dreams
This Darkness
The Twilight in Your Eyes
Winter Land
A Seaside Serenade
Darkened Days to Come
Coming Down
This Lonely Lake
Fading Star
The Enigma of Life
Line Up
Ailyn (Pilar Giménez García) – Female Vocals
Morten Veland – Clean/Harsh Vocals, Guitar, Bass, Drums, Keyboards, Programming
Links
MySpace * Facebook * Google Plus * Twitter * Site
6 color styles available:

Style switcher only on this demo version. Theme styles can be changed from Options page.