Label : Femme Metal Records
Review by Tony Cannella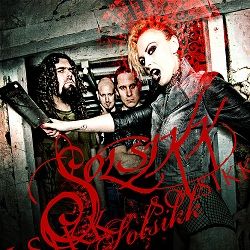 After releasing a demo in 2007 and an EP ("Volatile Territory") in 2009, the UK.'s Groove-Metal band Solsikk returns with their ferocious full-length debut, simply titled "Solsikk". I have to admit that I first became a big fan of Solsikk when I first heard their demo; it is hard to believe that it's been four years since then, and now their debut full-length is finally unleashed upon an unsuspecting metal world. Throughout the 10-song 42-minute debut, you can hear re-recorded versions of songs that already appeared on their demo and "Volatile Territory" EP. These new versions of those songs are helped out by better production and even more power than the original versions. The opening track "Relish in Nervous Delights" gets things off to a frenzied start. The following track "Viridescere" brings forth even more intensity as vocalist Vykki Turner spits out the vocals in rapid fire succession. Solsikk also filmed a video for this track. "Keep Pushing Me" and "Freefall" two songs that can previously be heard on their first demo are next. "Cut a Little Deeper" is a cool ballad that gives the listener a chance to catch their breath, before the band launches into the aggressive "Your Blistering Tongue", which has always been my favorite song from Solsikk. Other highlights include: "Razored Cell", "Volatile Territory" and "Bloodlust". It is good to finally hear a full-length from Solsikk. After the impressive initial demo and EP, the band has really delivered here. The band delivers an album worth of unrelenting guitar riffs and a perfect balance of melody and aggression.
Rating – 88/100
Tracklist
Relish in Nervous Delights
Viridescere
Keep Pushing Me
Freefall
Cut a Little Deeper
Your Blistering Tongue
Needles and Pins
Razored Cell
Volatile Territory
Bloodlust
Line Up
Vykki Turner – Vocals
Chris Webb – Guitar
Mark Mulcaster – Bass
Matt C. – Drums
Links
MySpace * ReverbNation * Facebook * Twitter
6 color styles available:

Style switcher only on this demo version. Theme styles can be changed from Options page.