Label : Scarlet Records
Review by Tony Cannella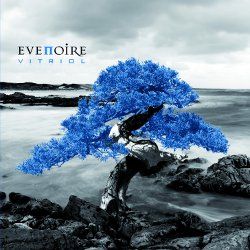 The Italian band Evenoire has been with us since 2006 and in 2009 they gave us a decent four song EP called "I Will Stay". Now the band returns with their full-length debut "Vitriol". It is a well known fact that the country of Italy has give us many, many great female fronted bands and with "Vitriol" Evenoire are sure to add to the Italian tradition of great metal. On "Vitriol", Evenoire really doesn't create any boundaries for themselves, they aren't beholden to any one style, and that is refreshing. They combine the best elements of symphonic, folk, gothic and progressive metal with a medieval vibe in some of the songs to create one of the best albums of the year thus far. Vocalist Lisy Stefanoni's has so many layers to her vocals and is a powerful presence throughout the album. As far as pure singers go, she is one of the best that I have heard in a long time. Of course opinions are all subjective but I would put her in the same class as Floor Jansen, Simone Simons, Sharon den Adel and Tarja Turunen, she is that good. The intro "Vitriol" is a quiet piano and symphonic piece that leads into the symphonic "Days of the Blackbird"; this track features blasts of heaviness and changing tempos to deliver an excellent opener. Lisy sings in both an operatic and soaring rock style, something she is able to do throughout the album is sing in a number of different styles in one song. "Misleading Paradise", opens with a flute played by Lisy (which is prominently featured throughout the album), before the crunching power riffing of guitarists Alessandro Gervasi and Toshiro Brunelli joins the fray. Damn, this song is just so infectious it is impossible not to like. Aside from the flute this is actually a pretty straight-forward rock/metal tune. This is just pure awesomeness. "Forever Gone" is next and has a slower heavy tempo to it, and features some death grunts (just a little bit) in the background. The intro "The Prayer" (featuring only acoustic guitar and soft vocals from Lisy) leads into the folk-ish beginning of "Girl By the Lake" which is one of two songs over 7-minutes long (the other is "Misleading Paradise"), this song fast became my favorite – it kind of reminded me of "Mother Earth" era Within Temptation with Lisy sounding a bit like Sharon den Adel at times. Next is "Minstrel of Dolomite" which kind of has a Blackmore's Night vibe to it at the start, but quickly evolves into a song that is unmistakably Evenoire. After the final two songs "Alchimia" and "Wise King" closes out the disc, there is really nothing I can criticize about it. In the last three years between the EP and "Vitriol" the band has grown so much and in doing so has delivered a fantastic debut and proves they are a band to be taken seriously. I can talk or write about "Vitriol" till I am blue in the face, but mere words will not do it justice, it must be heard.
Rating – 100/100
Tracklist
Vitriol

Days of the Blackbird

Misleading Paradise

Forever Gone

The Prayer

Girl By the Lake

Minstrel of Dolomites

Alchimia

Wise King
Line Up
Lisy Stefanoni – Vocals and Flute

Alessandro Gervasi – Guitars

Toshiro Brunelli – Guitars

Marco Binotto – Bass

Daniele Foroni – Drums
Links
MySpace * ReverbNation * Facebook * Twitter * Site
6 color styles available:

Style switcher only on this demo version. Theme styles can be changed from Options page.