Label : Sire/Warner Music
Review by Luisa Mercier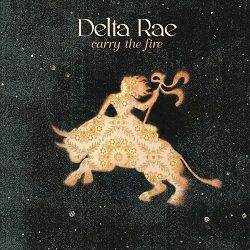 I have to admit I am not that much into this kind of American blues/folk tinged rock, so I approached this record being a little bit cold. Gladly I had to change my mind quite soon, since the first track. "Holding on to Good" where the soaring female vocals and keyboards instantly captured my attention. The song is sweet, epic and slowly builds up its mood with guitars and drums til the catchy chorus. The strings in the instrumental break are just emotional as well the keyboards. The following "Is Anybody Out There" is much more rockish and groovy, sung by a warm, soft male voice, while girls are to be found in background choirs. Once again the instrumental break captured me. These guys know how to create an emotional atmosphere, for sure. "Morning Comes" is the typical American acoustic ballad at the beginning which becomes more uptempo after a few seconds. It could make a perfect second single. Another slow tempo song is "If I Loved You" where female vocals are back behind the mic. Beautiful as the previous ones, it has a distinctive country influence. First single was the short "Bottom of The River". The southern influence is very apparent and brings me back to "Gone with the Wind" mood. Lovely really. "Country House" is another delicate, romantic song with acoustic guitars, strings, keyboards and soft male vocals. Trumpets open "Surrounded" before a nice piano and vocalisings start a melody that reminded me of old Coldplay before bursting out into rock. "Dance in the Graveyards" is once again a folk tinged rock song lively and uptempo, while "Fire" has in the vocals a bit of the Southern melancholy mixed with anger. One of the highlights of the record according to me. Another ballad is "Forgive the Children We Once Were", full of pathos and emotions. Piano and female voice for "Unlike Any Other", another ballad, maybe more traditional than the previous ones. Closing song is "Hey Hey Hey", which is quite fun and soulful. Perfect closure for an adorable album. If you are a fan of typical Southern rock this record is perfect for you, but it can appeal you even if you are part of a more mainstream audience.
Rating – 80/100
Tracklist
Holding on to Good

Is There Anyone Out There

Morning Comes

If I Loved You

Bottom of the River

Country House

Surrounded

Dance in the Graveyards

Fire

Forgive the Children We Once Were

Unlike Any Other

Hey Hey Hey
Line Up
Ian Hölljes – Vocals & guitar

Eric Hölljes – Vocals, keyboards & guitar

Brittany Hölljes – Vocals & percussion

Elizabeth Hopkins – Vocals & percussion

Grant Emerson – Bass

Mike McKee – Drums
Links
6 color styles available:

Style switcher only on this demo version. Theme styles can be changed from Options page.