Label : Music Buy Mail
Review by Tony Cannella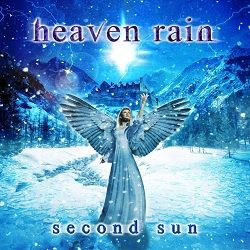 Bosnia is not known as a hotbed for metal music, or music in general for that matter, so that is what makes the band Heaven Rain somewhat unique. The band sites Kamelot, Sonata Arctica and Nightwish as some of their chief influences, but I can't really say that they sound like any of these bands. The band has previously released one full-length album back in 2008 and is back at with an album of new material called "Second Sun". Musically, Heaven Rain contains plenty of soaring melodies with plenty of power and power metal influence behind them, but vocalist Miona Graorac is what sets this band apart from their influences. Her style is more rock than metal and not what I was expecting at all – that is not meant to be a negative, to the contrary it is one of the things that I really liked about this band – and is a refreshing change from the norm. Another thing I liked is the musicianship which shifts from power metal to hard rock and once in a while to prog metal. The intro "Close to Dawn" kicks off this 41-minute foray into melodic metal and segues into the song "Heaven Rain". "My Only One" is an infectious mid-tempo song that is the first song I would play for anyone I wanted to introduce this band to. This is the song that stands out the most for me. "Nowhere" is a nice ballad and the band picks up the tempo for the next song "Raven in Heart". Other highlights include: "Dreamless", "Face of Misery" and "When Day Fades to Dark". "Second Sun" flows really nice and Heaven Rain shows that Bosnians can indeed rock on a high level.
Rating – 78/100
Tracklist
Close to Dawn

Heaven Rain

Dreamless

My Only One

Second Sun

Face of Misery

Nowhere

Raven in Heart

When the Day Fades to Dark

At the End of Time

Veijte Snegori (Bonus Track)
Line Up
Miona Graorac – Vocals

Igor Dragelj – Guitars

Goran Bastinac – Keyboards

Bojan Joksic – Bass

Nebojsa Lakic – Drums
Links
MySpace * ReverbNation * Facebook * Site
6 color styles available:

Style switcher only on this demo version. Theme styles can be changed from Options page.