Label : The Asylum Emporium
Review by Luisa Mercier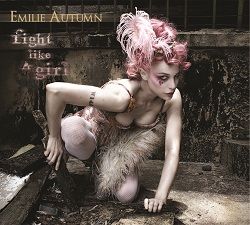 Six years. A long time passed since "Opheliac", Emilie's last full-length release, but now she is finally back. I love her, love her imagery, the world she has created around her, her lyrics, her sarcasm and I even quoted "Opheliac" in my thesis when I graduated off university. And now here we are, "Fight Like a Girl" is going to be released in a few days. The opener "Fight Like a Girl" starts with a clock ticking and then electronica takes over. The style is not much different from what Emilie used to write in the past. It is catchy, fun and she ranges from a sweeter tone to harsh vocals. Following "Time for Tea" is much creepier, with a mood that remembers the gothic novels of the Nineteenth century. She even uses growling and the music is close to industrial plus her usual violin and harpsichord. Really worth listening. "4 O' Clock" is a single released in 2008 and in "Fight Like a Girl", Emilie proposes an orchestral reprise that has a soundtrack feeling. "What Will I Remember" is a melancholic ballad which could be easily be soundtrack for a Disney movie (and it is meant like a compliment). It is sweet with an hint of sadness to it. Completely different is the following "Take The Pill", which is quite aggressive and the electronic music is dark and quite groovy. Emilie sounds threatening, sexy, expressive as always. The ending is absolutely explosive, one of the highlights of the record. "Girls! Girls! Girls!" starts with harpsichord and vocals and then it gets a cabaret mood, like we were in the Paris of two centuries ago. You can perceive the irony in her words and I love her for that. It is more like being on a stage than just listening to a song. "I Don't Understand" is a sort of dialogue in music while "We Want Them Young" has an ethnic feeling with the percussion in the background and the epic music. I guess that soundtrack/orchestral sound is one of the new elements that appear in the album. Like an horror movie. This is what the start of "If I Burn" suggested me before it gets close to normal Emilie style with harpsichord, electronica and synth. Maybe it is the track that remembered me the most of "Opheliac". "Scavanger" goes on on the same creepy notes, slow and doomish and "Gaslight" is a ballad for strings and harpsichord. This last instrument was used a lot more in this album than in the previous releases, more than her well-known electric violin. "The Key" is a short psychotic interlude in which Emilie recites the words rather than singing on a epic orchestral piece which would be perfect for a thriller movie . It flows into "Hell Is Empty", an even shorter orchestral piece. I must admit that the second half of the album is very, very disturbing and I guess it is connected to a place that Emilie has often used as integral part of her imaginarium: the asylum. Hence the creepy atmosphere and the overall gloomy sound. In fact she stated that the album is: "an operatic feminist treatise set inside an insane asylum, wherein the female inmates gradually realize their own strength in numbers." A little bit of peace with the instrumental reprise of "Gaslight" "Goodnight, Sweet Ladies"is a track in which Emilie uses her high pitched voice and creates an ethereal, almost neoclassical song. "Start Another Story" leads into "One Foot in front of the Other", the closing track. It has a martial pace, like an army advancing. I can say that "Fight Like a Girl" is for sure connected to his predecessor as far as sound and style is concerned but it developed even further certain aspects of Emilie Autumn trademark. Now it is more epic, darker and the symphonic side has been well united to the rest.
Rating – 80/100
Tracklist
Fight Like a Girl

Time for Tea

4 o' Clock Reprise

What Will I Remember?

Take The Pill

Girls! Girls! Girls!

I Don't Understand

We Want Them Young

If I Burn

Scavenger

Gaslight

The Key

Hell Is Empty

Gaslight Reprise

Goodnight, Sweet Ladies

Start Another Story

One Foot in Front of the Other
Line Up
Emilie Autumn – Vocals, Piano, Violin & harpsichord

The Lady Aprella – Back Vocals

Little Lucina, Mistress of Sin - Back Vocals

Mistress Apnea – Back Vocals

Lady Joo Hee – Cello

The Naughty Veronica – Back Vocals & Keyboard

Ulorin Vex – Back Vocals

Lady Vecona – Back Vocals
Links
MySpace * Facebook * Twitter * Site
6 color styles available:

Style switcher only on this demo version. Theme styles can be changed from Options page.