Label : Stygian Crypt Productions
Review by Luisa Mercier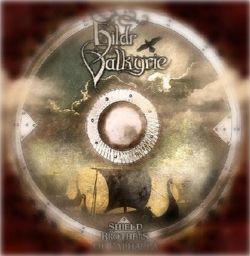 After the self-produced debut "Deceitful Fate", Hildr Valkyrie releases for Stygian Crypt her second record "Shield Brothers of Valhalla". The album is made up of ten folk tracks: their main features are Hildr's female vocals and the synth which is heavily used in order to create a dreamy and at the same time epic atmosphere. The aim of the record is to discover once again our roots, traditions and celebrate Nordic mythology, as she already did with her other two bands Folkearth and Folkodia. The sound throughout the album is quite omogenous since the song are all keyboard-synth based with Hildr vocalising through them. In some songs there are not real lyrics, but this creates a quite alienating mood, for example in "All Mighty Gods". I have to say that the metal side is not very prominent, but I guess it was a choice of Hildr. In the end you will find two cover songs, the first is Falchenbach's "Havamal", the second is Bathory's "Ring of Gold", both renditions are quite good and acoustic. I would recommend this album to folk and folk-metal lovers!
Rating – 70/100
Tracklist
The Battle Valkyrie (Intro)

All Mighty Gods

Valkyrja's Spoken Words

Father and Son

Thor, the Thunder God

To Wallhall Shall Meet

Shield Brothers of Valhalla

Riding Through the Battle (Outro)

Havamal (Falkenbach cover)


Ring of Gold (Bathory cover)
Line Up
Hildr Valkyrie – Vocals, all instruments

Alboin – Guitars (Guest)

Thanos – Screams n' Narrations to "To Walhall Shall Meet" (Special Guest)


Aled Pashley – Guitars, Drum Programming (to 2 tracks) (Special Guest)
Links
MySpace * ReverbNation * Site
6 color styles available:

Style switcher only on this demo version. Theme styles can be changed from Options page.