Independent Release

Review by Tony Cannella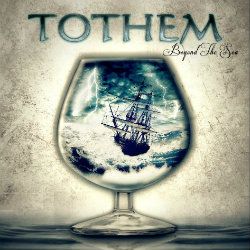 On their debut full-length, "Beyond the Sea", the Italian symphonic metal band Tothem has taken many steps beyond their 2010 EP "Osaka Bed & Breakfast". That is taking nothing away from the EP, which was excellent in its own right, but "Beyond the Sea" is takes things to whole new level for this young band. The pounding drums lead into the rumbling guitar of the opener, "Run to You". Lead vocalist Roslen is quite impressive as she alternates between a clean metal voice and an operatic style. Musically, Tothem is very much a guitar driven band. "Smile Again" is next and starts off with a serene piano intro and leads into some more heavy riffing. This song has a chorus that is undeniably catchy as hell. This would be a great choice for the next single, in my opinion. The overall production on "Beyond the Sea" is so sharp and crisp. The songs are definitely well written and Roslen has the right mixture between operatic and a more melodic style – she never overdoes it and is a huge asset for Tothem. "This is the Time" is another fantastic song and a pure highlight. "Light of Soul" is a stirring ballad and packed with plenty of emotion. "Rescue", "Beyond the Sea" and "The Witch" maintains a high level on the CD and the closing number "Where Angels Lie" is a good way to end things. "Beyond the Sea" maintains its consistency throughout the 49-minutes worth of playing time. After hearing the quality and professionalism of their previous EP, Tothem has progressed and matured just like you would hope a promising young band would. If "Osaka Bed & Breakfast" was a knock on the door, than "Beyond the Sea" kicks it in.

Rating – 93/100
Tracklist
Run to You
Smile Again
This is the Time
Light of Soul
Rescue
Beyond the Sea
Fight with You
The Witch
So Close So Far Away
Cross the Line
Still
Where the Angels Lie
Line Up
Roslen – Vocals
Black Cyril – Guitars, Programming
Marco – Piano, Keyboards & Synth Laptop
Leo – Bass
Andrea the Joker – Drums
Links
6 color styles available:

Style switcher only on this demo version. Theme styles can be changed from Options page.