Label : BlueFreya
Review by Tony Cannella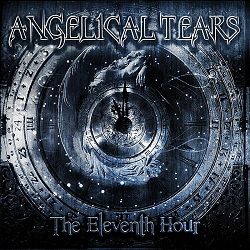 When one thinks of good symphonic power metal bands, the United States of America is not a country that first leaps to mind. Europe seems to be the birthplace of many a good symphonic power metal band these days. The States can boast a few good bands in that genre of metal and one of them is Oklahoma's Angelical Tears. The band formed in October 2006 and released their very good debut EP in 2010. Since that EP, the band went from being a six piece to a four piece band. Gone are the second guitarist and keyboardist. Now the new look Angelical Tears returns with their full-length debut, "The Eleventh Hour" and this is a band that has really started to come into their own. The EP was good, but this far surpasses it in quality and style, in my opinion.
On their Facebook page Angelical Tears describes themselves as Angelic vocals, demonic guitars, and thundering drums! That about sums it up, but there is so much more, like great songs, well written and performed and strong musicianship. I really like the Angelic vocals of Julia Flansburg, her style certainly fits the songs. The opening intro "Inceptum Fini" is pretty eerie and an atmospheric opening. The classy "Pool of Sorrow" follows the intro with a wall of solid riffs, a killer melody and some great vocals from Julia. Angelical Tears follows that up with the equally excellent "Queen of Hearts". Next is the melancholic ballad "Ballad" (which has a "My Immortal" feel to it). This an emotional song that is sure to induce chills in its passion. Also included here is a cover of the great Journey song "Separate Ways (Worlds Apart)". Anybody that covers Journey is OK in my book and Angelical Tears does a good job and even add their own twist to this classic song. Angelical Tears also include two songs ("Hate" and "Alone") which have the lyrics song in Russian. Other highlights include: "Another Day", "Sunrise at Sunset" and "With the Shadows".
For some reason after listening to "The Eleventh Hour" I have the feeling that Angelical Tears would be a great live band – the songs just exude that feeling. Hopefully those outside of Oklahoma will get to experience Angelical Tears live, but until then we can revel in the awesomeness that is "The Eleventh Hour".
Rating – 95/100
Tracklist
Inceptum Finis
Pool of Sorrow
Queen of Hearts
Missing
Falling
Another Day
Separate Ways (World Apart)
Sunrise At Sunset
With the Shadows
The Eleventh Hour
Hate
Missing (Band Version)
Alone
Line Up
Julia Flansburg – Vocals
Steven Bittle – Guitars & Vocals
Glenn Flansburg – Bass
JC – Drums, Percussion
Links