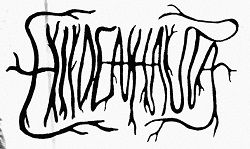 Interview by CriX
From the North comes a brand-spanking new black metal band, this time not from Norway but from Finland. Hiidenhauta is not your typical black metal band, for sure. With their debut album "Noitia on minun sukuni" they set themselves the goal to promote the Kalevalametre languange, right now you're surely asking yourself what it means, so let's the amazing singer Riena explain to us what is it.
Hey Riena, welcome to Femme Metal Webzine, it's really a pleasure interview with you!
Thank you, it's a pleasure to be here.
Would you mind presenting to our readers Hiidenhauta with some biographical hints?
We are Hiidenhauta from Satakunta, we are a six members band. The band was founded in the summer of 2012. Since 2012 we have recorded 3 albums, the first one was the 5 songs EP "Surma Saapuu Suota Myöten", the second EP with 3 songs was "Eikä Aurinko Valaise " and in March we have released "Noitia on minun sukuni ".
You are a black metal band but where Hiidenhauta roots its influence?
Our influences are of course the Norwegian black metal but we have also nature and classical music that it's very important for us.
In your music there is something of unique, and I'm refering to  the lyrics. I've read from your web site that your lyrics are written in old finnish kalevalametre, what it means and why you decided to use it?
Kalevalametre is a very ancient technic to write poems and our main vocalist, Fornjotur, is an expert of kalevalametre so it's very natural for us to choose this technic. Fornjotur wrote also 3 books in kalvalmetre .
Your last album "Noitia on minun sukuni" has been released on march 14, what can you tell about its genesis and lyrics?
The genesis was last summer when our bass player Ihtireckos, guitar player Marras and the keyboard player Gastjäle started to compose the songs and in a moment we were in the studio to record this album. It was pretty fast but we were at the studio quite long time , we went to the studio last autumn but it was good because we had time to do everything at time. Lyrics are about nature, the finnish ancient folk and the against Christianity.
I know that from the last album will be released also a music video, what is the song and what can you tell about the making-of?
The song is called "Hiiden virsi" and there is also Jonne Järvelä from Korpiklaani. It was the first video for me and it was an exciting experience, we were in Nakkila we shooted the video for 3-4 days it was pretty cool. I have to say that this video is great.
In the song "Hiidenvirsi" there is a special guest, Jonne Järvelä from Korpiklaani, how's born this collaboration?
The song is about shamanism and inside there's also Sami language so Jonne wrote the lyrics. We asked him because he is the master of shamanism, the Sami culture and language. He was very excited to work with us.
Nowday the metal scene is full of bands, as a young band as you are, is hard to find own place and get success?
It's very surprising that people like our music so much but it's not hard to find own place we don't need people if they don't like our music. It's quite natural, we just do what we think.
What are the plans for the future? Any plans for a tour?
The plans for the future are to make more awesome music, of course some gigs and tours and we are planning the new album, we have already some ideas about it.
We're at the end, would you like to say something to our readers? Thank you so much for you time.
Keep on listening to us and stay cool.
Links