Label: Auerbach Tonträger/Prophecy Productions
Review by Alessandra Cognetta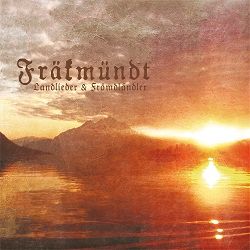 Fräkmündt is a Ur-folk band from Luzern, Switzerland. The name itself is quite evocative and meaningful, considering their origin. Fräkmündt is, in fact, a mountain that has many legends to tell, from the dragons that dwell in its caves to the corpse of Pontius Pilatus that was supposedly thrown in the lake on the eastern side of the mountain. The intent is clear: to bring those legends back to life through music. "Landlieder & Fromdländler" is their latest effort and their first album released through Prophecy Productions. The band, which had welcomed guest appearances from artists such as Merlin and Chrigel Glanzmann from Eluveitie and opera singer Christiane Boesiger in previous works, has released their most diverse album to date. The operatic contributions are gone, favouring a more rustic and genuinely folk sound. The vocals are provided by Res and Anneli (none other than Eluveitie's Anna Murphy) and, though the language (a local High Alemannic dialect, for the record) is not familiar to most, they help create the perfect atmosphere to convey the various themes the band proposes. There is not just sagas and legends, but also pristine, untamed nature and cheerful drinking songs. The first half of the album tends to display more upbeat tunes, with a song structure that, despite the folk arrangement, won't disappoint those who are used to more pop sounds. "Pfaffechälleri" is definitely the embodiment of this joyous atmosphere. The following song, "Draachestei", opens a different perspective on Fräkmündt's music, with a genuinely acoustic setting. "D'Wandeler Prophezeyig", one of the highlights of the album, shares a similar tone, with emotional spoken parts that help create immersion for the listener. Another good example of the diversity Fräkmündt achieved is the cheerful "Zoge am Boge". In "D'Züüsler" here Res and Anneli's voices blend in a masterfully interpreted performance. It is overall a well-structured album that offers an innovative point of view on folk music and it's definitely an original approach, which will surely appeal to both fans of the genre and a new audience. It's a bold step forward for Fräkmündt , but one that definitely treads on the right direction.
Rating – 75/100
Tracklist
Ofem Hoger on em See
Klarydä
Pfaffechälleri
Draachestei
Gämsjäger
D'Wandeler Prophezeyig
Fontannegsecht
Zoge am Boge
Luegid vo Bärg ond Tal
D'Züüsler
S'Totescheff am Börgestock
Simelibärg
Wieso semmer eso?
Line Up
Anneli – hurdy gurdy, flutes, voice
Res – lyrics, concept, voice
Käthi – accordion, balalaika
Schälle Ursula – cowbells
Guschti – guitars, banjo, mandolin
Hagu Hans – drums
Links