Browsing articles tagged with " 100"
Independent Release
Review by Vard Aman
I first heard about Cold Sight a few years ago when they were still living in Bryansk (they're now in St. Petersburg) and not very far passed their "hey guys, let's start a band" phase, thanks to Natalia Zolotova's online PR activity (which should hopefully show how important this is for bands). They played one or two well-played but rather bad sound quality covers (I can't remember which ones) and one or two originals, but they were very young and only just starting out at that stage. I kept half an eye and half an ear open but didn't pay them much more attention than that. Fast forward (just a little) to 2013 when Cold Sight released their debut album, "A/H1N1″, and then just a little more to when I got to hear it and realised that that young band I had heard from Bryansk had not just grown up, but released what is probably the best album of 2013, and there have been many good albums released in 2013. Continue reading »
Label: Aural Music/Code666
Review by Davide Torresan
I waited a long time before writing something about the new work of Todtgelichter. I hope my boss is not angry, but this way I had the chance to check how worth or not this new album is, "Apnoe". The teaser released by the band in February confirmed my already high expectations for this new CD. A couple of months later I was really euphoric after the first listening. I wasn't wrong and I listened to it over and over again. I pushed aside the album for another couple of months and I enjoyed other CDs and musical genres. Only recently I picked it up again for another listening and I can say that my initial impressions were right. We are halfway through the year, but for me "Apnoe" is the best release of 2013. I'll tell you another thing: it's Todtgelichter's best album, result of a stylistic evolution that I would like to reward. Continue reading »
Label : Ravenheart Records
Review by Vard Aman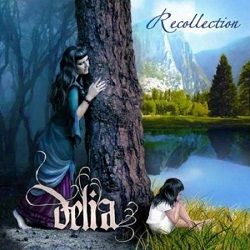 Back in 2010 a band called Delia, from Kiev, Ukraine, released an album called "Spogad" ("Спогад") – an album which I regard as one of the best Symphonic Metal albums ever recorded and released; an album that if it had been released by a band like Within Temptation or After Forever or any one of the other top bands in the genre would have gone down as one of the ultimate Symphonic Metal masterpieces of all time. But it wasn't, it was released by a Ukrainian band called Delia; and the question I've always asked and am still asking is: does it make any difference whether it was released by a well known act or whether it was released by a less well known act? My answer to that question is "none whatsoever" and so "Spogad" goes down in my books as one of the ultimate Symphonic Metal masterpieces of all time. "Spogad" was sung in the band's native Ukrainian, which may have counted against it (I know of at least one so-called "promoter" in the social media that exhibits an open and quite bigoted dislike of any bands that sing in languages other than English, flatly refusing to give them any promotion or even mention whatsoever). Continue reading »
Label : Massacre Records
Review by Tony Cannella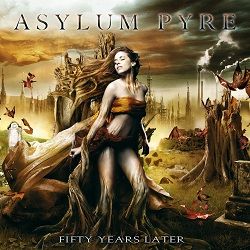 From France, the melodic metal band Asylum Pyre already made one hell of a first impression with their 2009 debut, "Natural Instinct?", now they have returned with their follow-up album "Fifty Years Later". Since their debut, Asylum Pyre has changed female vocals with Chaos Heidi stepping in and proving to be a great choice.
Everything about Asylum Pyre screams class, from the song writing to the musicianship and overall presentation, "Fifty Years Later" has really kicked it up several notches from their debut. The band does a great job in mixing songs with epic arrangements with shorter songs while still maintaining a melodic base – everything is just so solid. Lead vocalist Chaos Heidi has a strong and diverse voice. She is equally adept at straight forward metal singing as she is at singing the more epic stuff. Guitarist Johann Cadot helps out with male vocals, but the majority of the singing is handled by Heidi. The opener "Will You Believe Me?" is a nice, peaceful and pretty opener as that leads into the bombastic "Dead in Copenhagen". The riffs come hard and fast and this song definitely gets the blood pumping. It was at this moment that I realized "Fifty Years Later" could be something special and I was not disappointed. "The Frozen Will" keeps the power and momentum going. "The Fisherman's Day" reminded me a bit of "The Islander" by Nightwish and is a nice change of pace. Other highlights include: "These Trees", the 9 ½ minute "Any Hypothesis" and the closing 7 ½ minute "Fifty Years Later" which is ends things on a beautiful note.
The Femme Metal scene has never looked brighter, but it has become increasingly difficult to stand out from the pack, Asylum Pyre has managed to do just that with "Fifty Years Later". Asylum Pyre should become one of the top bands in the melodic power metal genre. I wrestled with whether or not I should give "Fifty Years Later" a perfect score, but after listening, how could I not? Continue reading »
Label : Frontiers Records
Review by Tony Cannella
Until recently, Amanda Somerville has been most notable for her work with Epica and Avantasia, but in the last few years she has released a solo album ("Windows"), an album with ex-Helloween singer Michael Kiske, and now her new melodic metal project Trillium. The debut from Trillium is called "Alloy", and is another great showcase for Amanda's beautiful vocals, but she also shows different sides to her vocals and music that she has not shown on previous albums. First thing is that Trillium is a melodic metal masterpiece, lyrically and vocally Amanda displays anger and an attitude, but also vulnerability throughout "Alloy". Some of the lyrics have an edge to them and the vocals follow suit. "Alloy" opens with the aggressive "Machine Gun" which is about as subtle as a machine gun. "Coward" follows and is rightfully the first video from "Alloy". "Purge" is next and opens with rapid fire guitar riffs and I would love to see this be the next video – my favorite song, without a doubt. Amanda is joined by a wide array of musicians. Sascha Paeth handled the production duties as well as guitar, bass, keyboards and he also co-wrote many of the songs with Amanda. Another big name is guest is Jorn Lande who adds his distinctive vocals to "Scream It" on a duet with Amanda. This song lulls you into a false sense of serenity before the song picks up the tempo and Jorn and Amanda work well together. Other highlights include: the moody, tempo changing "Utter Descension", "Bow to the Ego" and "Path of Least Resistance", but I could mention every song, I don't think there is a weak moment on "Alloy". It is one of those rare albums that starts off strong, finishes strong and everything in between is just as strong. With 2011 coming to a close, I suspect that "Alloy" will be at the top of many yearend lists. In a word – and I don't mean to oversimplify things - "Alloy" is awesome and one of the best albums I have heard all year. Amanda Somerville is fast becoming one of my favorite singers and I can't wait to hear what she does next.
Rating – 100/100
Tracklist
Machine Gun

Coward

Purge

Utter Descension

Bow to the Ego

Mistaken

Scream It

Justifiable Casualty

Path of Least Resistance

Into The Dissonance

Slow It Down

Love Is An Illusion
Line Up
Amanda Somerville – Lead Vocals

Sascha Paeth – Guitar, Keyboards & Drums

Olaf Reitmeier – Acoustic Guitars

Sander Gommans – Guitars

Michael Rodenberg – Arrangements and Keyboards

Simon Oberender – Keyboards

Robert Hunecke – Drums
Links
MySpace * ReverbNation * Facebook * Twitter * Site
6 color styles available:

Style switcher only on this demo version. Theme styles can be changed from Options page.