Browsing articles tagged with " 100"
Label : Ravenheart Records
Review by Vard Aman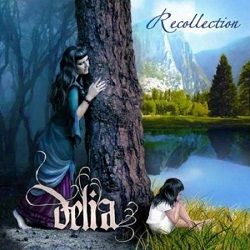 Back in 2010 a band called Delia, from Kiev, Ukraine, released an album called "Spogad" ("Спогад") – an album which I regard as one of the best Symphonic Metal albums ever recorded and released; an album that if it had been released by a band like Within Temptation or After Forever or any one of the other top bands in the genre would have gone down as one of the ultimate Symphonic Metal masterpieces of all time. But it wasn't, it was released by a Ukrainian band called Delia; and the question I've always asked and am still asking is: does it make any difference whether it was released by a well known act or whether it was released by a less well known act? My answer to that question is "none whatsoever" and so "Spogad" goes down in my books as one of the ultimate Symphonic Metal masterpieces of all time. "Spogad" was sung in the band's native Ukrainian, which may have counted against it (I know of at least one so-called "promoter" in the social media that exhibits an open and quite bigoted dislike of any bands that sing in languages other than English, flatly refusing to give them any promotion or even mention whatsoever). Continue reading »
Label : Massacre Records
Review by Tony Cannella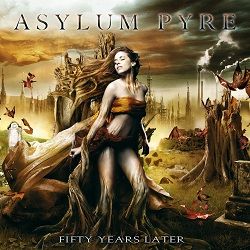 From France, the melodic metal band Asylum Pyre already made one hell of a first impression with their 2009 debut, "Natural Instinct?", now they have returned with their follow-up album "Fifty Years Later". Since their debut, Asylum Pyre has changed female vocals with Chaos Heidi stepping in and proving to be a great choice.
Everything about Asylum Pyre screams class, from the song writing to the musicianship and overall presentation, "Fifty Years Later" has really kicked it up several notches from their debut. The band does a great job in mixing songs with epic arrangements with shorter songs while still maintaining a melodic base – everything is just so solid. Lead vocalist Chaos Heidi has a strong and diverse voice. She is equally adept at straight forward metal singing as she is at singing the more epic stuff. Guitarist Johann Cadot helps out with male vocals, but the majority of the singing is handled by Heidi. The opener "Will You Believe Me?" is a nice, peaceful and pretty opener as that leads into the bombastic "Dead in Copenhagen". The riffs come hard and fast and this song definitely gets the blood pumping. It was at this moment that I realized "Fifty Years Later" could be something special and I was not disappointed. "The Frozen Will" keeps the power and momentum going. "The Fisherman's Day" reminded me a bit of "The Islander" by Nightwish and is a nice change of pace. Other highlights include: "These Trees", the 9 ½ minute "Any Hypothesis" and the closing 7 ½ minute "Fifty Years Later" which is ends things on a beautiful note.
The Femme Metal scene has never looked brighter, but it has become increasingly difficult to stand out from the pack, Asylum Pyre has managed to do just that with "Fifty Years Later". Asylum Pyre should become one of the top bands in the melodic power metal genre. I wrestled with whether or not I should give "Fifty Years Later" a perfect score, but after listening, how could I not? Continue reading »
Label : Frontiers Records
Review by Tony Cannella
Until recently, Amanda Somerville has been most notable for her work with Epica and Avantasia, but in the last few years she has released a solo album ("Windows"), an album with ex-Helloween singer Michael Kiske, and now her new melodic metal project Trillium. The debut from Trillium is called "Alloy", and is another great showcase for Amanda's beautiful vocals, but she also shows different sides to her vocals and music that she has not shown on previous albums. First thing is that Trillium is a melodic metal masterpiece, lyrically and vocally Amanda displays anger and an attitude, but also vulnerability throughout "Alloy". Some of the lyrics have an edge to them and the vocals follow suit. "Alloy" opens with the aggressive "Machine Gun" which is about as subtle as a machine gun. "Coward" follows and is rightfully the first video from "Alloy". "Purge" is next and opens with rapid fire guitar riffs and I would love to see this be the next video – my favorite song, without a doubt. Amanda is joined by a wide array of musicians. Sascha Paeth handled the production duties as well as guitar, bass, keyboards and he also co-wrote many of the songs with Amanda. Another big name is guest is Jorn Lande who adds his distinctive vocals to "Scream It" on a duet with Amanda. This song lulls you into a false sense of serenity before the song picks up the tempo and Jorn and Amanda work well together. Other highlights include: the moody, tempo changing "Utter Descension", "Bow to the Ego" and "Path of Least Resistance", but I could mention every song, I don't think there is a weak moment on "Alloy". It is one of those rare albums that starts off strong, finishes strong and everything in between is just as strong. With 2011 coming to a close, I suspect that "Alloy" will be at the top of many yearend lists. In a word – and I don't mean to oversimplify things - "Alloy" is awesome and one of the best albums I have heard all year. Amanda Somerville is fast becoming one of my favorite singers and I can't wait to hear what she does next.
Rating – 100/100
Tracklist
Machine Gun

Coward

Purge

Utter Descension

Bow to the Ego

Mistaken

Scream It

Justifiable Casualty

Path of Least Resistance

Into The Dissonance

Slow It Down

Love Is An Illusion
Line Up
Amanda Somerville – Lead Vocals

Sascha Paeth – Guitar, Keyboards & Drums

Olaf Reitmeier – Acoustic Guitars

Sander Gommans – Guitars

Michael Rodenberg – Arrangements and Keyboards

Simon Oberender – Keyboards

Robert Hunecke – Drums
Links
MySpace * ReverbNation * Facebook * Twitter * Site
Label : Pias Recording
Review by Alessandro Narcissus
Dead Can Dance. Does Lisa Gerrard and Brendan Perry's iconic musical creature really need an introduction? Well, perhaps it does, as many of the people who may love their music or any of the genres that originated from their wake were barely kids or not even born during the heyday of one of the most established and respected acts of the Ethereal scene. Dead Can Dance were formed by partners Lisa Gerrard and Brendan Perry in Melbourne, Australia, in 1981. Soon they moved to London, when they got signed by an alternative label and released an EP and their debut full length to great critical acclaim. In the following two decades, not only did Dead Can Dance become a legend in the Ethereal scene releasing a total of seven full-lengths which are nowadays widely regarded as classics, one studio EP, an official live album, an incalculable amount of b-sided and live-only tracks, achieving fame both in Europe and in the Unites States and having several songs featured in movie soundtracks, but they also indirectly contributed to the birth of the Gothic Metal genre itself through the early work of The Gathering, who openly cited them among their greatest influences. Now, after a brief reunion tour in 2005 and the release of five live EPs as an appetiser in the past months, Gerrard and Perry finally felt ready to get back to writing together new music for Dead Can Dance, and subsequently released their come-back full length, "Anastasis" – which fittingly means "rebirth" – after sixteen years from their previous studio album. Now, let's get it clear from the beginning: you can put perfection into music, but putting it into words in a review is a much tougher work. No review will ever live up to the true artistic value of "Anastasis", as this album is nothing short of the high standards of any past Dead Can Dance "classic" release. It's a highly inspired and emotional album, a collection of eight diverse and outstanding tracks that make up an incredible experience when listened together as a whole. Generally speaking, the album is incredibly sophisticated, even if compared to the band's past recordings. It remains true and coherent to their past and priceless heritage drawing widely from it, but is a contemporary work which gives room to the artistic maturity Gerrard and Perry achieved while working separately. Balance is the keyword of this recording: nothing is overdone and every single note of each instrument is put in the right place for the right reason, to provide an experience that will delight both the artistic and sensitive side of the listener. Indeed, what immediately catches the ear is the sense of general harmony and unity of the record, in which each track has its own individuality but, at the same time, works perfectly as a piece of a greater experience. The orchestra – a typically western element – may be identified as the guiding thread of the oriental-sounding album. There are more orchestral parts than in the past and they are used differently in that the ensemble plays an active role in the most exotic soundscapes: instead of only providing a lush background for the ethnic instruments, it often accompanies them and plays along on the oriental or tribal melodies. Ideally, this interpretation of southern and eastern sounds with typical western instruments epitomises the idea of mingling different cultural influences into something new, which has always been the main standpoint of Dead Can Dance and is done at its finest in this album. This sense of harmony is also given by the balance between the two composers' efforts. Even in this, "Anastasis" sounds much more cohesive than most the past Dead Can Dance albums, in particular those released after Gerrard and Perry's domestic break up – namely "Into The Labyrinth" (1993), "Spiritchaser" (1996), and most notably their live effort "Towards The Within" (1994), in which their stylistic differences were most evident and at times even clashing. Whilst Gerrard's and Perry's own, peculiar approaches to writing music for their creature is still recognizable and the most familiar listeners can guess from the first notes of each song who's going to sing, the passage from Perry's trademark art-rock songwriting and Gerrard's ethnic fascinations is much smoother than in the past, enhancing the sense of cohesion and harmony of the record as a whole. Indeed, the soundscapes evoked by the album can be perceived as the narration of a conceptual journey throughout the Mediterranean basin: the listener gets to ideally meet different cultures within the same voyage, each one adding it's peculiar flavour to a bigger, all-compassing experience which is – or, if you will, being a piece of one, big colourful mosaic. The orchestra is the narrator who filters the experiences, and the other instruments and styles are the characters met during the journey we're told about. In this sense, the title "Anastasis" does not only refer to the band's rebirth after a 16-year split, but also to a more spiritual kind of rebirth the listener would experience through an enriching journey in the cradle of our culture. It's really hard to name some highlights from the album without ending up with a detailed and exhaustive track-by-track review, as each song is spectacular in its way. But how not to mention, for instance, "Amnesia", chosen as the promotional single out the album, which perfectly represents the blending of exotic rhythms with Perry's typically western songwriting? Or Gerrard's remarkable performance in the most ethnic tracks such as "Anabasis", "Agape" or "Kiko", which showcase the aforementioned union of traditional instruments and tribal percussions with the orchestra, as a background for Gerrard's trademark vocalizations and folkloric techniques? "Children of the Sun" and "All In Good Time" represent the perfect opening and closing tracks respectively, the former being some kind of "rite of passage" somehow reminiscent of past songs (in particular Perry's from "Aion") reworked in the current, mature style of the duo, and the latter providing a relaxing outro as remarkable as "How Fortunate the Man With None" from "Into the Labyrinth". And finally, the two absolute masterpieces of the album, "Opium" and "Return of the She-King". The first is a highly emotional blend of ethnic rhythm patterns with breath-taking string melodies and Perry's melancholic lyrics and vocals bound to put a tear in many listener's eyes; the second is a wonderful, solemn track with distinct influences from the British Isles – at times it almost sounds as if a traditional Irish melody were played by Scottish bagpipes – in which Gerrard's glossolalia vocals unite with Perry's in what can be considered as the two vocalist's best duet ever. "Anastasis" is clearly not just a typical come-back album that is made just to exploit the fans' nostalgia or the hype for an iconic band's reunion. It clearly shows Gerrard and Perry's need to go back to their roots and write music together, and to do so at the right time and without a hurry, resulting in a fresh and genuine work, not at all anachronistic. It's a perfect introduction for the new generations to the priceless work of this duo, as well as the perfect reward fans could hope for after 16 years of silence. "All in Good Time", they say, and this is undoubtfully the good time and best way for Dead Can Dance to come back.
Rating – 100/100
Tracklist
Children of the Sun
Anabasis
Agape
Amnesia
Kiko
Opium
Return of the She-King
All in Good Time
Line Up
Lisa Gerrard
Brendan Perry
Links
Label : Scarlet Records
Review by Tony Cannella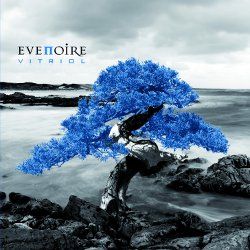 The Italian band Evenoire has been with us since 2006 and in 2009 they gave us a decent four song EP called "I Will Stay". Now the band returns with their full-length debut "Vitriol". It is a well known fact that the country of Italy has give us many, many great female fronted bands and with "Vitriol" Evenoire are sure to add to the Italian tradition of great metal. On "Vitriol", Evenoire really doesn't create any boundaries for themselves, they aren't beholden to any one style, and that is refreshing. They combine the best elements of symphonic, folk, gothic and progressive metal with a medieval vibe in some of the songs to create one of the best albums of the year thus far. Vocalist Lisy Stefanoni's has so many layers to her vocals and is a powerful presence throughout the album. As far as pure singers go, she is one of the best that I have heard in a long time. Of course opinions are all subjective but I would put her in the same class as Floor Jansen, Simone Simons, Sharon den Adel and Tarja Turunen, she is that good. The intro "Vitriol" is a quiet piano and symphonic piece that leads into the symphonic "Days of the Blackbird"; this track features blasts of heaviness and changing tempos to deliver an excellent opener. Lisy sings in both an operatic and soaring rock style, something she is able to do throughout the album is sing in a number of different styles in one song. "Misleading Paradise", opens with a flute played by Lisy (which is prominently featured throughout the album), before the crunching power riffing of guitarists Alessandro Gervasi and Toshiro Brunelli joins the fray. Damn, this song is just so infectious it is impossible not to like. Aside from the flute this is actually a pretty straight-forward rock/metal tune. This is just pure awesomeness. "Forever Gone" is next and has a slower heavy tempo to it, and features some death grunts (just a little bit) in the background. The intro "The Prayer" (featuring only acoustic guitar and soft vocals from Lisy) leads into the folk-ish beginning of "Girl By the Lake" which is one of two songs over 7-minutes long (the other is "Misleading Paradise"), this song fast became my favorite – it kind of reminded me of "Mother Earth" era Within Temptation with Lisy sounding a bit like Sharon den Adel at times. Next is "Minstrel of Dolomite" which kind of has a Blackmore's Night vibe to it at the start, but quickly evolves into a song that is unmistakably Evenoire. After the final two songs "Alchimia" and "Wise King" closes out the disc, there is really nothing I can criticize about it. In the last three years between the EP and "Vitriol" the band has grown so much and in doing so has delivered a fantastic debut and proves they are a band to be taken seriously. I can talk or write about "Vitriol" till I am blue in the face, but mere words will not do it justice, it must be heard.
Rating – 100/100
Tracklist
Vitriol

Days of the Blackbird

Misleading Paradise

Forever Gone

The Prayer

Girl By the Lake

Minstrel of Dolomites

Alchimia

Wise King
Line Up
Lisy Stefanoni – Vocals and Flute

Alessandro Gervasi – Guitars

Toshiro Brunelli – Guitars

Marco Binotto – Bass

Daniele Foroni – Drums
Links
MySpace * ReverbNation * Facebook * Twitter * Site
6 color styles available:

Style switcher only on this demo version. Theme styles can be changed from Options page.