Browsing articles tagged with " 2"
Interview by Miriam C. & Anna Fortini
Ed eccoci benvenuti alla nostra prima intervista in italiano, probabilmente come mai vi chiederete perché non l'abbiamo fatto prima. Forse, non abbiamo avuto l'occasione giusta, forse eravamo un poco poltroni a non cercarla, chissà… ma l'occasione s'è fatta propizia in occasione del "Valery Records 10 Years Night" siamo riusciti ad intercettare AmbraMarie per una piccola interview. Ricorderete AmbraMarie per la sua partecipazione nella seconda edizione di XFactor nel 2009, senza il forse è stata una delle poche artiste nel talent farsi distinguere per il suo stile rock, molto diverso dalle solite proposte. Da lì, sono passati "3 anni, 2 mesi e 7 giorni" ed è guardacaso proprio il titolo del suo debut, sotto Valery Records. Ne volete sapere di più? Semplicemente state in nostra compagnia e leggete le sue parole.
Ciao Ambramarie benvenuta su Femme Metal Webzine, come va?
Tutto bene, molto bene grazie.
Iniziamo la nostra intervista chiedendoti una piccola presentazione riguardo le tue esperienze passate e il background, che ne dici?
Io canto da quando ho sei anni.. ho fatto un po' di programmi televisivi anche quando ero piccola tipo Bravo Bravissimo, queste cose qua… allucinanti..cose di cui poi ti penti, però le ho fatte ahahahah… poi ho avuto un contratto discografico con la Warner però poi…vabbè ero piccola avevo 14/15 anni… poi verso i 17/18 anni ho conosciuto la mia band…la mia attuale band, abbiamo iniziato a lavorare alle nostre canzoni, a suonare dal vivo ovviamente tra cover e pezzi nostri perché si inizia chiaramente così… e ovviamente l'esperienza che mi ha permesso di diventare musicista a livello lavorativo a tutti gli effetti (perché prima ho studiato, poi ho fatto la barista) è stato quando ho fatto XFactor nel 2009…quello mi ha permesso di diventare musicista a tutti gli effetti… il backgraound vabbè sono tanti concerti, tante cose che ho fatto, questo un po' il prima, ora invece sono 3 anni che giro con la mia band per tutta l'Italia a fare concerti ed ora che è uscito il disco facciamo molti più pezzi nostri dal vivo mentre prima era una sorte di limbo perché presentavamo i pezzi nostri però la gente faceva fatica ad ascoltarci perché non li conosce..molta gente siccome sa che non conosce quei brani purtroppo non ha quell'interesse verso il "nuovo"…dice "siccome non la conosco allora neanche l'ascolto"… purtroppo la mentalità è questa.. allora io cosa ho imparato a fare, le mie canzoni non le presentavo, perché nel momento in cui dicevo "adesso faccio un mio pezzo" la gente andava a fumarsi un sigaretta, andava in bagno ecc ecc… Ma dico! Ascoltala almeno 50 secondi se poi ti fa schifo te ne vai..lo accetto…però sulla presentazione te ne vai…allora ho detto "vaffanculo non presento niente", e presento il pezzo alla fine così almeno magari qualcuno rimaneva ad ascoltarla ahahah
Prima di passare a parlare del tuo album…mi parleresti dell'intesa che c'è stata con Valery Records?
Guarda noi ci siamo conosciuti tramite persone in comune che ci hanno presentato…noi cercavamo persone interessate al nostro disco che era stato già registrato proprio perché l'interesse mio e della band era quello di registrare un disco con le nostre idee quindi con l'aiuto di un produttore che è Alessandro Paulucci (che ha lavorato con Baustelle, Vanilla Sky) volevamo fare un disco "nostro" senza troppe influenze del tipo "tu fai quello, tu fai quell'altro", quindi il disco era già finito… la Valery lo ha ascoltato e ha detto "interessante" così è iniziata la collaborazione… è anche per quello che c'è voluto tanto, non nel realizzarlo, ma per trovare qualcuno che credesse in un disco da idee che venissero solo dalla band, perché come ti ho detto se fai pezzi tuoi alla gente non interessa… questo viene fuori anche da varie opinioni che abbiamo raccolto negli anni, da varie esperienze, perché se non ci sono grandi nomi di autori dietro manco te le ascoltano…questo è un grande problema, allora abbiamo conosciuto la Valery che era molto aperta proprio perché erano cose nuove.. da persona nuove… e così è stato il nostro incontro.
Allora, il tuo album "3 anni, 2 mesi e 7 giorni" …come mai è passato così tanto tempo da XFactor all'uscita di questo album?
Diciamo che io a XFactor sono uscita alla sesta puntata..sono entrata, ho fatto un bel percorso però sono uscita a metà programma…l'etichetta del programma ha comunque voluto tenermi nella scuderia degli artisti però chiaramente bisognava risolvere i contratti con quelli che erano arrivati primo, secondo e terzo e quindi già lì i tempi sono molto ma molto lunghi quando non sei nessuno… poi per divergenze artistiche io volevo fare un determinato sound, loro magari volevano farmi fare un EP io invece volevo fare un disco completo e così abbiamo sciolto il contratto però nel frattempo era passato 1 anno e mezzo…e da quell'anno e mezzo riprendi in mano il tutto, continua a suonare, facevamo sempre il nostro lavoro ma ovviamente volevamo far uscire il nostro disco dopo 8 anni e abbiamo pezzi nostri nuovi, ma anche pezzi che avevamo scritto all'inizio.. e quindi volevamo fare un disco di 14 pezzi…noi ne abbiamo scritti tantissimi, abbiamo fatto una cernita e abbiam detto "questo disco ci piacerebbe farlo con questi brani"… e poi in Italia è difficile coi tempi che corrono capire i personaggi, anche se noi non facciamo un rock da strapparsi i capelli… è un rock normale…però il rock sembra ancora più difficile… appena sentono 2 chitarre distorte la gente si spaventa e quindi trovare delle persone che veramente interessata… poi vuoi una serie di sfighe, problemi nel mixaggio allora è passato tutto questo tempo ma poi la soddisfazione è che il disco è come lo volevamo noi..è un po' come quando fai casa no? La fai e poi guardandola dici "ma magari l'avrei fatta diversa"… come tutte le cose a cui tieni che fanno parte di te… ed è bello perché c'è tutto quello che volevamo, i suoni che volevamo che non è sempre facile, a meno che non sei autoprodotto e allora lì fai quello che cazzo vuoi…
Quindi se tu dovessi dire "per me questo album rappresenta….". Cosa rappresenta?
Rappresenta un po' le mie due sfaccettature che sono: il mio lato più aggressivo, energico del rock n'roll e quello più malinconico… ci saranno canznoni molto più energiche e quelle da tagliarti le vene perché c'è questo mio lato malinconico con testi tristi, tutti con storie che finiscono male ma non ce la faccio a scrivere cose felici…sono una persona felice, però… abbiamo tutti questi momenti ahahah anche perché c'è sempre qualcosa che inevitabilmente va male, è triste…
Nel tuo team possiamo annoverare un pezzo da novanta come Steve Lyon (Depeche Mode, The Cure, Paul McCartney) che ha collaborato attivamente alla stesura dei testi e agli arrangiamenti vocali. Come è stato lavorare con lui e quando l'hai incontrato/contattato per la prima volta?
Lo abbiamo conosciuto sempre per conoscenze comuni… mi han detto "vogliamo presentare questo tuo progetto a Steve Lyon". Che quando me l'han detto mi sono un po' spaventata perché ha presentato grandi artisti come Depeche Mode, The Cure, Paul McCartney, Subsonica e io ho detto "vabbè fateglielo sentire"..lui l'ha ascoltato, gli è piaciuto e ha voluto collaborare a questo disco e mi ha aiutato molto sia con la linea melodica sia con la pronuncia visto che ci sono testi sia in italiano che in inglese..
A proposito di questa cosa, come mai hai voluto fare dei testi in italiano ed altri in inglese?
Guarda noi scriviamo da tanti anni come ti ho detto e all'inizio mi divertivo di più a scrivere in inglese…era più semplice, più immediato e col tipo di musica che facciamo noi è più adatto l'inglese… quindi mi veniva automatico scrivere in inglese ma col passare degli anni, vivi tante cose, cresci, ascolti anche cose che ti aiutano no? Ed infine è trovato negli ultimi anni scrivere in italiano…e nel momento in cui dovevamo decidere che canzoni mettere nel disco ce ne piacevano alcune in italiano e alcune in inglese quindi abbiamo deciso di metterne un po' e un po'… ce ne siamo sbattuti le palle e l'abbiamo fatto come volevamo senza stare a sentire le solite cose che se non scrivi in inglese non vai da nessuna parte… alla fine ci sono canzoni che vanno bene in inglese ma che in italiano fanno schifo e viceversa… però diciamo che così, con queste canzoni in inglese cerchiamo anche di farci un mercato estero…
Ecco pensi che l'estero sia pronto per la musica italiana?
Allora io ricevo sempre tante opinioni…ci sono molti che dicono che all'estero apprezzano le sonorità italiane perché abituati all'ascolto, mentre altri dicono che se non fai i testi in inglese, in un'inglese come dio comanda, non vai da nessuna parte…sento tante cose, anche da esperienze diverse che vanno una contro l'altra… penso che bisogna provarci semplicemente…se va, bene sennò comunque sai di averci provato e amen…non credo che ci sia una regola base per queste cose, certo se le fai in inglese devi farle bene senza dire stronzate anche se dico sempre "hanno così tante cose belle da ascoltare perché dovrebbero ascoltare le mie" ahahha no comunque vedo che hanno sempre interesse ad ascoltare cose nuove cose che secondo me qua in Italia non c'è… come dicevo prima qui non c'è la cultura del nuovo… poi ci sono anche tanti pregiudizi (anche se ti dirò me ne aspettavo di più) perché si arriva da un reality come XFactor, manco fosse il Grande Fratello…è comunque una cosa relativa al canto…ecco mi piacerebbe che la gente mi ascoltasse a prescindere: ti piaccio? Ecco a prescindere dal fatto che arrivo da XFactor mi dovresti ascoltare… secondo me è importante COSA arriva più che DA DOVE arriva…
Pensi che la tua esperienza ad XFactor in qualche modo ti abbia penalizzato?
Ad oggi ti dico di no, poi magari in giro sentirai altre opinioni… io ho fatto il mio percorso, nel momento in cui mi hanno proposto cose che non mi piacevano l'ho detto, l'ho fatto capire, percepire, le ho dovute fare lo stesso perché il gioco è quello senò non ci partecipi e lo fai…. d'altronde in Italia ci sono pile e pile di dischi che nessuno ascolterà mai, perché arrivano arrivano arrivano e tu devi trovare un modo per farti conoscere. Noi, intendo con la mia band, abbiamo fatto un sacco di concerti e io sono entrata per farmi conoscere ma poi comunque so che avrei continuato con loro… ormai in giro c'è troppa musica, non come negli anni 60 che lo facevano alcuni e quindi erano riconoscibili… ora c'è troppo sovraccarico quindi fai un sacco di provini, tra l'altro io non ero convinta di partecipare perché se ti fanno fare cosa che non t piacciono che fai? Allora dici "e ma allora continui a fare cappuccini?" che per l'amor di dio è sempre un lavoro ma allora non fai niente per fare quello che vuoi davvero? Quando sono uscita da XFactor non è che ho fatto subito tutto quello che mi proponevano..io volevo fare quello che volevo io.. infatti è fatto tutto da me e il mio bassista… non abbiamo inventato niente di nuovo da dire "oh mio dio che hanno inventato questi?" è semplicemente la nostra musica. Poi comunque da quando sono uscita abbiamo fatto una marea di concerti…tutte le sere, mica una volta al mese.. quindi non credo che mi abbia penalizzato, ti penalizza nel momento in cui ci sono i pregiudizi però spero sempre che la gente venga a sentirmi dal vivo e cambi idea.
A livello di promozione, i recenti vincitori di X Factor, intendo le ultime 2 edizioni, pensi siano stati molto più "pompati" che nelle prime quattro edizioni andate in onda in chiaro (escluse poche eccezioni come Giusy Ferreri, Noemi e Mengoni)?
Che tra l'altro loro non avevano neanche vinto! Mmm guarda non saprei… ho notato che da quando è passato a Sky ha avuto una forte presa…però non saprei dirti… non so se è stato un fatto di assegnazione di testi o altro… anche perché questo è un mondo che gira in modo strano, a volte a culo o a conoscenze o a badget… non lo so, magari perché è stato seguito molto dal web che ormai va molto… non saprei… magari è una combinazione di fattori. Poi io non mi pongo mai queste domande…di solito penso che se un artista va è perché piace al pubblico ecco…
Parliamo del tuo video "Quello che resta" intanto complimenti perché è davvero stupendo… cosa ci puoi dire riguardo la sua preparazione e la sua location?
Il video è stato fatto da 2 giovani film maker Nicolò Puppo e Francesco Teo. Nicolò è un fotografo ritrattista di Alassio che tra l'altro ha appena vinto un concorso della National Geografic ed è lo stesso che ha fatto le foto e la copertina del disco e aveva anche questa passione per i video e ha preso questa strada del filmaker… gli abbiamo detto di ascoltarsi il brano, gli abbiamo dato carta bianca e infatti ha fatto un lavoro di cui siamo contentissimi… la location era al Palazzo Niccolari di Albenga…abbiamo allestito tutte le scene all'interno di questo fantastico palazzo ed è nato questo video molto scenico diciamo…sono persone giovani che fanno bene quello che amano fare infatti secondo me bisogna far fare alla gente quello che san fare meglio
Ecco una cosa che mi ha incuriosito molto è quel muro tutto tappezzato di fogli che puoi tu strappi via, rappresenta qualcosa?
E' molto metaforico… "Quello che resta" racconta di queste 2 persone a cui è rimasta solo l'abitudine, la polvere, un racconto di cui non vedrai mai la fine e infatti c'è questo manichino immobile che piano piano viene mosso perché in qualche modo la storia deve rompersi no? E i fogli hanno su proprio il testo di "Quello che resta" e lo strapparli rappresenta la liberazione di questo rapporto… Tant'è che l'inizio dice "Aspetto qui lui mi odierà io resto qui lui non lo sa"  perché è nella stanza con un'altra persona e dice "io aspetto che qualcuno mi fermi dal tradire questa persona"  però quello che resta nel nostro rapporto ormai è questo. Poi c'è il mio bassista che si infila in questa bacinella di latte rappresenta la purificazione dopo che è stato bruciato e distrutto… il chitarrista che viene preso dalle mani rappresenta la manipolazione, perché ormai la storia te lo impone. Ognuno aveva un ruolo che rappresentava una metafora di questa relazione.
Il tuo album vede la partecipazione del grandissimo Pino Scotto nella song "Regina di Cuori", come è nata questa partecipazione e com'è stato lavorare con lui?
Guarda non ti dirò le solite cose  "ci siamo conosciuti tra una bevuta e l'altra"… l'ho conosciuto tramite Nicky della Valery, Pino è della Valery, Nicky ha parlato di me a Pino e gli ha chiesto se gli andava di fare un duetto con AmbraMarie, ha voluto sentire come cantavo dopodiché ha accettato la collaborazione e ha pensato che "Regina di cuori" che è dedicata a Freddie Mercury, fosse ideale per un duetto… forse perché anche a lui piace Freddie Mercury, ma d'altronde se non ti piacciono i Queen sei un demente e dovresti essere gambizzato all'istante ahaha poi pino l'ho visto molto come persona "interessata", molto carino, alla mano, una persona squisita…come un nonno rock che aiuta la nipotina ahahah.
Ora per finire, volevo sapere quali saranno i tuoi prossimi progetti per promuovere il tuo debut "3Anni, 2Mesi e 7Giorni"? Immagino tanti concerti, no?
Sicuramente, anche perché siamo un gruppo di straccioni che non hanno il papà che ci paga spazi pubblicitari ahahah quindi sarà sicuramente fare concerti, concerti, concerti… portiamo il disco per venderlo, poi pubblicità sul web, su Facebook… coi mezzi nostri e della Valery che ha tutti i suoi mezzi… ma comunque suonare suonare e suonare anche se i canali più grandi rimangono la TV e la radio… magari fra 20 anni non sarà più così e la TV verrà sostituita da YouTube ahaha. Vorremmo una piccola parte di persone che sia interessata a noi e che aspetti il nostro secondo album…
Bene, AmbraMarie ti ringrazio per quest'intervista. Vuoi fare un saluto ai tuoi fans e i nostri lettori di Femme Metal?
Coi saluti non sono molto brava, è una di quelle cose che mi imbarazza da morire! Molto semplicemente ragazzi vi saluto! Rock n Roll sempre, sostenete la musica, la musica dal vivo.. se non sapete cosa fare uscite e andate ad ascoltare musica!!!
Links
MySpace * Facebook * Twitter * Site
Latest Multimedia
Ed ora una gallery di photos in esclusiva solo per Femme Metal Webzine
Label : SPV/Steamhammer
Review by Tony Cannella
In 2009 after many, many years of musical inactivity, hard rock legend Lita Ford returned with "Wicked Wonderland" which was met by… derision, confusion and just plain apathy. It certainly didn't seem or feel like a Lita record which her die-hard fan base that had waited years for new music was only too eager to point out. Now, in 2012 Lita has released what many consider to be her real comeback album, "Living Like a Runaway" the cleverly titled album is a nod to her musical past with the seminal all girl group The Runaways as well as where she is headed in the future. I have to admit. When it comes to Lita I thought her first two solo albums "Out for Blood" and "Dancin' on the Edge" were her best (or at least my favorites). Even though I was not a huge fan of what came after I thought she still did some really cool songs ("Falling in and Out of Love" and "Hungry" are two of my favorites). On "Living Like a Runaway" Lita mixes the best of both worlds. She has definitely toughened up her sound compared to her last few – and the guitar sound is stellar and in-your-face, which should be no surprise considering the album was produced by Gary Hoey who is a guitar-god in his own right – he also contributes his guitar talents to the album. This is Lita doing what she does best; she still has that unique, like-able voice. Lyrically Lita has bared her soul like never before. There really is no wasted time on "Living Like a Runaway", as the heavy riffs of the opener "Branded" gets things kick started. "Hate" opens with a very dark bass line and the subject matter is heavy as well (this is as far as you can get from "Kiss Me Deadly"). The 3rd track "The Mask" is especially venomous and just a powerful song. My favorite track is the moody; emotionally heart wrenching "Asylum". "Luv 2 Hate U" starts with an acoustic intro before developing into a catchy melodic rock song. The album is completed by the Nikki Sixx (of Motley Crue fame, of course) penned "A Song to Slit Your Wrists By", which has kind of a hard rock industrial feel to it. "…Runaway" is available in a number of different limited edition formats featuring bonus tracks and different packaging, etc. Lita Ford is a survivor and the lyrics convey that perfectly, still there are moments of reflection with the lyrics that are powerful and heavy like on the ballad "Mother". "The Devil in My Head" has a great, melodic chorus that is instantly memorable. To be honest, I was really surprised at how much I liked "Living Like a Runaway". This is probably the best Lita album since "Dancin' on the Edge" – but I am sure that will be up for debate. And as for "Wicked Wonderland"? Let's just pretend that it never existed. "Living Like a Runaway" is the comeback that the fans and Lita deserve.
Rating – 95/100
Tracklist
Branded

Hate

The Mask

Living Like A Runaway

Relentless

Mother

Devil In My Head

Asylum

Luv 2 Hate U

A Song to Slit Your Wrists By
Line Up
Lita Ford – Vocals, Guitar

Gary Hoey – Guitar, Bass, Backing Vocals

Matt Scurfield – Drums
Links
MySpace * Facebook * Twitter * Site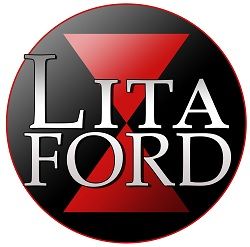 Interview by Tony Cannella
Lita Ford has built up an impressive body of work throughout her career which began almost 40 years ago with the seminal all female band The Runaways. With her latest album "Living Like a Runaway" she just may have recorded the finest work of her career. If it is not her best, it is certainly her most personal and aggressive. We recently caught up with Lita prior to her sound check on the Def Leppard/Poison tour – which she is opening. Here is what she had to say…
The new album, "Living Like a Runaway" is amazing. It's like a classic Lita album. How would you describe it to anyone who hasn't heard it yet?
You're definitely right, it is a classic Lita album, thank god for that. It is aggressive, it is emotional. It has some great guitar riffs on it; I love the dueling guitars, the harmony guitar parts. The lyrics are insane, they're so good, I don't want to blow smoke up my own ass but it is a killer album, probably the best one I've done yet.
I agree. I think this one of the best albums of the year so far and I think these are some of the best lyrics you've ever written.
Awesome. Awesome. Thank you. Yes, I really think so too. You know we really had God watching over us. I'm not religious but we really did have god watching over us on this record. Everything came together in the most mysterious way. It was almost like it was handed to us – the songs, the lyrics, the title, the guitar riffs, the arrangements – everything came together in such an incredible way. We really focused very hard on this record – when I say we, I mean me and Gary Hoey – we really focused on this record and we never lost focus until after the album artwork was done, we kept focus right through until the artwork was finished. We wanted to tie the artwork into the album and the emotion behind the album. I didn't wanted to put some polished, sexy, beautiful album cover on this record because the album tells a story of a journey, a journey through life and we wanted to give that impression with the railroad tracks. The people who decide to download the album, it's kind of a drag because the packaging is amazing, it has all the lyrics in it, it has some beautiful photographs, even my own handwriting where I actually wrote the lyrics and then scribbled them out. We took the lyrics from the recording sessions and we used them in the album artwork – it's pretty cool – it really is my handwriting those are the actual lyrics from when we were writing the album.
How did you choose Gary Hoey as producer and what did you like about working with him?
Well, the one thing I liked about Gary is he's a guitar player and when he first called me and offered me his studio, the fact that he is a guitar player came to mind. I knew he would be able to relate to me on that level, whereas a lot of the other record producers I've used in the past aren't guitar players. They might be able to strum a few chords, but that's the extent of it, I mean Gary Hoey's a monster on guitar and I thought "Wow, how cool would that be ?". He also has an incredible voice so he can help with background vocals; he sang lead on "Luv 2 Hate U", the male voice is Gary (on that song). I just love his voice. He's just incredible behind the equipment – pro tools. It's his studio, he knows how to run it, and he put his all into this record, this is his record, it's his baby. I just respect him so much as a producer, a guitar player and as an artist. We're approximately the same age and we've both been through a lot in our lives and I think we were able to relate to each other's feelings and we were able to take those feelings and incorporate them into this record.
Getting back to the lyrics. They are more personal than you've done in the past, was it difficult to open up as much as you did or was it cathartic?
It was absolutely therapeutic for me to be able to just sing my heart out, literally. I think it is also something lyrically that can be applied to anybody; I'm sure a lot of people have gone through hell in their lives, whether it's coming home from work, having a bad day and hating your boss or something so simple as homework – or your teachers at school. I had a chat with a girl on Facebook – maybe 14 or 15 years old – and she told me she was in school and she was listening to my CD and the teachers had told her to turn off that devil music – and she said "bite me". So they took her to the principal's office and they expelled her from school, so I'm thinking somebody like her, she can relate to "Living Like a Runaway" on her level as a teenage girl going through school, there's stuff in there for everybody on this record lyrically.
Where did the title "Living Like a Runaway" come from and why did you choose that as a title?
That came from my songwriting partner Michael Dan Ehmig – he's a lyricist – lyrics are his specialty. The hardest part of writing a song – I think – is the lyrics, anybody can put together a guitar riff, but it's really the lyrics that make it come to life and the melody and the hook, the phrasing. He came up with "Lita you're really living like a runaway" because I just ran away from home, I just filed for divorce – In order for me to escape my current relationship I had to run away from home. He said to me "you're living like a runaway" and I thought, 'oh my god, what a great song title', so we stuck with it and used it – it definitely works. So when I wrote this song I went through the decades of my life, starting with The Runaways, until today, you know, fans like you, people that make my dreams come true. It's kind of cool.
Are you happy with the critical response you've received for "Living Like a Runaway"?
Oh yeah, it's been amazing. It's been really wonderful. The press in Europe rates you on a scale, like some magazines are 1-10, some from 1-100, they vary. Say if its 1-10, my rating has been like 9 – one point away from 100%, which to me is fucking awesome.
You are currently on tour with Def Leppard and Poison. How's that been going?
It's eventful (laughs). Definitely eventful. Def Leppard has a very, very huge stage set and in front of them is Poison's stage set and in front of Poison is us, so Def Leppard pretty much takes up the bulk of the stage and doesn't leave us a whole lot of room. These venues that we're playing, they're amphitheaters and sports arenas, so there is a time curfew on them, so you have to be on stage at a certain minute and you have to be off stage by a certain minute, if you don't, it bleeds into – it's like the domino effect – it can roll down into Poison's set, which rolls down into Def Leppard's set and if Def Leppard comes off stage any later than 11:00 they start getting fined $1,000 dollars a minute, so if they go five minutes over their time that's five grand that gets taken out of their paycheck. We actually go on early so we can get more time to play so it doesn't interfere with Def Leppard's set, I would hate for that to happen because of me, so we go on early. It's really eventful. It's a challenge, you try to give it all you got, you kick ass with the bare essentials and we do.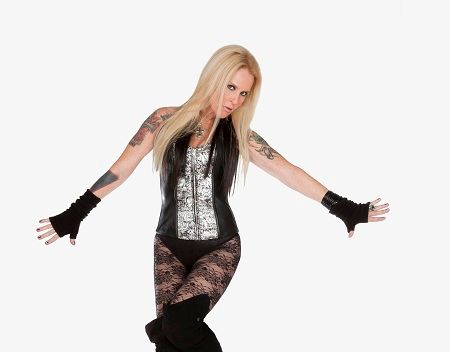 How have the fans been responding to the band on this tour?
Fucking awesome. Really fucking awesome. They're so happy to have their Lita back and it shows. The set starts off with people scrambling like crazy to get to their seats and by the end of the show we've got everybody standing up with their hands in the air. It's really been great. I'll come off stage and run into one of the Poison guys and I'll say, "well they're warmed up, they're ready for you" (laughs). It's been great.
Who is in your touring band?
I've got Mitch Perry on guitar. Mitch has played with Edgar Winter, Asia, he's played with Cher, Heaven and he's played with everybody. I've got Scott Coogan on drums. Scott Coogan has played in Ace Frehley's band, He was in The Brides of Destruction with Nikki Sixx and he was in Lynch Mob. I've got Marty O'Brian on Bass. Marty has done three Ozzfests. You've got to find somebody who has been onstage in these arenas, because these arena shows are a lot different than club dates; they're a whole different animal. Marty is just a monster on bass, which is what I wanted. I didn't want some foofy little bass player, I really wanted a heavy hitter on bass and Marty is. I've got a great band. We left the keyboard player at home on this tour; we wanted to limit the keyboards. Mitch actually plays "Kiss Me Deadly" on guitar, because it has a keyboard intro and there is a little bit of keyboards on "Close My Forever" on the album, but Mitch doubles me on guitar, so it works great.
What are your plans following this tour?
We're going to do some club dates. We are going to record a live album during those club dates. We are going to do the Monsters of Rock cruise in March. We've got some dates coming up here and there, and we're just waiting for after the holidays and hopefully we'll hit Europe.
I'm sure the fans in Europe will be happy to hear that.
I get asked on a daily basis. I think we'll be going to Europe. We do have a couple of shows booked over there already but I think we'll probably end up doing a full blown tour over there.
Are you already working on new music or is it too early to think about?
I actually have been. Since "Living Like a Runaway" took me so long to write, it took me a year to write "Living Like a Runaway". I remember when my flight landed at Gary's, I landed with the first snow fall of the year, it actually started snowing when the plane was coming down and when I finished the album it was the last snow fall of the following year. It took me almost one year to the day – maybe a little longer, so I'm planning on this next album probably taking me a year. I've started it already; I actually started a song with Phil Collen from Def Leppard which is pretty fuckin' rocking. I've got a few ideas; this is going to be a tough album to follow up.
I agree, this is a great album. How do you follow this one?
With great difficulty (laughs)? It got to be correct; it's got to be the right record, to follow this one up.
How does it feel to be back on stage after being away for so long?
Fucking awesome!
Thank you Lita for taking the time for this interview. To wrap things up is there anything you would like to add to this interview?
I've just got to say that it's great to be back. It's great that people are digging to the new CD so much, I'm so happy for that. I hope everyone missed me as much as I missed them.
Links
MySpace * Facebook * Twitter * Site
Interview by Matteo Bussotti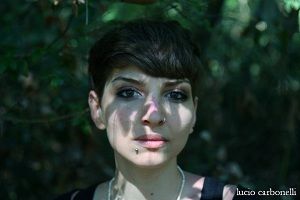 Maybe you don't know them, but these boys (and their very talented female singer, Adriana), have toured all over Europe, and they're surely proving abroad that Italy has something to say, also musically. With their strange, experimental rhythms they've made their way into many clubs and musical scenarios, and they've also composed some scores for some short or independent movie. We asked Adriana, their singer, to tell us more about this constantly growing band, with such a mysterious and interesting name.
Welcome, Adriana; first of all, tell our fans something about yourself!
Hello, well "I really have nothing to say, but I want to tell it all the same".
We know that all of you, before becoming a band, were all friends. So…when did it come to your mind to say "Let's put up a band!"? And how was it at the beginning?
During the high school I was playing with Salvio (the drummer) in a band and Davide and Maurizio (bass and guitar) were in another band. When these experiences came to an end and we understood that we had common ideas and intentions about music, so we decided to start with the Mantra. Everything happened in a very natural way for us. We had some line up changes, at the very beginning I just played guitar, then we became an instrumental band and after few months -during a recording session- we realized that I could have been the singer.
The Mantra started in 2008 their "professional" career, but you, Adriana, when did you start to sing? You started as a child?
I've been singing for about 3 years in a children choir and then in a polyphonic choir when I was a child, that's where I had my first (and last) lessons of music theory and vocal technique. The repertory was classical music such as the Verdi' s Requiem, Mozart's Requiem and Beethoven symphonies. I stopped for a long period since I started my first band in high school, at 14. After that I've been "mute" for a long time, 5 years. I started to sing again with the Mantra, with a different consciousness and perception of my voice, now I want to study again.
What's the story behind your strange and very long name?
Our name is a collage of different words and ideas that we consider important and inspiring. We are not used to reveal everything, we can tell you that "spotless" comes from the title of a famous movie (and the verses of a poem), "mantra" comes from the fascinating oriental culture.
You published with Aaaargh Records a 2-track vinyl. Why this choice, to make a vinyl instead of a CD? And, I must say…I love this choice, seriously. I really, really like vinyl. Good job!
First of all, we liked the idea to produce a beautiful object, something that you would like to have in an historical moment where buying a record is not the only way to listen to music. A vinyl has a strong appeal and feels more "material" to us. We also liked the fact that you have to put the record on the turntable, sit down and listen, it's THE physical support. It helps to recover a quiet and almost sacred way to listen to music, something that with mp3 and streaming is going to be lost.
You composed various scores for different short films. How was it? In which way it differs from composing your own music for your own albums?
It's a completely different work. When you compose music for a movie you have to be delicate, not too invasive and super accurate. You have to add beauty or suspense or happiness or anything else useful and blend it with images and words. It's not just about yourself. It's been funny and instructive, we learned how to afford technical issues about timing and dynamics and also experimented a new fascinating way to communicate something.
How was to start touring with God Is An Astronaut, after having published only one record?
Well, unfortunately we have been never touring with God is an Astronaut. We tried hard but for several reasons, we couldn't. We had to play in UK and USA when they have been touring in Italy and we never found an easy way to arrange some shows together. Too bad.

What can you recall about your appearance on television, here in Italy?
We found that, unless you are overexposed (that is not always a good thing), TV doesn't change your life. Live shows are the most important thing to do for an important growth, it's real life. We have been in the RAI.tv homepage -the Italian State channel- for a week, we had a good feedback and several passages on media, it's an important step but not the signal of a big success. It has been anyway an amazing goal and we don't think it's a bad thing, maybe it means that in some areas of music business, music is still important and not everything is depending from massive advertising and promotion.
You toured a lot, in Europe and in America. Can you tell us how fans from one "zone" to another are different from each other? I can't remember who, but someone once said that, from nation to nation, fans "smell" differently. What can you say about that? Strange, isn't it?
Of course we found that. UK, USA, Italy, Greece, every country (and city!) a different reaction. Most of the time very good, luckily; it also depends from the venue and the situation. I don't want to be superficial, but I can say that generally in USA people are very interested in live music, they buy records and if they come to your show is because they want to listen to you. In UK people got stuck that we came from Italy, and had a very good reaction to our music defined "different" – even if they are an expert audience. Greece has been a surprisingly good experience, there are many interesting bands and everyone is very professional. Italy, well, the situation for music from the inside doesn't look wonderful, but sometimes we cannot judge if we are directly involved. I can say that there's less people going to the concerts, maybe because of crisis or lack of good venues but the few that are withstanding are the best, Italian people is fantastic and we love it from the bottom of our hearts. Anyway it's matter of feelings and they change every time, not just because of the country. Meeting people is one the best part of being a musician.
How is working with such an important label as RareNoiseRecords?
Rare Noise Records is one of the best things that happened to us. They help us to build little by little our future and our dreams. We feel grateful and honoured to work with such professional and passionate people. Giacomo, the owner, is an amazing person and during these years he became more than a "boss" for us.
Your style (as a band, but also as as singer) is very close, in certain ways, to Radiohead' s one. What influenced your style most?
I've been listening to tons of classical, jazz and 70s prog and rock music during my childhood without being conscious of it, now I found that influenced me a lot. As a teenager I started with hip-hop till I met the Nirvana, they opened my ears to the world of rock and alternative music. Now I can say that during the years I've become (as the rest of the band) a 360° music lover, I listen to all kinds of music and artists. I don't have a definitive guide or model, I try to learn from the others and then forget, sing with my mind empty. In the last weeks I've been listening a lot to Hindi Zahra and Sufjan Stevens. Among female singers I love Billie Holiday, Beth Gibbons and Joni Mitchell and Lauryn Hill and.. they're definitely too many.

How much is voice important for you, what's its role in music, for you? Do you view it only as a way of delivering a message, or you think it's an instrument itself? I'm referring to Jonsi's (Sigur Ròs' singer) point of view in this case. He considers voice a musical instrument itself, and he invented a new language, called "hopelandic" in order to deliver a message using not words, but sounds which melt perfectly with the music in Sigur Ros' songs.
It depends from the genre and from the song, and -as a consequence- of your necessity. The voice is like an instrument but with an immediate communicative power, because of the possibility to use words and words are important to me. This is the reason why people listen in first place to the vocals, usually it's the primary melodic "instrument" and it speaks, literally. I adore the album "( )" and I like the Jonsi' s vocal approach as I consider it an instrumental album. In my personal opinion I think that every part must work perfectly with the others, everything in service of the song itself.
Moreover, do you think we should expand our vocal capabilities (like Jonsi, for example, or, if you know him, Demetrio Stratos), or is voice already well used, and we should leave it just like this? Is it right to explore voice, or maybe, sometimes too much experimentation leads only to confusion?
Of course, never stop improving yourself. Demetrio Stratos was a phenomenon, a unique case and an amazing talent. One on a million. For mortals like us, experimentation is positive as it leads to discover your limits and your possibilities. Singing is like a research on yourself, you can always find something new about your voice and you as a person. I also believe that it has much to do with your mind, it's psychological. Personally I love melodies and I don't consider myself an experimenter, but I believe that studying and working on sounds and different ways to use the voice increase possibilities to make your ideas, your intuitions become something real, concrete and beautiful at their best.
Thank you so much for your time, and…good luck!
Thanks to you for your interest and the beautiful interview. For everyone who'd like to contact the band email themantraatsmm@gmail.com we are always happy to be in touch with people.
Links
MySpace * Facebook * Google Plus * Twitter * Site
Label : Cruz del Sur Music/High Roller Records/Iron Kodex Records
Review by Stina
On some occasions, live albums/DVDs might tend to mark certain – hopefully memorable – circumstances: relevant anniversaries, for example, or maybe a special performance in a significant venue. While Heaven Wept's first live package – a CD/DVD 2 disc set released via Cruz Del Sur Music on November 8th, 2010 in a quantity of 3000 copies, plus an additional, limited edition 2LP set released through a joint collaboration between Cruz Del Sur Music, High Roller Records and Iron Kodex Records in a quantity of 1000 copies, including a poster, insert and housed in heavy gatefold sleeve – adheres to any of the aforementioned criteria yet it is not truly any of the above. A document of a band in their 20th year, and – and as far as locations go, recorded during the band's appearance at Hammer of Doom festival, in Germany, the real purpose of this release is better explained in the words of primary writer and overall engine of the band, mainman Tom Philips: "The philosophy behind this release is twofold; first, it is an expression of our gratitude to everyone who attended the show – who made it such a special, unforgettable experience for us. Secondly, being that there are many places that WHW would like to perform, but we've yet to reach, hopefully this will hold those waiting over until we can broker a deal to appear in your city, in person". "Triumph:Tragedy:Transcendence" might not capture the most extensive live set ever performed (a total of seven tracks, plus the usual bonus material including rehearsal films, a 20-minute interview and three additional live versions of songs already played in the Hammer of Doom show), but it does surely make up for that detail, as it reaches as far back as the band's 1998 debut "Sorrow of the Angels", bringing together a nice collection that spans all the band's releases, much to the fans' pleasure. This renders the result not just a cobbled-together, fans-only collector's item, but also an overall enjoyable work, and even an excellent introduction to the legendary Doom act from Virginia, also thanks to the excellent quality of the performance, both sound-wise and also technically. Covering an expanse of nuances from the serene and celestial to the epic and raging and a kaleidoscopic plethora of dispositions in-between due to the reason mentioned above (as anyone who's familiar with the discography of WHW is able to testify), "Triumph:Tragedy:Transcendence" showcases a jaw-dropping interplay between the musicians that's remarkably fluid, perfectly coordinated and crystal clear – individual contributions are outstandingly discernible and the atmosphere created by the synths of Michelle Schrotz (the lady of the band, with whom she has recently parted ways – only on a temporary basis, thankfully – due to maternity reasons), who is also responsible for the harmonized female vocals, coat the execution of the songs in a chilling but soothing fashion. This live release has mostly been criticized for its coldness (most of the audience's reaction is silenced, which gives an impeccable but a bit studio-like feel to the overall performance) but the presence of this flaw which the reviewer only perceives as minor should be let get in the way of the validity of the work. Sure, While Heaven Wept may not have invented melody-infused Epic Doom, but they sure have put an indelible stamp on it over the last twenty years – which means two things: first and foremost, any fan of the band would better grab a copy of this live release, and secondly, if you, reader, are yet to investigate the soundscapes of this fine femme-related band, don't you think the time is now?
Rating – 80/100
Tracklist
Vast Ocean Lachrymose

The Furthest Shore (Parts 1-3)

Soul Sadness

The Drowning Years

Of Empires Forlorn

Vessel

Thus With a Kiss I Die
Line Up
Rain Irving – Lead Vocals

Scott Loose – Guitar

Tom Phillips – Guitar, Keyboards & Vocals

Michelle Schrotz – Keyboards, Vocals

Jim Hunter – Bass, Vocals

Trevor Schrotz – Drums
Links
6 color styles available:

Style switcher only on this demo version. Theme styles can be changed from Options page.