Browsing articles tagged with " 2010"
Independent Release
Review by Davide Torresan
It's hard to do a little biography of this band. The main fault is their country of origin: Japan. You can understand it from the artwork of the album, "Hellmet", which I'm going to review. It has some colored drawings since there are some funny skulls. G∀LMET is a girl metal band, and I have to say that from the few pics and videos on internet they look like some characters of the anime "Nana". Unfortunately I do not know Japanese, but I wish to describe to you the feelings that this debut album caused to me. From the members' pretty faces I was expecting a sort of symphonic metal band, like there are so many in Japan (and that often try to imitate the European groups). Instead, once you have pressed the "play" button, after a short piano intro, the very first song makes its appearance: "Treason Sky". It has a overwhelming start with guitars and drums in the perfect death metal style. Continue reading »
Independent Release
Review by Luisa Mercier
Greek combo Korrigan released in 2010 their first full-length, after a demo and a promo EP. The kind of music that they deliver us is a very melodic death metal with a lot of atmosphere. All of the nine songs are very well written, maybe there is not one that really stands out, but the quality is really high.
Main influences come from the past: their Greek companions Septic Flesh, but also Amorphis, Tiamat and gothic masters Tristania. Listen for example to "Suicidal Urges", the heavy riffs are graced by keyboards and beautiful female vocals provided by Zoe. Another important element in Korrigan's music is the violin, which makes everything more elegant as you can see in "As Sanity Fades", while in "Hopeless Times" there are some black-metal blast beats! "Endowed by the Ruins" is the longest track on the album and has a quite progressive feeling: from calm moments to faster and heavier ones. Continue reading »
Label: Mazzar Records
Review by Luisa Mercier
Voiceless Void come from Russia and "Song of Black Roses" is their fourth full-length. They offer to the audience a gothic-doom metal played in a rather classic way. Plenty of growling vocals, female vocals, guitars tuned down and lots of keyboards and synth. The opener "Be My Faith" is completely sung by male vocalist and I have to say that I don't like them at all. Way too raw for my ears and they lack violence and despair. The title track follows and we get to hear Olga, the female vocalist. She's got a pleasant dark half-operatic voice that is well suited to contrast Roman, the guitar player and growler. Something different is "Queen of The Lakes" which has an acoustic intro and some nice melodic parts mostly supported by synth and guitars. Listening through the album I have to make a great effort to find something really original, honestly the album is well produced, nicely played but something is missing. That idea that makes you say: "this is actually very good!". It stays an average gothic metal album that lovers of this genre may enjoy but not the others. Continue reading »
Label: Black-Listed Productions
Review by Tony Cannella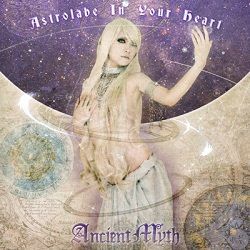 "Astrolabe in Your Heart" was the debut full-length album from the Japanese Cinematic Symphonic Metal Band Ancient Myth. Prior to that the band released a number of singles, EPs and demos, but this would be the first full output from Ancient Myth.
"Astrolabe…" opens with the majestic intro "Culmination" and leads into the powerful "Astrolabe in Your Heart". As with all of their material the vocalist Michal sings all of her parts in Japanese. The music maintains a high caliber of cinematic, neo classical metal. The third track (the title is written in Japanese) is a mid-paced orchestral number, which sees Michal bring her vocals down a notch to compliment the song. "Astrolabe in Your Heart" has no shortage of highlights like the fast paced gallop of "Mortal Heaven", the brilliantly complex and diverse "Canis" and the straight-forward power metal euphoria of "Unlaced: Emergence".
I hate to compare albums, but while "Astrolabe in Your Heart" is a solid debut their second album "Akashic" is perhaps a tad better, but that is debatable. In the end, there is not much to differentiate the two and fans who like "Akashic" should be pleased with this debut from Ancient Myth as well. Continue reading »

Interview by Ed MacLaren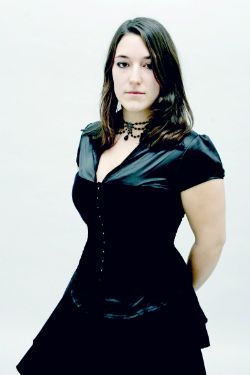 Barely into their 20s, Germany's Voices of Destiny has a musical maturity that belies their young years. With their shining debut, "From the Ashes", Voices of Destiny is packed with massive chops and soaring vocals that match many of the premier symphonic metal bands you're listening to right now. Vocalist Maike Holzmann joined Femme Metal to talk about the creation of "From the Ashes".
Congratulations on the new album! With Massacre Records no less. How are you and the band enjoying the ride so far? The feedback must be excellent.
Working with Massacre and all the great people we met during the recording process is awesome. Of course, we got some positive reviews and comments on our homepage, but we can't tell how often the album is sold by now. We will know better in a few weeks.
"From the Ashes" is a very multi-textured album that draws you in deeper each time you listen to it. There's a lot of detail happening musically. What's the key to maximizing the "From the Ashes" listening experience?
Maybe just sitting down and listening to the album carefully and consciously. If you read the lyrics while listening this might also maximize the experience. You can interpret them and find out how they fit into your life.
What's really impressive about "From the Ashes" is the number of potential singles: "Ray of Hope", "Return from the Ashes", "Apathy" and "All Eyes on Me" are all standout tracks. Each song on the album can stand on its own as well as a cohesive part of the whole album. Was that the band's approach during the songwriting process?
Yes, indeed. We didn't write the album as a concept album. Some songs already existed for 2 years or longer. But we thought they'd fit the album as well. Every single song is good on its own but concerning the whole album they reach another level somehow.
6 color styles available:

Style switcher only on this demo version. Theme styles can be changed from Options page.