Browsing articles tagged with " 2012"
Label: In The Morningside Records
Review by Luisa Mercier
Trobar de Morte are back, three year after their latest full-lenth release and last year acoustic album. This time the album is inspired by Celtic mythology, by the ancestral goddess of the Earth in hymns like "The Silver Wheel" and "Riding The Wheel". Tales, legends and myths of ancient Celtic classics are masterfully interpreted in songs like "The Mist of Avalon", "Morgana", "Arianrhod", "Nimue" and the cover version of "Kyrie Eleison". Deeply rooted in paganism and Gaelic tradition are songs like "The Pagan Way", "Samhain" (the Gaelic Harvest Festival) and fantasy themes like "In the Garden of Serenity" and "Moonspell".  Continue reading »
Label: Anko Music
Review by Tony Cannella
The Italian aggressive metal band Viper Venom has been in existence since 1999. After a few demos they released their debut EP in 2009 and now finally have issued their full-length debut "In Venom Veritas". Musically and lyrically Viper Venom are not known for their subtlety and "In Venom Veritas" is just a powerful and uncompromising release that mixes heavy metal with thrash and hardcore grooves.
With song titles like "Soul Embolism", "Venereal Disease", "Schizophrenia", "Coma", "Infected Scar" and "Angina" I am beginning to sense a theme with the lyrics. I'm not sure if this would be considered a full blown concept album, but a lot of the lyrics seem to deal with different types of sickness and diseases. Musically, Viper Venom – which is now a trio – delivers some aggressive music to go along with their lyrical subject matter. Continue reading »
Label: Woodhouse Records/Feuerbaum Records
Review by Tony Cannella
For anyone who still hangs on to the notion that metal is a limiting art form than I would direct them to the female fronted German trio Via Obscura and their new album "Gedanken". Make no mistake about it, this is not uplifting head banging metal, instead Via Obscura are little bit more on the dark and melancholic side.
The songs on "Gedanken" are ethereal, eclectic and emotional. The band fuses heavy doom-metal like riffs with the wispy melancholic vocals of Anne S. Thinius to create an alternative blend of some unique metal music. The tempo is slower paced for the most part and the vibe is foreboding from the very beginning of the opening track "Moment". The eerie sounding organ intros the next track "Dreck" as some monstrously heavy riffs joins in. Continue reading »
Label: Trieste Records
Review by Tony Cannella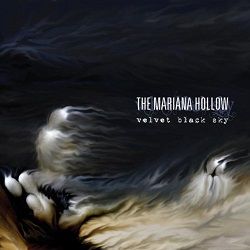 "Velvet Black Sky" is the title of the 2nd album from The Mariana Hollow, a 5-piece alternative metal band hailing from the UK. If their debut album, 2010's "Coma Heart" knocked on the door, their newest release is ready to kick it in.
The overall feeling on "Velvet Black Sky" is dark, but more varied than on their previous album. The intro "Before the Dive" segues nicely into the pounding, atmosphere heavy "Dead Reckoning". The songwriting on "Velvet Black Sky" is miles ahead of "Coma Heart", and that is evident from the very beginning. The next track is the excellent, "Your Halo" which the band has done a video for (you can check it out at the usual outlets like YouTube, etc.), and it is easy to see why this song was chosen, it is one of the more accessible songs you will find on VBS. Continue reading »
Label: Edge Records/Ravenheart Records
Review by Tony Cannella
One thing I have learned is to never judge a band on first listen. A perfect example of this is the Slovakian band Storyum. After the first listen to their 2010 album "Insomnia", I was less than impressed, but after giving it one more listen, then another, then another… well you get the point, I grew to really like this album and my rating kept going up and up with each subsequent listen.
The female vocals on "Insomnia" is performed by Suzy Isis Morovics and Alexandra Oroszova, with some male vocals present as well. Their sound features a mixture of pop, alternative rock and more straight-forward melodic hard rock. The eerie "Intro" segues into the upbeat heavy pop swagger of "Walk the Way", which is followed by the sexy "Fire". "Don't Leave Me Alone" is another song that has a pop style and a melody that is undeniably wicked. Continue reading »
6 color styles available:

Style switcher only on this demo version. Theme styles can be changed from Options page.