Browsing articles tagged with " 76"
Label: Napalm Records
Review by Tony Cannella
With all of the talk about the 'true metal' movement, it is easy to forget that there are those bands who are making thrash metal fashionable again. One of those bands is Canada's Mortillery. They formed in 2009 and released their self-titled demo in 2010. It didn't take long for the folks at Napalm Records to come calling and hence we have their debut full-length "Murder Death Kill".
First of all with an album title like "Murder Death Kill", it pretty much says a lot what the band may be like. Suffice it to say, don't expect anything nice or cutesy. The first song "Murder Death Kill" begins the thrash fest with a potently intense opening number that sees the band firing on all cylinders led by the aggressive (somewhat high pitched) vocals of Cara McCutchen who delivers her lines in rapid fire fashion. Continue reading »
Label : Nail Records/Hammer Music
Review by Tony Cannella
The second full-length album from Hungary's Dharma is one that requires a certain amount of open minded-ness. Musically the band sort of straddles the line between Gothic Rock and Electronic Metal. It is certainly something that does not make an immediate impact (at least for me it didn't), but something that – after a few listens – began to grow on me.
The straight-forward, hard driving "Varanasi" starts us off, and it is an opener that certainly sets the tempo on "Dharmageddon". Some melancholic piano and thunder noises start off the next track "Encoded in Fire". This is basically a mid-tempo song, with a haunting quality and a memorable chorus. Track 3, "Apocalypto" fast became my favorite song. It is pretty much another straight-forward track with some great vocals from Ani Ritzel. Continue reading »
Label : Gothoom Productions
Review by Tony Cannella
From Slovakia, the melodic dark metal band Galadriel was formed way back in 1995. They released their first album, "Empire of Emptiness" in 1996. Now they have released their seventh album, "The 7th Queen Enthroned". Throughout the 36-minute, "The 7th Queen Enthroned", Galadriel utilizes beauty and the beast vocals performed by female vocalist Sona Witch Kozakova and her male counterpart, bassist Dodo Datel. The opening track, "Evilution" sets the tone nicely. Sona's vocals handle the more melodic parts whilst Dodo's can be heard on the heavier parts of the song. The vocals are split pretty evenly on this one and musically the songs have a classic metal vibe to them as "Evilution" segues into "Crucifixion Deluxe". The pacing of this song is deliberate as Dodo spits out his lyrics in rapid fire succession – as he takes the lead on this song with a little help from Sona near the end. Overall Dodo does a large portion of the vocal work, but Sona does an excellent job when called upon and she really adds something to the recording. I was also impressed with Dodo's vocals as well, technically he may not be a virtuoso by any means, but his vocals are quite ferocious and clear. "Still Not Dead Enough" continues in the general direction set by the previous two songs and includes a wicked guitar solo. There is no shortage of energy and enthusiasm as songs like, "The World is War", "The Last Time" and "Mother Is Dying" will attest to. It is rare for such a veteran band to fly under the radar the way Galadriel has. If nothing else, they have proven to be survivors and hopefully with their new album, "The 7th Queen Enthroned" their hard work and dedication will start to pay off.
Rating – 76/100
Tracklist
Evilution

Crucifixion Deluxe

Still Not Dead Enough

The World is War

The Last Time

Labyrinth

Mother Is Dying

Eosphorus
Line Up
Sona Witch Kozakova – Vocals

Dodo Datel – Vocals & Bass

Tomax Gabris – Guitars

Jan Ivan – Drums (session)
Links
Label : A&M/Octone

Review by Tony Cannella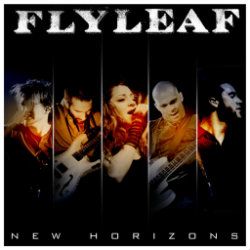 On their 3rd album, "New Horizons" the American alternative hard rock band Flyleaf delivers more of their brand of infectiously melodic songs with both a punk and hard pop rock edge to them. With a playing time of 36-minutes long, Flyleaf wastes little time in getting into it. From the opener "Fire Fire" to the closing track "Broken Wings", "New Horizons" should hold a lot of appeal to longtime fans of the band. Songs like "New Horizons", "Call You Out" and "Saving Grace" are straight-forward hard rocking songs, which remind me a bit of a heavier version of Paramore. I'm sure that they've heard that comparison before, but there is enough here that should separate Flyleaf from bands of their ilk and place them in their own category. The band has been labeled a Christian rock band in the past, due to some of their lyrical subject matter, but their religious leanings definitely don't overshadow the music and they don't come across as preachy. "New Horizons" is probably an appropriate title and is bittersweet for fans of the band. Prior to the album's release, lead vocalist Lacey Sturm departed the band and has since been replaced by Kristen May formerly of the band Vedara. Only time will tell if they can maintain the same high level that their fans are accustomed to. I bet they will.
Rating – 76/100
Tracklist
Fire Fire
New Horizons
Call You Out
Cage on the Ground
Great Love
Bury Your Heart
Freedom
Saving Grace
Stand
Green Heart
Broken Wings
Line Up
Lacey Sturm – Lead Vocals
Sameer Bhattacharya – Guitars & Vocals
Jared Hartmann – Guitar
Pat Seals – Bass & Vocals
James Culpepper – Drums
Links
Label : Brennus Music/Muséa
Review by Tony Cannella
The band name PYG is actually short for Project: Yvan Guillevic, the founder of this project. The band hails from France are mostly considered progressive metal but I also hear some classic metal style influences present on their debut album "End of the World". PYG has two lead vocalists, a female (Nelly Le Quilliec) and male (Morgan Marlet) and both receive equal opportunity to show off their talents. The opening track "Prisoners of the World" is a mid-tempo opener with a great classic metal style guitar riff and the two vocalists putting forth their best efforts to make this one of the very best songs on this 58-minute album. The band shifts effortlessly from Progressive Rock to Melodic Hard Rock to Classic Heavy Metal, which helps to make this an enjoyable debut. The second track "Mother Earth – Part 1 – From the Darkness" is a beautiful track that starts off with piano and then is joined by some Gary Moore style guitar work, before the vocals come in with Morgan taking the lead and Nelly offering background melody stuff. This is really a hauntingly beautiful track that leads us into "Mass Consumption – Part 1 – Television" and then "Mass Consumption – Part 2 – New Stuff". The second part in particular really gained my attention thanks to the classic rock opening guitar riff and some cool interplay between the guitars and keyboards. Other highlights include: "Rain Dance", "Time of Exodus" and "New Hope" which ends the CD on a note of optimism. Guitarist Yvan Guillevic is certainly an accomplished musician and with his new project PYG he has surrounded himself with a talented array of musicians who all do their part to make "End of the World" a creative success.
Rating – 76/100
Tracklist
Prisoners of the World

Mother Earth – Part I – From the Darkness

Mass Consumption – Part 1 – Television

Mass Consumption – Part 2 – New Stuff

Siren Song

My Greed

Rain Dance

Mother Earth – Part 2 – Don't Cry

End of the World

Time of Exodus

New Hope
Line Up
Nelly Le Quilliec – Vocals

Morgan Marlet – Vocals

Yvan Guillevic – Guitars

Jean-Noel Roze – Keyboards

Bernard Clemence – Bass

Julien Oukidja – Drums
Links
6 color styles available:

Style switcher only on this demo version. Theme styles can be changed from Options page.