Browsing articles tagged with " 78"
Independent Release
Review by Tony Cannella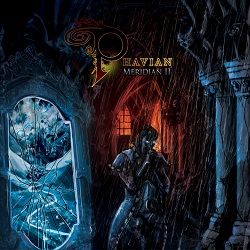 The progressive/avant-garde metal band Phavian returns with their third album "Meridian II". The band first came on the radar in 2009 with their debut "Kiena". After releasing an EP ("Foreword") in 2011, they released the epic "Meridian I" a few months later and have now released the follow-up.
The acoustic, melancholy of "Adam's Ale" begins the 6-song, 39-minute album on a beautiful note. Lead vocalist Elizabeth Matson shows what a diverse singing style she has and fits in perfectly with the music. The opening song clocks in at almost 3-minutes and is followed by two 8-minute tracks. "Purl" is next and is a nice mid-paced song, with tempo changes that goes from heavier, guitar driven and back to the acoustic style of the first song – in fact, it is almost like an extension of the opening number. Continue reading »
Independent Release
Review by Tony Cannella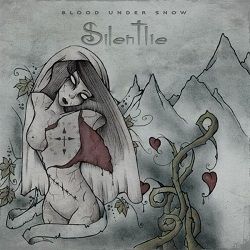 From Italy, the band SilentLie was formed in 2005 by vocalist Giorgia and guitarist Luigi. In 2007 they recorded the demo "Behind My Face". In addition to that they have recorded songs for various compilations and even had a song included on the soundtrack for the movie "Blood Sisters". Now the band returns with 5-song, 25-minute EP entitled, "Blood Under Snow". SilentLie has an affinity for writing solid melodic songs with a hard rock/heavy metal groove and "Blood Under Snow" is a testament to this fact.
The blazing out-of-the-box track "Regret" gets us off to a running start. I really like the vocals of Giorgia. I'm not sure what it is I like about her. Continue reading »
Label: Secret Quarters
Review by Davide Torresan
Only one year has passed since the release of the EP "Havdøgn" of the Norwegian Havnatt. "Etterlatte" is the debut album of the Scandinavian duo and it's again based on a poem of the Norwegian poet, novelist and playwright Tormod Skagestad. The guitarist Tom Simonsen and the talentuous singer Cecilie Langlie decided not to change radically the sound of "Havdøgn", but they added a couple of new elements of which were not in the EP. In fact, there, the sounds were way too poor. Although the celestial voice of Cecilie stood out on the numerous guitar arpeggios, you could hear a feeling of emptiness, and the risk to yawn was really high. To this 2 elements it has been added a cello and the mellow sound of a violin to fill the void of that lack. Continue reading »
Label: Who Music
Review by Davide Torresan
Eye Ra Haze is a New York-based band, and this "Eye Of The Storm" is their debut EP. The main feature of this group is the high female presence since 3 of the 5 members are women. And while in a band formed mostly by girls the guitarist is always a man, in Eye Ra Haze the roles are reversed: Nicole Papastavrou, in fact, definitely knows how to play her instrument. The genre proposed by this group is a progressive/alternative metal with a lot of influences, melodic but never boring. They reminded me of Flyleaf but, above all, Lacuna Coil. "Eye Of The Storm" starts with "New Beginning", from which has been filmed a video. The song has a catchy melody though having a dark atmosphere. Continue reading »
Label: GlassVille Records
Review by Tony Cannella
I first heard of the Swedish band Paatos via their 2004 album "Kallocain". This was an interesting album, I thought and little did I know it was their second. I had no idea that this band was still together until I received their new album "Breathing" – which is actually their fourth studio album (they have a live album out there somewhere, I think). Paatos has been described as everything from rock and pop to progressive music. It's all true, but Paatos also infuses moments of metal, psychedelic and alternative to the mix – their musical pallet is pretty wide. Musically, the closest comparison I can think of is "How to Measure a Planet?" era the Gathering meets something like 3rd and the Mortal. One thing is for sure, "Breathing" has plenty of atmosphere and nuances. The opening track "Gone" is a heavy almost doom-y song with an early Black Sabbath or Soundgarden feel to it. The next song "Fading Out" is not as heavy as the first song and has kind of a laid-back feel. Continue reading »
6 color styles available:

Style switcher only on this demo version. Theme styles can be changed from Options page.