Browsing articles tagged with " 82"
Independent Release
Review by Tony Cannella
From Brazil, the band Eternyx formed in 2008 and has just issued their debut album "Unknown Way". Throughout the 10-song 38-minute album, Eternyx offers various styles of metal, from death to doom to progressive to symphonic metal. Lead vocalist Aline Vandrack provides both clean and extreme vocals and the band is there every step of the way to compliment the duel vocal styles.
"Unknown Way" begins with the symphonic "Trust Me". This is a huge sounding intro which segues nicely into the over-the-top bombast of "Lake of Tears". The guitar riff is simply crushing on this one and the clean vocals soar right along with the music and the grunt vocals come into play as well on this one. Continue reading »
Independent Release
Review by Tony Cannella
"Ephemeral Way" is the title of the debut EP from Spanish Goth metallers Unseen Ether. 5-songs and 25-minutes worth of music makes up the debut.
"Ephemeral Way" gets started on a positive note with "Euphoria". A strong guitar riff dominates this song and Alba's clean vocals are sometimes reminiscent of Lacuna Coil's Cristina Scabbia. In fact, if you would ask me to compare this band to anyone I would have to say that Lacuna Coil and early Anneke era The Gathering are the two bands that spring to mind. "A New Sun" is next and comes equipped with a memorable chorus.
Unseen Ether adds plenty of melody into the mix, which is never a bad thing, in my opinion. There is not much of a varied style on the songs. What you hear in the beginning is pretty much what makes up "Ephemeral Way". The lone exception is "Throwing Stones" which goes from being a ballad to sludgy riffed mid-tempo number to a faster paced song. This is an excellent song that features some fantastic all around performances. Continue reading »
Label : RD Records
Review by Tony Cannella
There was always a curiosity about Romeo's Daughter. In the 80s it was impossible to pick up an issue of Kerrang! Magazine without seeing something about the bands gorgeous front woman Leigh Matty. So, after a few years I finally heard them on one of the "Nightmare on Elm Street" soundtracks with the Mutt Lange produced "Heaven in the Backseat" it was an infectious slice of pop flavored, hard rock but shortly thereafter, they were gone – as the musical landscape had been changing. Fast forward almost 20-years later and the band has re-formed and releases the long awaited third album "Rapture".
Prior to the release of "Rapture", Romeo's Daughter also re-issued their first two albums (both excellent, by the way) and all that brings us to "Rapture". From the first note of the first song "Trippin' Out", it is almost like Romeo's Daughter never went away. This is classic, infectious AOR rock very reminiscent of their earlier stuff. The beautiful "Bittersweet" has a melodic side that is just won't quit and is largely acoustic driven and is one of the best songs. Leigh Matty hasn't lost a thing vocal wise, in fact she may even be better than before. Other highlights include: "Cannot Be the One" (a pretty cool ballad), "Keep Walking" (a great up-tempo rocker with an AC/DC style riff), "Lightning", "Precious Thing" and "Alive".
So, 19 years is a long time between albums. It will be interesting to hear opinions of long time fans. Was it worth the wait? Well, for me "Rapture" is a successful return to form for Romeo's Daughter. It is good to see them back and doing what they do best. Continue reading »
Label : Black Widow Records
Review by Tony Cannella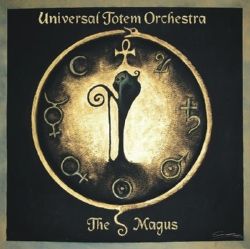 Italy's Universal Totem Orchestra is a strange Progressive, Jazz/Fusion and Rock Ensemble. Their new album is called "The Magus" and was released in 2008. According to the UTO official web site, "The Magus" completes a trilogy ("Hidden Opera" and "Rituale Alieno" are the first two parts), dedicated to Human Alienation; from the most esoteric state to the most psychal complex one, crossing extreme forms of analysis and autoanalysis. After listening to "The Magus" and taking it all in, all I can say is, wow! Universal Totem Orchestra is one band that has absolutely no restraints when it comes to their music, zero, none. On "The Magus" anything goes. Even though there are only 6-songs on "The Magus", the whole thing clocks in at a whopping 80-minute long. The 19-minute quirky opener, "De Astrologia" really sets the tempo and vibe. Next is the 17 and-a-half minute "Coerenza Delle Percentuali". This is a great track the features some cool female opera vocals from Ana Torres Fraile. "Ato Paradime" (16-minutes long) and the closing track "Vento Madre" (over 13-minutes long) are two more highlights. UTO are seriously one of the most unique bands I have heard in a long time. Because the songs are so long there is ample opportunity given to the musicians to shine and the songs travel down many different paths throughout the course of a single song. Whether you like UTO or you don't, there is no denying the musicianship and the sheer uniqueness that this band displays on "The Magus". I don't know if I could recommend this band to the majority of my metal loving brethren, but for those who enjoy a bit of the adventurous when it come to music, and wouldn't mind checking out a band that dares to think out of the box, than this is one band that deserves a listen.
Rating – 82/100
Tracklist
De Astrologia
Coerenza Delle Percentuali
Les Plantes Magiques
Ato Paradime
Mors, Ultima Linea Rerum
Vento Madre
Line Up
Ana Torres Fraile – Vocals
Fabrizzio Mattuzzi – Keyboards
Antonio Fedeli – Saxophones
Yanik L. Andreatta – Bass
Uto G. Golin – Drums
Links
Label : Dreamcell11/Aural Music
Review by Andrea Disgraced
Theatres des Vampires are back and this time with full force! Ok, let's start from the beginning: being an old, huge fan of the band and having followed them since the beginning, loving almost every change in directions they had made, since most times they did it with both "brain & heart", maintaining a very high profile, musically speaking. Until that infamous "Anima Noir", which dates back to 2008 and that brought a lot of doubts to my mind. Don't get me wrong, I own it and enjoyed A LOT one gig of the promo tour here in Italy but after that period I didn't listen to it anymore; when I decided to have another go at it some months ago I suddenly realized all the flaws that back in 2008 the excitement of a die-hard fan didn't allow me to see. But this isn't a review of "Anima Noir" so I'll be brief, although it's a necessary prologue to understand my following statements. In few words, that was a bad album, with half of the songs that really didn't do any justice to such a band. There was a wonderful song, the ballad "From The Deep" and generally talking the first half of the album was more than decent, with some shivers then and there (no, that wasn't meant in a positive way!

). second half of the album was shamefully bad, bad songwriting, ridiculous keyboards-laden songs with that electro flavour that can appeal only to German goth dance clubs (no offense of any kind to anyone attached, be it clear). Only other wonderful song, the magnificent closing title-track couldn't save the album from drowning, in my personal and most humble opinion. So I admit I feared not that TdV took a direction I wouldn't like or became even less metal or bullshit like that, but simply that they would've come back with a – in my personal and most humble opinion – bad written album. God! Satan! Whoever you want! I was So wrong! I'm consuming this promo, I think.

The band decided somehow to dare, without losing its trademarks since countess Sonya Scarlet is the singer, and wrote a bunch of kickass songs that I refuse to call vampiric as if this review or the album where aimed at a teenie goth who thinks Stephenie Meyer invented gothic/vampiric literature. The album starts with "Keeper of Secrets", a good, heavy gothic metal song that perfectly opens to you the doors to what Theatres are today (and, I hope for several years to come). Aggressive guitars but never wannabe-aggressive, if you get my point: they don't try to be harder than they actually are and it's perfect this way. A catchy opener that will bring massacres during gigs! Last but not least, it introduces the first guest of the album, Mr. Snowy Shaw of Merciful Fate and Therion fame (let's not chat about the latest happenings around him I'm sure you all know of and that don't get him in the light so much hehe

). Let me tell you something that I'm sure you all crave to know about. Sonya's performance is here probably her best EVER. It must be said that that is also due to a finally perfect production, able to give Sonya's different vocal nuances the right tone to be well expressed and recorded. Actually I think that her rockish vocals are quite interesting in the scene: unusual, sensual, with a lot of "recitato" (I take this word from the opera terminology to say that she really means what she sings, so to say). Not to mention that her opera-like singing, being it in the background or the leading vocal line, has improved so much and sounds now so incredibly good! Ok, not as powerful as the queens of "opera metal", but at least so clear, pure, crystalline you can't but love it. I dare to say even better than in those days in which she was merely a back-up singer and all (or nearly all) she had to do was to sing that way. Of course, throughout the whole opus we meet the usual male vocals – same speech here, sometimes they're just in the background, sometimes they duet with Sonya and sometimes they sing alone. Shame on me because I can't tell you who and when is doing them, since Fabian, Zimon and Gabriel, respectively keys, bass and drums are used to do those deep, male vocals, live too, so I guess you'll all have to attend a show! "Fly Away" and title-track "Moonlight Waltz" will make you feel like you wanna throw away half of your (modern at least) gothic metal collection, since these two passionate songs are surely above an average rating and mark other two songs I'm craving to hear live as soon as possible! Let's arrive to the cover song of this album: beloved Hijo de la Luna by Mecano, here in an Italian version called "Figlio Della Luna". Now, I usually hate covers identical or almost identical to the original, I wonder what's the point in doing that… This is NOT identical to the original, but not even totally different, that must be said. You'd recognize it very easily. Nonetheless, it's a fucking masterpiece! Perhaps because Italian is after all my mother tongue and so it has a particular taste – the exotic one for non-italian speakers. Perhaps because the orchestration and the band's skills turned it into a perfect symphonic cover – lately the only similar example I've heard, of something not having anything to do with symphonic metal that became an awesome pièce of it is "Still of the Night" by the goddess Tarja. Anyway this cover has it all: a heartfelt interpretation by Sonya, soaring orchestra and choirs and the right, fitting hitting of the band on the respective instruments. And if I can add, Sonya's performance has a nice feeling reminiscent of some classic (not classical) italian singers like Patty Pravo which is simply a point more in the whole thing. Ninth track "Le Grand Guignol" displays the talent of one of the first and best extreme metal women of all times: Cadaveria. The production gives a good hint, when she growls, of how she sounded back in the past with her previous bands, always on the edge of symphonic black metal and thrash; besides, we can hear also how perfect and angelic her clean vocals can be. "Obsession" is a good example of how you can make a song with electronic elements with an orchestra and choirs (thanks to the Classical Music Academy of Rome directed by Luca Bellanova) that would make many symphonic metal bands quite envious. Of course that isn't something related to just this track, as beautiful violins act as a perfect side part in "Carmilla", chosen as first single and which you can see the video to here. When I first listened to "Medousa" and "Carmilla", the songs made available on myspace, I admit I prefrred the former, though now also the latter, after nine or ten listenings before writing this review, has started to grow on me. "Medousa" is the closing track of this album, which features the classy participation of Eva Breznicar from neofolk-industrial band Laibach. Unfortunately although I like the song in itself, I don't find it a good ending, too anonymous perhaps. And I expected something more in the veins of Laibach, with their singer collaborating but maybe it was just me thinking wrong, maybe she was just invited to sing and stop. I still think it would've been an interesting experiment. On a negative note I can't help but pointing out that once again the English pronunciation isn't at its top at all; partly I think that's because of Sonya's particulasr style of singing: I mean, also when she sings in Italian I have problems in understanding the lyrics!

And if it can be of any consolation that's a problem shared by 99,9% of Italian bands in any genre, apart from those so commercially big that I think are forced by their labels to sing as clear as possible. Pity, otherwise my final vote (even though it's a number that doesn't count anything without reading the whole review) would have been higher. So, welcome back, TdV! p.s.The limited edition includes a bonus DVD with the video to "Carmilla", a "making of" of the album and other exclusive stuff.
Rating – 82/100
Tracklist
Keeper of Secrets
Carmilla
Moonlight Waltz
Fly Away
Sangue
Figlio Della Luna (Mecano cover)
An Illusion
Black Madonna
Le Grand Guignol
Obsession
The Secret Gates of Hades
Medousa
Line Up
Sonya Scarlet – Vocals
Stephan Benfante – Guitars
Fabian Varesi – Keyboards & Backing Vocals
Zimon Lijoi – Bass & Backing Vocals
Gabriel Valerio – Drums & Backing Vocals
Links
MySpace * ReverbNation * Facebook * Site
6 color styles available:

Style switcher only on this demo version. Theme styles can be changed from Options page.