Browsing articles tagged with " 82"
Label: Maple Metal Records
Review by Tony Cannella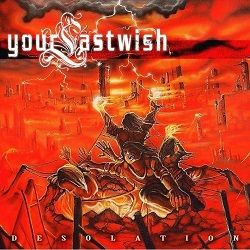 From Montreal, Quebec, Canada comes the melodic Death Metal band Your Last Wish. The band formed in 2003 and in '07 released their self-titled debut. Now YLW returns with a ferocious new album, "Desolation".
The opening intro is just the calm before the storm as is this kicks of the 11-track, 43-minute CD. This leads us into "Crisis to Creation", which starts off rather tame with cool guitar harmonies alternating with heavy riffs before the chaos kicks in and bedlam ensues. I like the way Your Last Wish is mindful of making the music somewhat melodic whilst lead vocalist Roxana does her thing. Musically, the band is technically proficient and Roxana is one of the best female death metal singers I've heard in a long time. Continue reading »
Independent Release
Reviews by Tony Cannella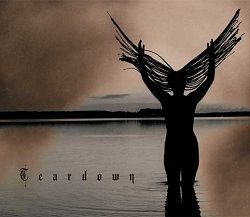 Released in 2004, "Drowned in Your Tears" is the first recorded output from the Finnish band Teardown. Even though this is their first attempt, their sound is rawer and the production is not as good as what came after. Still, for fans of the band it is an interesting look at how Teardown started and has progressed over the years.
"Stolen by Sorrow" opens things on an up-tempo, energetic pace. "Iced Heart" is a bit slower and has a heavy, doomy quality to it. "Dust" is next and opens up acoustically, like a lot of the bands material as the heavy guitars join in. Even though the final track, "Drowned in Your Tears" opens with a slower pace it quickly speeds up and shows what this excellent melodic metal band is capable of. Continue reading »
Label: Napalm Records
Review by Tony Cannella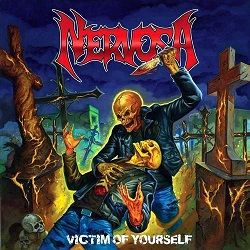 Nervosa is an all female thrash metal trio from Brazil. They've already been receiving some pretty positive buzz based on their initial 3-song demo released in 2012. Now the band is ready to unleash their debut full-length, "Victim of Yourself" via Napalm Records. Amidst all the female fronted symphonic, folk and power metal it seems like the thrash metal genre has been left behind, well Nervosa is about to change all of that. "Victim of Yourself" is definitely an old school thrash metal record, but having said that, it sounds pretty damn fresh. "Victim of Ritual"features 11-songs and 46-minutes worth of whiplash inducing, hair whipping thrash metal. The songs are aggressive, relentless and brutal. From the opening intro into "Twisted Values" the band strikes hard and fast with a ferocity that is infectious. Continue reading »
Label: Esoteric Antenna/Cherry Red Records
Review by Tony Cannella
My introduction to the UK prog/folk rock outfit Panic Room came via the excellent, "Satellite" album which was released in 2010. I came away with a very positive impression of the band. Now with their 3rd album, "Skin", Panic Room have upped the ante and released a solid follow-up to "Satellite".
While they are primarily lumped into the Prog genre, Panic Room is so much more. In addition to their prog leanings, they also offer influences that range from folk to pop or just straight rock. "Skin" contains over an hour's worth of lush, atmospheric compositions and Anne-Marie Helder's classy vocals. Continue reading »
Label: No Comment Records
Review by Davide Torresan
I really don't like this season. Well, I think I truly hate summer. This heat makes me insane and, to contribute to this coma there is also the 2nd studio album of Stolen Babies, "Naught". I mean, I'm not saying that I didn't like it. The sound of this American trio of musicians composed by Dominique, Rani and Gil is an avantgarde rock/metal with a lot of experimentations. There are so many influences that they stun the listener, leading him into a hypnotic vortex from which it is impossible to escape. For me it is even hard to decide if it is weirder the "Naught"'s cover with its cartoon smiling houses, flowers, the sun and a strange pink sheep or its content. They call it madness, but the risk to do a hotchpotch with too many things was behind the corner. Stolen Babies solved it with some melodic refrains that will be stuck in your head for hours. Continue reading »
6 color styles available:

Style switcher only on this demo version. Theme styles can be changed from Options page.
Archives