Browsing articles tagged with " 85"
Label: Napalm Records
Review by Tony Cannella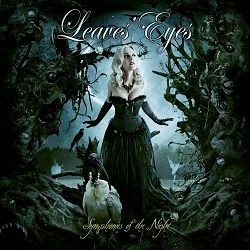 "Symphonies of the Night" is the title of the 4th full-length album from the German/Norwegian metal band Leaves' Eyes. The band – which is led by the duel vocals of Liv Kristine and her husband, Atrocity main man Alex Krull – has forged a pretty consistent and solid career for themselves based on an excellent body of work and "Symphonies of the Night" certainly rates right up there with their previous efforts.
The opening number "Hell to the Heavens" is simply awesome and my favorite track. What a great way to start things. Liv Kristine and Alexander Krull continue to be one of the most unique vocal tandems who use the "beauty and the beast" technique. Continue reading »
Independent Release
Review by Tony Cannella
My head is spinning. There is so much killer music coming out these days, particularly in the Femme Metal genre that sometimes it is hard to stay on top of everything. Not that I'm complaining, mind you. I love doing this so much and I love finding about new bands that I would never get to hear otherwise. It doesn't suck… One of the latest bands to come my way is the Symphonic metal band Beyond God from the Netherlands.
"Destination Darkness" is the opening track and begins with some pretty cool, melancholic orchestration and the soprano vocals of Cynthia Knoch come in and helps turn this song into a solid opener. The mid-tempo and melodic "Memories" is quite… um, memorable. Continue reading »
Label: Inside Out Music
Review by Tony Cannella
Arjen Anthony Lucassen released the last album on the Ayreon moniker back in 2008. Since then he has kept his creative spirit alive working on various other projects. Now he returns with the latest Ayreon opus entitled, "The Theory of Everything" and for someone who has a long career based on big, grandiose epic productions, "The Theory of Everything" may just be his biggest and most thoughtful yet. It is always interesting to see some of the musicians Arjen uses on the Ayreon albums and "The Theory of Everything" is no different. Some amazing singers make appearances here including: Tommy Karevik from Kamelot, Marco Hietala from Nightwish, John Wetton from Asia, King Crimson and Uriah Heep, Cristina Scabbia from Lacuna Coil and Sara Squadrani from Ancient Bards. Continue reading »
Label: Lava/Universal Republic
Review by Tony Cannella
As the holiday season approaches, Trans-Siberian Orchestra gets ready to embark on their annual Christmas tour/extravaganza. In conjunction with the bands holiday dates they have released a compilation album from all of the bands rock operas.
The cool thing about TSO has always been their wide-ranging appeal, from kids to parents to grandparents and of course metal fans. With "Tales of Winter" all six of their releases are represented in one neat 74-minute package. The band has included a long list of musicians/writers from founder Paul O'Neill, Jon Oliva, Al Pitrelli and Chris Caffrey among others. They have also utilized numerous female singers throughout the years on their albums and tours since their inception in 1993. Continue reading »
Label: Yesterrock
Review by Tony Cannella
Isis Child is the brain child of French guitarist Freddy Mazzucco. Mazzucco spent 12 years in the U.S. before returning to France and the first version of Isis Child was born. After vocalist Nathalie Pellissier joined the fold Isis Child recorded their debut album "Ailleurs" in 2008 and sung exclusively in French. Now, Isis Child returns with their English language debut called "Strange Days" via the label YesterRock.
In addition to being a fine guitarist Freddy Mazzucco also wrote the songs and took on the production duties as well. With the help of some top notch session musicians on bass, drums and keyboards, "Strange Days" is an album that has a definite classic rock influence. Vocalist Nathalie Pellissier has a raspy, almost bluesy and definitely soulful vocal style throughout the 12-song, 48-minute release. Continue reading »
6 color styles available:

Style switcher only on this demo version. Theme styles can be changed from Options page.