Browsing articles tagged with " 87"
Label : Grailight Productions
Review by Vard Aman
North Diamond formed in Moscow in 2008 and play what could be described as a combination of melodic Black Metal and Death Metal. "По Ту Сторону Бытия" is their debut album; and it is just as this kind of music should be. North Diamond do not mess around: "По Ту Сторону Бытия" is a short, sharp, relentless no-prisoners-taken half hour of blackened melodic brutality that any fan of this type of music will drool over. Elena Scarlet is an expert and versatile growler, moving freely from deep Death Metal growls to Black Metal shrieks, with her own snarling growling style in between. There are some clean vocals as well – there is a guest vocalist that features on this album, Valentina Aaron, and the clean vocals could be hers (on the single that North Diamond released after "По Ту Сторону Бытия", "Fall of Man", clean vocals were provided by Evgeniya Rodnikova of Aura and Emerald Night). Continue reading »
Label : Ear One Productions
Review by Tony Cannella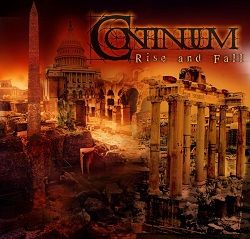 From my home state of Connecticut comes the melodic thrash metal band Continuum. They have recently released their debut full-length "Rise and Fall" and man, this is one intense slice of power thrash. "Rise and Fall" has an aggression, power and energy that doesn't let up for a second. Continuum definitely brings to mind classic thrash bands of days gone by, while still managing to add their own brutal twist. "Rise and Fall" is 9-songs and 36-minutes worth of thrash metal mayhem. Lead vocalist Brenda St. Amant leads the charge with her guttural screaming vocal delivery, but she also adds touches of clean vocals here and there. The chaos begins with "Waters Rising", a song complete with old school crunchy thrash riffs and technical proficiency that should help set Continuum apart from their peers. Continue reading »
Independent Release
Review by Tony Cannella
In 2009 the U.K. based progressive rock outfit Crimson Sky released their debut full-length "Misunderstood". Since that time, the band has undergone numerous line-up changes including the addition of new vocalist Jane Setter. Now, Crimson Sky returns with their new line-up and a brand-new 4-song EP entitled "Dawn".
The keyboard intro leads us into the almost 7-minute opening track, "Crimson Sky". The 7 ½ minute ballad to mid-tempo song "The Sea" is next and one of two older songs that have been re-recorded by the new line-up. New lead vocalist Jane Setter is an excellent addition to the band and breathes new life into the older tracks. Continue reading »
Label : Independent Release/Nightmare Records
Review by Tony Cannella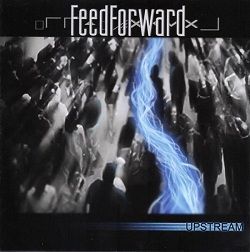 The Dutch Progressive Rock/Metal band FeedForward has been around since 2002. After releasing two demos in 2002 and 2003, they issued their full-length debut "Barefoot & Naked" in 2007. Now, after a five year absence FeedForward returns with their sophomore effort and first for their new label Nightmare Records, "Upstream".
Like a lot of prog music, FeedForward are a band that loves to play long, complex epic type numbers and the songs on "Upstream" are no exception. Mixed in with the longer songs are more accessible 4-5 tracks. Actually, even their longer songs are pretty accessible as well.
FeedForward definitely has an ear for melody and the smooth vocals of Patrice really add a lot to the music. The songs on "Upstream" can and should appeal to prog fans and melodic rock fans alike. From the opening intro "Ahead of Echoes" and leading into "Deepest Thoughts", it is quite obvious that FeedForward has a lot to offer a wide variety of rock and metal fans. Musically, I would describe them as sort of similar to latter day Fates Warning andQueensryche "Empire" era , with a nod to 70s era prog rock here and there. Continue reading »
Independent Release
Review by Vard Aman
Onatra was founded in 2009 in the Ukrainian city of Lviv, and is the brainchild of drummer/composer, Marta Medler; and despite being a somewhat troublesome child at times (breaking up and reforming), Onatra has made some fairly sizable waves in the Female-fronted Symphonic Metal pool. When you hear them, you'll understand why. They describe their sound as "Modern Symphonic Metal" but you might as well read that as "Symphonic Metal", because that's really what it is: good, powerful, multi-layered Symphonic Metal that you can both listen to with your ears and feel with your diaphragm. I have no idea where the "modern" part comes into it, not by its genuine definition (modern as opposed to what? Old fashioned?), and certainly not by its weasel-word definition (no something-core or screamo here). I should add here, however, that Onatra are by no means ordinary Symphonic Metal; they have a distinctive "oomph" that many of their compatriots in the genre lack (but "oomph" in no way equates to "modern").
In January 2012, Onatra released their debut EP called "For Your Soul", consisting of three songs. All three are examples of excellent compositions and display great musicianship, especially instrumentally: powerful guitars and drums interlaced with intricate symphonics (and other bits). Musically, I can't fault any of this and I can't praise it enough, so I'll just say "do yourself a big favour and listen to it" and talk about the vocals instead. On this EP (and the following single), Onatra was fronted by Iryna Vitiv. She is not a bad vocalist by any means, but against the backdrop of the power and the stand-out quality of the music I can't help but feel she is just a little out of her comfort zone. On the title track, "За Твою Душу" (the only non-English track), her voice has a rich and powerful feel to it, and is her best performance on the EP. On the other two tracks she seems to lack the same confidence, and the main reason for this I think is that the other two songs are not suited to her voice or to her style of singing – her vocals are too mono-dimensional. (That said; she excels in the whispered sections of "Shadows' Steps" and in belting out the chorus). "With You" is the main culprit. In my opinion, this song should have been sung in Ukrainian or Russian, or the vocals should have been written in a way that would have better complimented the nature of the music – the first verse especially is a real anti-climax to the way the song built up from the intro.
6 color styles available:

Style switcher only on this demo version. Theme styles can be changed from Options page.