Browsing articles tagged with " 89"
Independent Release
Review by Tony Cannella
From New York City, Flames of Fury were formed in 2009 and in such a short amount of time they have already shared the stage with some great metal bands, for example: Doro, Rhapsody of Fire, Stryper and Kill Devil Hill just to name a few. They have a reputation for being a killer live band, well, with the release of this 5-song EP, they are sure to gain the reputation for being a killer band, period.
From the opener "Take It to the Limit", Flames of Fury hit the ground running. They combine elements of classic metal with modern day power metal. The songs sound fresh and are brimming with confidence. In vocalist Angelica Vargas the band has a singer who delivers with all of the power and passion of Ronnie James Dio or Doro Pesch. Continue reading »
Label: Bakerteam Records
Review by Tony Cannella
"Paint the World" is the full-length debut from the Italian power metal band Sinheresy. They already made a positive impression with their 2011 EP "The Spiders and the Butterfly" and with this new full-length the band has certainly raised the bar to an even higher level.
The orchestral opening to "Last Fall" segues into full-on power metal riffing and the power metal vocals of male singer Stefano Sain starts off before Cecilia Petrini joins in with her soaring vocals on the chorus. This is song is just a heavy-as-hell exercise in top-notch power metal. "The Gambler" follows seamlessly with more straight-forward, hard charging riffs and "Paint the World" continues to find its groove. Cecilia takes the lead on this track with some hefty contributions from Stefano and this is a song that packs some serious heaviness combined with a combustible melody and those riffs are just huge. Continue reading »
Independent Release
Review by Tony Cannella
Holy crap! I had no idea what to expect from the Australian band Heaven the Axe. Heaven the Axe is a strange name for a band, but the title of their debut album "Sex, Chugs & Rock'n' Roll" is just flat out weird. So based on those few things I wasn't expecting a lot – shallow, I know – but man was I ever caught with my guard down and was treated to 38-minutes worth of ferocious hard rock with a punk rock intensity and attitude.
From the very first song, "Enemy" any doubts I had about Heaven the Axe were quickly laid to waste under a barrage monstrous guitar riffs and a confident swagger. The album simply does not let up for the duration and there are very few quiet moments until the obligatory ballad "Unconditional Love". This song actually starts of as a sensitive ballad but as the song progresses it gets heavier and heavier, before ending on a sensitive note once again. Lead vocalist Phoebe Pinnock has a voice that is brimming with attitude and is a perfect complement to the hard driving music performed by the band – which is balls out, straight-ahead hard rock and roll. Highlights include: the aforementioned "Enemy", "Electric Wire" and "So Nirvana". The final song is the dreaded hidden track that starts at about five minutes in. I thought this practice was long gone? Anyway, the hidden bonus track is probably the weakest song on here; it is a slower song but is nowhere near the quality of the songs that came before it. With "Sex, Chugs & Rock'n'Roll", Heaven the Axe has released a pure Rock and Roll with more than a little bite. Continue reading »
Independent Release
Review by Tony Cannella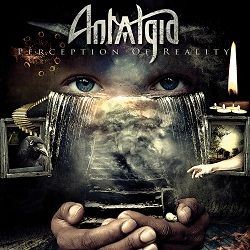 A lot of great female fronted metal bands are coming from Spain these days. With their debut full-length "Perception of Reality", the melodic hard rock/metal band Antalgia is out to take their place among Spain's best femme metal bands.
The 8-song, 47-minute disc opens with the fantastic "The Invisible Mechanism". Antalgia's use of keyboards (played by Xavi Sanchez) gives them a progressive metal influence at times. Lead vocalist Bella Dianez has got a high vocal range but is not operatic, she does have a strong voice and is definitely the focal point of the band. The next song "Realm of Pain" begins with a monstrous guitar riff and is a fast tempo song. This is one of the heavier songs, but like all of the others, Antalgia's songs are all pretty melodic and therefore can be accessible. Other highlights include: "Embrace of Death"(which begins with another huge riff), "Line of Life" and the 8-minute closing song "Memories". Guitarist Igna Jover does a great job throughout the CD and the interplay between guitars and keyboards is one the highlights of "Perception of Reality". The songs are all pretty much in the same up-tempo direction, but they all maintain a strong melodic base. Overall, I have to say that I was impressed with "Perception of Reality". Antalgia has released a strong and consistent full-length debut and proves to be a promising new voice in the realm of melodic hard rock and metal. Continue reading »
Label : Nuclear Blast Records
Review by Tony Cannella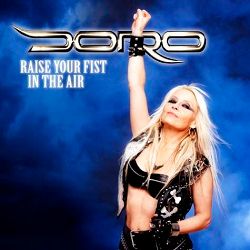 The long awaited new song from the German metal queen Doro Pesch is finally here. The new album "Raise Your Fist" will be unleashed sometime in the fall, until then we have the title song (all most) to tide us over. In addition to the song "Raise Your Fist…" this EP also includes the songs: "Victory", "Engel" and the French version of the title song. In short, "Raise Your Fist in the Air" is classic Doro! "Raise Your Fist…" has already been performed live and went down well, which is no surprise because it sounds as if this song was meant to be performed live. It has that anthemic "All We Are" feel to it and has tons of energy and power behind it. "Victory" is next and it has its moments. The song is dominated by a grinding guitar riff and a fantastic, memorable chorus. "Engel" is next and is a haunting ballad sung in German that picks up steam as the song progresses. The EP is completed by the aforementioned version of the title song which Doro sings in French, something she has done quite a bit in the last few years. Let's face it. With a career spanning almost 30-years, Doro is not trying to re-invent the wheel or herself for that matter. She knows what her wildly loyal fan base wants and is more than happy to give it to them. With the new album on the horizon, this EP serves as a precursor and an appetizer for what should be another solid outing.
Rating – 89/100
Tracklist
Raise Your Fist in the Air

Victory

Engel

Raise Your Fist in the Air (French Version)
Line Up
Doro Pesch – Lead Vocals
Bas Maas – Lead Guitar

Luca Princiotta – Guitar & Keyboards

Nick Douglas – Bass

Johnny Dee – Drums
Links
MySpace * Facebook * Twitter * Site
6 color styles available:

Style switcher only on this demo version. Theme styles can be changed from Options page.