Browsing articles tagged with " 93"
Label: AFM Records
Review by Tony Cannella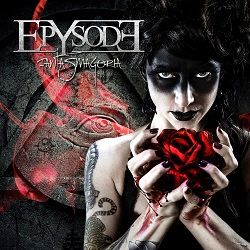 For their second epic album, "Fantasmagoria", Epysode main man Samuel Arkan has assembled another impressive array of metal musicians to complete his vision. When their first album "Obsessions" was released in 2011 it had all the ear marks of another all star metal project, yet it proved to be something more than that. With "Fantasmagoria", Epysode takes it a step further and has crafted an intensely dark, symphonic/progressive metal masterpiece. Rather than each musician recording their parts at their various homes, they all convened at Noise Factory studios in Belgium to record their parts, which is unusual in this day and age and it certainly goes a long way towards giving "Fantasmagoria" a unified band feeling, which according to their bio was their intention.  Continue reading »
Label: Inside Out Music
Review by Tony Cannella
The Swedish folk/progressive rock has been with us since 1975. Actually Kaipa is a band with a pretty eclectic pallet and is hard to pin down to one category, although their progressive-ness is undeniable, there is also something very retro about Kaipa and their new album "Vittjar", it certainly has a 70's feel to it, but updated for 2012 of course.
"Vittjar" is Kaipa's 12th album and features 8-songs and well over an hour's worth of music. For the most part the songs are long progressive numbers with a few exceptions. The opening 3-minute instrumental "First Distraction" gives way to the 12-minute "Lightblue and Green". This is a pretty cool song that has a bit of a Queen feel to it and vocalist Patrik Lundstrom reminds me a bit of Freddy Mercury at times. Continue reading »
Label : Twilight Zone Records
Review by Tony Cannella
The Rain I Bleed is a fantastic symphonic power metal band hailing from Greece. Their debut album is called "Narcissist" and features guest appearances by Jeff Loomis from Nevermore and Jonas Kjellgrin from Scar Symmetry. But really, those guest appearances are just icing on the cake, the real star here is vocalist Mina and some seriously strong material.
The slow, grinding and heavy riff-age of the opening track "The Utter Me" begins this 39-minute disc. Lead vocalist Mina has an Amy Lee-esque vocal style that really drives home the melodicism of the songs on "Narcissist". "The Day After Tomorrow" is next and it picks up the tempo and the energy, before changing tempos a number of times throughout the song. Continue reading »
Independent Release
Review by Vard Aman
Excalibur come from the fairly small city of Orel (Орёл – pronounced Oryol) about 400km South of Moscow, which is just next door in Russian distance. With a name like "Excalibur", you might be able to guess what kind of music they play. Yep, they play Symphonic Power Metal. And in the world of Symphonic Power Metal they certainly live up to their name in the superb quality of their craftsmanship, but not, unfortunately, when in comes to the international fame that they so rightfully deserve. Hopefully that will change.
So, what can you expect from this band and this album? You can expect some of the best material this genre has to offer – a vast dramatic sound full of intricate orchestration; heavy guitars, bass and drumming; excellent vocals (provided by Valeria Nikiforova); plenty of catchy melodies; and of course a few mellow ballad-type songs as well. "Душа" is the third offering from Excalibur, and their second full length album. The album kicks off with an orchestral instrumental and from then up to and including the sixth track the dramatic power of this band is almost relentless – particularly the songs "Дочь Вампира" ("Daughter of the Vampire"); "Душа" ("Soul"); and "ЭВОЭ" ("EVOE") – a powerful and catchy instrumental. Continue reading »
Label : Ravenheart Records
Review by Tony Cannella
Malta is not known as a metal hotbed. In fact, the only band I can think of that hails from there is the gothic, doom metal band Weeping Silence. The band formed in 1998 and released their debut album "End of an Era" in 2008. They followed that up with "Theatre of Life" in 2011 and have now returned with their new album "For the Unsung". Weeping Silence utilizes the tried-and-true method of beauty and the beast vocals to a huge degree of success.
The majority of the songs on "For the Unsung" have a melancholic vibe to them. The female vocals are excellent, strong and powerful and have a bit of Floor Jansen vibe to them. The male vocals are pretty much your basic beast styled death grunts. "For the Unsung" moves along at a rapid pace, awash with massive guitar riffs, great musical performances and some great vocalizing by the duo. Continue reading »
6 color styles available:

Style switcher only on this demo version. Theme styles can be changed from Options page.