Browsing articles tagged with " acoustic"

Interview by Grace Méridian, Kassandra Novell & Lindsay Schoolcraft
Video by Mary Zimmer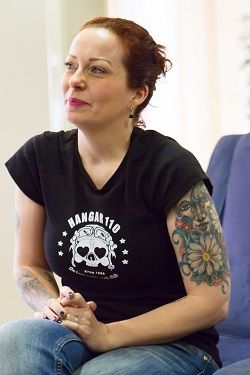 Here what we present you is a special interview done by the Eve's Apple (Don't you know what is? Just take a peek

here

!) members Grace Méridan (

Lifeaftergod

), Kassandra Novell, 

Lindsay Schoolcraft

 & Mary Zimmer (

Luna Mortis

). First of all I thank the girls for this awesome interview and if you wanna enjoy the video experience, please check out

here

but we must warn we that there's a little mistake that we cannot fix, we hope you like it the same.
Then we come to the special guest – we're talking about Anneke Van Giersbergen. The fantastic Dutch singer, after her departure from The Gathering, has slowly built a solo career with her 5 albums. The girls interviewed Anneke during her short trip in US, on March in Chicago. Beside the girls, I want to personally thank Mr.Rob Snijders for helping us setting this interview up. Well, after this short intro it's time to read the interview, so enjoy it!
Grace: I'm Grace Meridan and we're here interview Anneke van Giersbergen for Femme Metal and Eve's Apple. So, Hi Anneke, pleased to meet you. Continue reading »
Interview by Miriam C.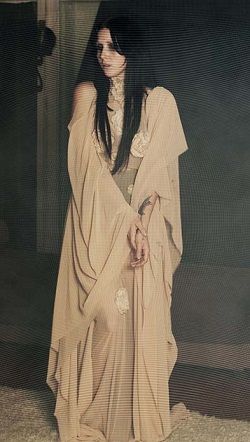 Chelsea Wolfe is really a strange beast. Musically is quite impossible to define [she mixes doom, folk and acoustic music] her but the beauty in her music is that she's able to mesmerize you, haul over another dimension. Until then, please take your time to discover about this magnetic sorceress.
For being so young, you have already published a lot of records and I've really enjoyed the "Prayer for the Unborn", congratulations. What can you tell us more about your musical background and when is started your passion for the music?
I'm not so young. I've been making music since I was child. I already thought of myself as old when I was 18. I always have written songs and I always write songs and I will until I die.
You have released on Southern Records for the Latitudes Session "Prayer for the Unborn". First of all how's born this collaboration with Southern Records?
Last year I recorded five covers, or interpretations, of Rudimentary Peni songs based on only reading the lyrics or only hearing the song once, so the covers are very loose. It's why I called it a tribute. I love Rudimentary Peni's lyrics.. very frantic and poetic.. a special way of summing things up. Anyway, Southern Records asked if I wanted to record a session for Latitudes while I was in London for a show in April I think so I decided to re-approach the tribute songs and record them at Southern with my band. Continue reading »
Label : Mute Records
Review by Luisa Mercier
Big Deal is an indie duo born in 2010 and this is their debut album. The members of the band have a big age gap since they met when the mother of Alice Costelloe asked KC Underwood to teach her to play guitar.
So now Alice sings and both of them play guitar. The music they deliver us is quite ambiguous in content. Even though the arrangements are mostly simple acoustic pop, the focus in on the sensual voice of Alice.
And the lyrics leave no space for doubt: ""Wanna be your lover/ Trying hard to be your friend/ You're so sweet and you keep me that way/ Mess with my head". The overall sound is quite up-tempo, listen to "Chair", for example or "Visions". Summing up; this record is very fresh, erotic, sweet, melancholic sometimes. Continue reading »
Label : Secret Quarters
Review by Luisa Mercier
Havnatt is a Norwegian duo, they write music and perform songs based on the poems by the Norwegian author Tormod Skagestad.  Their sound is fairly stripped down and acoustic, a style that well suits the classical lyrics.  This is a reissue of their 2006 EP which was commissioned to the band by Skagestad family, with the addition of two completely new tracks. The opener "Myrulla" is a quiet song. The acoustic guitar backs Cecilie Langlie vocals. The overall mood is very peaceful, relaxed, chilling and matches the twilight Norwegian landscapes. "Havnatt"is a little bit gloomier and the vocals have almost an echo sound, like they are sung in an empty room. The music is always really kept simple.
The third song is "Prammen", the longest and last one in the original EP. Though very atmospheric, I have to admit that it can be a bit boring due to the lack of variety in the music. The vocal lines are interesting and to them is given the task to keep things more interesting "Han som Skyggar Meg" is one of the unreleased songs and it has been composed in the same vein of the previous three: acoustic guitars and vocals. Continue reading »
Photos and report by Jesse StClair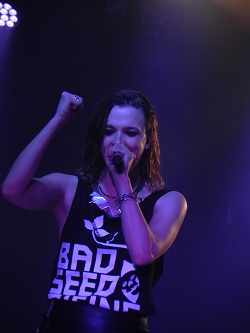 New Years Eve has long been a day of celebration and parties. Everybody knows about the massive countdown in Times Square, New York, but the true party was 3 hours south in a small club in Baltimore, Maryland. Halestorm headlined the Baltimore Soundstage on New Year's Eve to a sold out crowd of 1000 people.
The show was no ordinary concert, but rather a celebration of Halestorm's past, present and future. The night was divided up into two sections: Light and Acoustic as well as Dark and Electric. The first part of the show was the acoustic set. There was no intro music, the lights simply turns on and Lzzy Hale (vocalist, guitarist) walked onstage followed closely behind by the rest of the band. Everybody was dressed in white, and Lzzy even had on a long white gown. Almost right away, the band started playing "I'm Not an Angel" off their first album. Lzzy's powerhouse voice easy soared in the acoustic arrangements, with not a crack or flaw to be heard. Most bands soften their songs for acoustic sets, but not Halestorm. The band left after a few songs, leaving Lzzy alone onstage. Halestorm Rocked harder than most bands out there. Arjay (Lzzy's younger brother and the band's drummer) furiously pounded away on the Cajon drum box while his sister belted and screamed to a cover of Heart's "All I Want to Do Is Make Love to You". The band cleared the stage aside from Lzzy and Joe (the other guitarist). They talked about the old days of Halestorm where they would perform for hours in small bars. They launched into a favourite of theirs back then, a beautiful cover of The Bee Gee's "To Love Somebody" with just the two of them. Joe then left the stage leaving Lzzy alone. She told a humorous story about drinking an entire bottle of wine by herself and recording a song on her record label's voicemail which turned out to be "Hate It When You See Me Cry", which she performed on her own in a beautiful, stripped down arrangement. She then went over to the metal plated piano and played "A Rose in December" which is a song she wrote when she was 16 years old, and Halestorm was in its early days. That wasn't the only rarity in the acoustic set, in fact, most of this section was comprised of older songs, beautiful covers, and newer ballads which typically don't fit into Halestorm's rocking shows.
When Halestorm returned to the stage for the second segment, the Dark and Electric portion of the show, gone were the white gowns and attire and were replaced with black leather jackets, sunglasses and an overall sleek rockstar look. Once again, without any intro music, they dived straight into "Mz Hyde", which possibly is their heaviest song to date. It was quite a contrast from the acoustic set. Despite playing both guitar and singing, Lzzy found the time to run around the stage in her massive stilettos, a task no male rockstar could ever accomplish. Behind her on drums, her Brother Arjay was putting on quite the show. He kept making funny faces and sticking his tongue out at his sister. At one point, he was twirling his drumstick up in the air while using only 1 drumstick to do the part that typically both sticks were needed for. Continue reading »
6 color styles available:

Style switcher only on this demo version. Theme styles can be changed from Options page.