Browsing articles tagged with " ada"
Label : Massacre Records
Review by Tony Cannella
The excellent double female fronted Symphonic Metal band Coronatus has previously released four full length albums – with their first one being released in 2007. Now they have released a digital only best of album titled, "Best of 2007-2011". Featuring 16-songs and over an hour's worth of music, "Best Of…" serves as a comprehensive overview of Coronatus' career thus far.
The track-listing on "Best Of 2007-2011" features a fair cross section of the bands best material taken from each of their albums. The songs are in reverse chronological order beginning with four songs from Coronatus' latest album "Terra Incognita" which was released in 2011. The two female singers each brings something interesting and unique to the table. The current duo consists of Mareike Makosch who provides more of a rock style and Ada Flechtner who gives us a soprano voice. The melding of the two different styles is one of the best things about Coronatus and gives the songs a huge boost. The bands lyrics are sung in German and English with a touch of Latin as well. The musicianship is also played on a high level and is a perfect complement to the two vocalists and another check in the plus column for Coronatus.
For fans who already own everything that Coronatus has put out, this may not be of much interest, but anyone who would like to sample what this great band has done so far, than "Best of 2007-2011″ is well worth the time. Continue reading »
German Symphonic Gothic metal band CORONATUS today publish the new digital compilation "Best Of 2007-2011″
Starting today, December 21st, you can download your copy for 5€ only here: http://www.amazon.de/dp/B00A21RYME
But don't wait too long, the limited offer ends this Sunday (December 23rd)!
www.coronatus.de | www.facebook.com/CoronatusOfficial
CORONATUS are going to release a digital compilation just in time for Christmas! "Best of 2007-2011″ will feature the best 16 songs out of all of their albums!
The track list looks like this:
Fernes Land

Dead Man's Tale

Saint Slayer

Traumzeit

Wolfstanz

Tantalos

Kristallklares Wasser

Blind

Exitus

Cast My Spell

Mein Herz

Beauty In Black

Silberlicht

Scream of the Butterfly

Ich Atme Zeit

Hot & Cold
The compilation will be available for a special price on iTunes, Amazon MP3, Musicload other digital music stores only!
You can already listen to snippets from CORONATUS' "Best Of 2007-2011″ here: http://massacre.musiclogistics.net/releases/19590?lang=en
The compilation is going to be released on December 21, 2012 via Massacre Records.
www.coronatus.de | www.facebook.com/CoronatusOfficial
Interview by Matteo Bussotti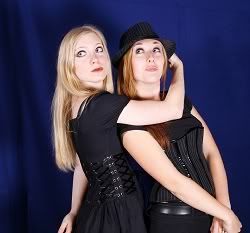 We have listened to their latest album, "Terra Incognita", and we liked it. Now we are ready and pleased to interview Coronatus' two singers: Ada and Mareike. Maybe not everyone of you knows Coronatus, but they are "on the road" from a very long time, and they surely have a lot to say, even after 11 years of making music! So, let's hear from Ada and Mareike how the band sees their latest album, their fans, and their career!
Hello Ada and Mareike, and welcome to Femme Metal! You are currently on tour promoting your latest album, "Terra Incognita". We know also this album came out after some difficult times and some line-up changes. How do you feel now that you've finally reached some stability? Are you satisfied with your album?
We feel good about having some stability, so you can rely on each other, so you can make future plans. Stability is also the reason why especially this album is our best so far. We're very satisfied with it as it shows how we have developed over the years.
"Terra Incognita" stands as a turning point in your production, due to the aforementioned changes of line-up. What was your attitude towards this album? In which ways you wanted to impress your fans? What you'd like to improve even more, or what, among the things you have accomplished, surprised you in a very positive way?
We wanted to present our fans a new kind of music, which had been affected by the introduction of our new band members and their musical background and interests. It's always interesting to see how our different styles merge. We're pretty sure that our next album will be different again, as we constantly develop.
Ada, you are the "newest" member of Coronatus. How do you feel? Do you feel you have changed (in a positive way, of course) the band's style in some way, with your personal way of singing?
I'm actually not the newest member, as I had been a part of the band before, recording "Porta Obscura", having the part of the rock voice. Of course I have changed our style, as I don't sing as "classic" as Carmen did. Above, I feel like our two voices fit together perfectly.
Also you Mareike, you entered in Coronatus in 2010, after 11 eleven years from its foundation. In the beginning, did you feel any kind of "weight" on your shoulders, being in such an important band?
In the beginning it wasn't easy. I knew I had a very important part and that other great singers have had the part before. But I also felt very welcome from the beginning, so it didn't take me long to feel "home" with Coronatus.
Who usually writes the lyrics in the band, and how do you part them? I mean, when do you decide who'll sing what? Is it decided when you're writing the lyrics, or do you decide it later?
There is no one in particular writing our lyrics, every one of us is free to write some. Often there are two roles to be taken on anyway and while writing the songs, we already have an idea of who might sing what part.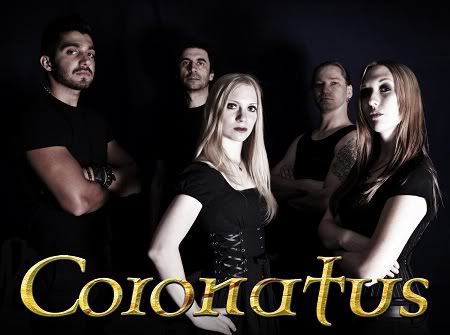 How do you find singing in latin? Why choosing also this language?
Latin, of course, is a lot harder for us to sing and it's difficult to remember the lyrics on stage, as none of us really speaks latin. Still, we find it sounds great. Singing in Latin sounds sublime, and we think it as well represents our songs' character.
What influenced you the most in your way of singing?
I think we both were influenced by lots of different artists, adding diversity to the way we sing. However, it was always important to us to create our own style of singing without imitating other singers. Mareike sang a lot of Jazz music, so you should never limit yourself to only one style of music.
Moreover, do you work well together? How do you influence and improve each other?
I think we make up a pretty good team, as we had to work on a lot of songs in a very short time and found a way to complement each other. It's actually fascinating how well our voices work together as we have a similar way of phrasing.
Talking about your musical style, which reunites metal, gothic, symphonic and also folk (in a very beautiful way, I have to say), as in "Fernes Land": how did you come up with this style? Is the "folk part" there to celebrate the roots of your land, its past?
That's pretty much what it was meant to stand for. In addition to that this kind of music is just great fun to play on stage.
What do you think about the others band members?
They're all idiots. Haha. Just joking. We're all very different kinds of persons but on the other hand we have gone through so much while touring and recording, so we have grown together a lot.
How was touring with Haggard? What have you learned from this experience, which confirmed you as one of the most interesting bands in Germany's music scenario?
Touring with Haggard was great fun and it was amazing to be on stage with them. Sure, it was exhausting, touring is really tough. You get no sleep, you're always on the road, so it's not always easy to be a musician. But alltogether we really appreciated the opportunity to be on tour with such a great band and also our fans were a great support.
You have an active Facebook page and all of you have your own Facebook profile. What do you think about social networks? In what ways they improve the relationship between musicians and their fans, and in what ways, instead, do they make it worse?
Nowadays, social networks are more than an essential part for musicians and it's the easiest way to communicate with our fans all over the world. Our fans can really take a part in our private lives, which had not been the case before. They know what we're doing and are able to directly contact us. We also get a lot more feedback concerning our album, video or concerts, so we can also respond to that much faster. Sure, it's a lot of work, we didn't have to face before, because the page has to be updated a lot.
Links
Label : Massacre Records
Review by Tony Cannella
The double female fronted German metal band Coronatus returns with their fourth release "Terra Incognita". The duel female vocals provided by Mareike Makosch and Ada Flechtner are still very much intact on "Terra Incognita". Throughout the 55-minutes worth of playing time Coronatus present songs in both their native German language and in English. The opener, "Saint Slayer" – sung in English – is perhaps one of the strongest songs on "Terra Incognita" and Coronatus follows that up with the equally melodically solid "Fernes Land" which has a folk-ish vibe to it. Next, "A Dead Man's Tale" starts off at a galloping pace before slowing down for some classically styled piano work, before galloping off once again. This is a song filled with some huge chunky guitar riffing and a mostly up-tempo melody. The two vocalists continue to work well together, providing a solid give and take as the album progresses. "Sie Stehn Am Weg" is a grinding track that once again is a perfect showcase for the two different styles the female vocalists present. The highlight is the "In Signo Crucis Trilogy". "Der Kleriker", "Das Zweit Gesicht" and "In Signo Crucis" make up the trilogy and might be the most mature thing Coronatus has ever done. "Terra Incognita" is a solid fourth effort that should please fans of Coronatus. Coronatus has a great deal of potential and slowly but surely they are starting to realize it.
Rating – 70/100
Tracklist
Saint Slayer

Fernes Land

A Dead Man's Tale

Sie Stehn Am Weg

Vor Der Schlacht

Hateful Affection

Der Kleriker (In Signo Crucis Trilogy)

Das Zweit Gesicht (In Signo Crucis Trilogy)

In Signo Crucis (In Signo Crucis Trilogy)

Der Letze Freund

Traumzeit

Terra Incognita
Line Up
Mareike Makosch – Vocals

Ada Flechtner – Vocals

Aria Keramati Noori – Guitar

Simon Hassemer – Keyboards

Dirk Baur – Bass

Mats Kurth – Drums
Links
6 color styles available:

Style switcher only on this demo version. Theme styles can be changed from Options page.