Browsing articles tagged with " agony"
Review & Photos by Erwin Van Dijk
Mario's Metal Meeting is a festival organized by the Mario's Metal Mania webzine. This edition is the third festival and the first I've attended. The reason why? Holy Moses of course! Holy Moses does not need an introduction. You thought Arch Enemy was brutal? Think again! Holy Moses started in the Eighties as the first female fronted thrash metal band. And, more important, in an era where women were supposed to be Eye Candy in glam rock video's or groupies back stage Sabina Classen sounded more brutal than a lot of other thrash bands from the eighties. With Girlschool and Warlock (Doro´s first band) Holy Moses was one of the very few bands with women in the line up that sounded like the boy bands and not as a gimmick or boy fantasy. Because Mario's Metal Mania is oriented at the brutal underground stuff this Sunday evening is all about Thrash. Yep, it is Thrash time! Many things from the eighties have become popular again the last few years, including the Next wave of Eighties Thrash Metal. The first two are the girl less younglings from this decennium while Acrostichon and Holy Moses are veterans from the last millennium. Hyades is a band apart with more experience than Hatchery and Sanity's Rage. Acrostichon is a female fronted thrash band from Tilburg (Killburg). They broke up a long time ago and this is a reunion gig. You can compare Corinne a bit with Marloes from Izegrim who is also responsible for the grunts and bass. Another thing: patches are mandatory! This was the second largest concentration of Denim jackets with lots of heavy metal patches I've seen this year (although I think the Heavy Metal Maniacs Festival will break the record) Sabina is the queen of denim with patches by the way but she left hers home today. (like me – the cats had used it as a mattress) I missed first band due to hangover the size of the Andromeda galaxy. The second band was rather boring and I did not like the style of the singer. I did not waste space on my memory cards either for this band. Hyades did a lot better. The name Hyades is derived from the Greek Mythology (Ὑάδες) and means "The rainy ones". They are a sisterhood of nymphs that bring rain in the autumn. Well, we did not see any chicks on stage nor it was raining outside. What we got was a band from Italy who clearly had much more experience than Sanity's Rage. The music itself is maybe not that special but like bands such as Municipal Waste it works live. To satisfy al the wearers of denim with patches Hyades did a nice version of the Beastie Boys "(You Gotta) Fight for Your Right (to Party!)" The Beastie Boys haven't done this song live since 1987 so this it the closest you can get! (and Holy Moses has covered this song ages ago).
Acrostichon – Singer Corinne Van Den Brand here on the left- was founded some twenty years ago and disbanded 10 years ago. I've never seen them live during the nineties. Back in those days Acrostichon was the first female fronted death metal band from the Netherlands. Today Acrostichon has returned for a single reunion gig (although I suspect the lady and gentlemen of Acrostichon simply have missed being onstage). Suddenly the floor was filled with family, fans in faded Acrostichon shirts and small kids. One of them was very good in crushing plastic beer cups like the way my hero Dirk Jan crushes gnomes in the Dirk Jan Comic. Compared to the thrash of Hyades Acrostichon's death metal was slow and sluggish. No music for a moshpit but a vast wall of sound. Like many death metal bands the musicians were doing their thing without much show. Singer Corinne was clearly enjoying herself. A good gig but maybe a bit outdated qua music and presentation. This is the second Holy Moses – Singer Sabine Classen pictured here on right – gig at the 013 in two years. Last year (2008) this band was the opener for Obituary at the main hall of this venue and now they are the headliner in the small hall. Is this bad? Not really. It is better to rule in hell than to serve in heaven. Take Lacuna Coil. In 2006 this band was the headliner on the main stage of this venue and last year they were the opener for some crappy band named Bullet for my Valentine. How low can you go? And Sabina still has a large ring binder for all the song texts. And it took (traditionally a while) to build the drum kit. The current gigs are still based upon the album "Agony of Death" from 2008, which is one of my favourites of that year. And what can I say about the gig? For starters, my hangover did not bother me the moment the band started. As usual Holy Moses did a great gig. Sabina also gave some young kids at the front row some extra attention (must be her mother instinct I suppose) Unlike many other musicians on stage you always get the feeling that Sabina is one with the fans instead of a performer at work. I like that.
Links
Holy Moses : MySpace * Facebook * Site

Photo by Roberta Ilaria Rossi
Gig Review by Marcy Bell
It's clear: Epica and Italy are entwined. The concert at the Alcatraz in Milan on the 27th October was a huge success for Simone Simons and her fellows. Stage B was almost full, there were more fans and friends than in the previous tour. As in 2008 Epica were supported by the Finnish Amberian Dawn and in this new tour also by the brand-new German band: Sons of Seasons lead by Oliver Palotai. The Dutch band presented live some songs of the new album "Design Your Universe" but most of the show was made with hits from the past such as "Black Infinity", "Cry for the Moon", "The Phantom Agony" and "Consign to Oblivion". The gig started with the new "Resign To Surrender" and then it went into the old mood with "Sensorium", hands up with Simone and the whole band with the beginning of "Quietus" and then the Oriental style of "Fools of Damnation". It was time for "Design Your Universe" and the first single "Unleashed", the beat of Ariën on drums started very loud running through "Martyrs of the Free World". Epica's classic "Obsessive Devotion" led the central part of the show, as it's always a pleasure listen live this song with Mark on growl and Simone running back and forth the stage in a seven minutes Epica-old-style-vibes. "Tides of Time" showed all the deep and sweet part of Epica with Simone solo in all her vocal talent and Coen on piano: a moment that gave you shivers on your spine. The band went again on stage with the last three songs: "Black Infinity", "Mother of Light" and the techno-version of "Phantom Agony". The latter was an enjoyable surprise for the crowd that started dancing with color lights as in a dance floor. Good point for Epica indeed. The encore was with "Cry for the Moon", "Sancta Terra" and the final "Consign to Oblivion". The show was good, the crowd really enjoyed it and finally we can say that Epica are improving themselves live in every tour.
Links
MySpace * ReverbNation * Facebook * Twitter * Site
Interview by Marc "Peston" Sels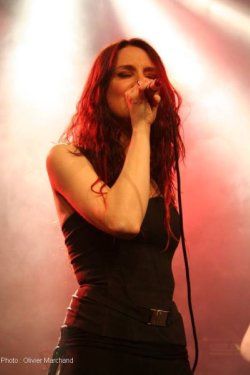 Anachronia is a Melodic Progressive Metal band from the north of France (Lilles) and they just released the second album called "One Second Before". Following now is an interview with leadsinger Fay.
Can you give us a short history of the band, and introduce the current members to us?
The story of AnachroniA begins some 8 years ago with a male singer, then a female singer.
Thanks to an ad at the university, I enter the band in 2004 when the 4 childhood buddies were about to register the first album.
The band was composed of a bassist, a drummer, two guitarists, a keyboardist and me, joined for a while by a male singer.
Because of musical disagreements, the bassist and the keyboardist followed their own way.
Today, we are six members : a "shouting" singer Zwayn, me, two fresh new guitarists Adrien and Ben, the same drummer Djp and Fab the new player.
Your first CD, "The Endless Agony", was released in 2004. Is 6 years not a long time between the two cd's?
These last 6 years, many changements happen. In our lives – end of our studies, first job,- and in the band – different lines up, new will. It's sure a long time for the audience in a world where new bands appear every day. However, we're still surprised to see that some people wait for us and are ready to accept the evolution of our style.

You've played already at the MFVF in Wieze, wouldn't you like to come back once more?
We already played twice in MFVF and it was a great pleasure. Nethertheless, we'd like to play in festivals where we would be considered not like a "female" fronted band (I'm the only girl among five boys!) but simply as a metal band.
What was the weirdest place you have ever performed?

In a big plane shed! A plane was suspended right above us and I was always watching it as it was about to fall on us! I was in a ridiculously short shirt (in middle of winter!) and it was freezing like hell! I was crying because i wanted to keep my coat and scarf on me and my nose was red! Really sexy!
How is the new cd selling? Is there a difference between the American, the Asian and the European market?
It sells really well considering we haven't been onstage yet, we've waited 6 years and it doesn't benefit of a lot of promotion outside of the French market. But our label Great Dane does a great work with the network of Season of Mist to distribute it in Europe. Moreover, MySpace and the internet bring us new fans all over the world.
I think that asian, american and european market are more opened than French market. France is not really in metal, not rock n'roll you know.
How's the metal-scene in France? Any interesting new bands we have to keep an eye on?
French metal bands are not really well received inside our frontiers. Indeed, as we are near Belgium, metal fans prefer to go and see the concert in there. Most of the bands play in bar.
There's a rising of gothic/female fronted bands who meets success in France. I think that they make people dream. But i'd keep an eye on "male" bands like Klang who propose a more energetic and "fresh" music.
A more macabre question : wich band would you like to play at your funeral? And why?
The Birthday Massacre! LOL. I love their music and world. I want something funny, energetic, i don't want something sad where everybody cries. People should think of the funny red hair girl.
Are there any singers/musicians/writers/filmmakers you admire?
Not in order: Tory Amos, Sharon Den Adel, Howard Jones (Killswitch Engage), Benjamin Burnley (Breaking Benjamin); Marc Lévy, Dan Brown, Laurell K. Hamilton, Patricia Briggs; Christopher Nolan, Tim Burton, Luc Besson, Disney … There are new ones every day!

This year it is 40 years ago Jimi Hendrix and Janis Joplin died. Have you got some heroes who didn't survive the "rock-life"?

I'm not the "groupie" kind, so I wouldn't talk about "heroes" but i'm always sad to see gifted artists and so many others who burns their life so early.
The paradoxe is that their madness or addictions were part of their talent.
Do i dream of the same life? Dying in glory days?

Not at all. I'm not a "Achille", I prefer to live a long Time without glory than being famous and die fast. But I understand well what means passion for art or music and the solitude and depression it can brings.

British tabloids are paying people to tell false stories about the stars. Are there any stories about you going 'round that are completely untrue?

Fortunately, we're not at this level! Smile. It's a good thing. Moreover there are enough evil people who like to bad mouth. Whatever i accept the critics about my work but it's never cool to hear someone treat your work like s*** just because it's not their style or because it's not like something or something else. The best I heard is "AnachroniA is like a tuna mayonnaise sandwich with too much mayonnaise". Well ok…, I love mayonnaise!

What are the plans for the future? Can we see you on stage soon?

Make the promo of the album, of course. We are going to make a video clip or two for the new songs. Some concerts are planned from November in the north of France (one with Benighted Soul) and our label plans to organise several ones in France in 2011.
We hope to participate to some festivals this summer. For the rest, we're ready to any offer!
Any "famous last words"?

First of all, thank you for your attention! Hope that fans and new comers will like this new album. Prepare your ears, AnachroniA is back. See you soon!
Links

Interview by Miriam "NocturnalConcerto"
Talking via Skype with a legend of the heavy metal is not one of your regular day, believe me but we're able to track down Federica "Sister" De Boni, the legendary singer of the Italian defenders White Skull share with us some infos about the new album "Under This Flag" and a small chit chat about coming back in Italy and personal tastes. Hail on!
First of all Federica, welcome back in Italy!
Thank you dear!
How's coming back in Italy after so much time and what's the thing that you missed so much when you were in America?
It is amazing. Me and my family loved it here and were missing the Italian life. I think I missed my friends and metal the most. We lived in a State where country music rules.
A curiosity, what state?
Georgia.
I was saying Tennessee I was close hahah
Yeah …. just southern where the bible belt runs the place.
I totally got it.. I'm just wondering now one of those places with a wood bar all drinking beer and dancing country songs.. how you endure this, I mean your're a real defender in the midst of some lousy rockers…
Ha ha ha I felt just like you said… just staying in my porch with hubby and kids listening to "House of Hair" (Dee Snider Heavy Metal Radio Show) part.
Well, I must say that it was a great choice for endure all that stuff, something to clutch on hahaha…
Yeah, pretty muche THE ONLY choice and a few occasional concerts of local metal bands but very few oh and also we used to watch "That Metal Show" on TV so well we had some choice.
Luckily you have had that too, in Italy (I mean nowadays) except maybe for Virgin Radio we haven't nothing like that.. you're away 10 years but from that point of view nothing changed unfortunatly…
I realized that when I came back but we can still go online and look for those shows, we need to be flexible and get what we can find, right?
Exactly.. the Italian TV and the radio are only good for commercial music sadly. There are so many HM bands here in Italy and deserve to be recognized, we need to go to concerts and support them.
It's totally a good thing to do, support italian metal underground, in this case the HM genre.You know if the media is not supporting HM in Italy we have to stand up and support our way.
And I'm not to saying pleasentries now, I prefer to support underground instead of the big acts I mean the big big acts has already the right following of fans sometimes we need to look inside our country and give our support to this little bands but way back to us and if you are back in Italy, it's natural that you're back in White Skull. How's was the first meeting with the guys, how's after so much years (I remember to the readers that you left the band in 2000) being back in the White Skull squad?
I agree. I love big bands myself but just love to listen to what local (italian) bands come up with. It was just like it wasn't that long… I mean, since the first rehearsal we connected immediatly. We wrote the new album in no time. That really blew my mind how simple and natural the return has been.
You know, for the startest when I have read the news that you were back in WS I was really happy and yes kind of surprised I must admit it, yesterday that I was nailing down some questions I was thinking about it "Damn, after 10 years that she didn't record anything, would very hard for her" instead you tell me it easy maybe after all those years you still have had the "fire" burning inside you..
It comes natural for me. First I have known metal for 20 years or more, then I do have experience in song writing and most of all I do live Metal as my life style.
Everything helps.. well I've listened a little bit to the album congratulations.. it's very clear and an HQ production, what you can tell me about its genesis? Despite the fact as you have stated before that come out in a natural way…
WS is known for the concept albums. This time we wanted to get away from the past and talk about something modern and close to us. Therefore we had close experience with the wars around us and wrote about it. I've been a soldier wife and had a lot to say about the warfare and here comes "Under This Flag"… fight for everything you care for.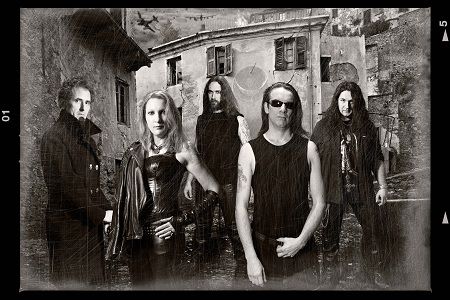 And for this is reason that the cover album, if we compare to "Public Glory, Secret Agony" or "Tales from the North", is more straight-in-your-face and very simply? Probably more direct but very powerful maybe means also "if we reunite us under a flag we can fight this wars (or evil) together".. when I saw I thought this interpretation, can be right?
Damn right. We want to get the Metal headbanger to join us and fight for Metal. We will say it as loud as we can and for as long as we can. WS flag is really a stand to reunite what is left of metal…
Well, talking about gather around and female solidarity I'm curious to know how was being a woman singing in a heavy metal band in the 90s? It was difficult or haven't had a model to follow? For what I know closest rode model that you have had at the times were Doro, Girlschool and Sabine Classen.
I was really lucky Tony believed I could do the job, in 1990 a woman singing Metal was sort of a "odd thing" even if Doro and Girlschool, Lita Ford and so on was around.
Maybe if we go deep deep in the italian underground we have Morgana, I don't know if you know her she was singing in the 80s/first 90s.
I do know Morgana and she did really challanged the Metal scene, I am really proud of having been around since the 90s and back now.
You are a national heritage, I mean also if the media won't promote the scene you're one of the Italian precursor female singer..comes really hard to think (at least for me) a closest singer to confront with you.
Thank you. I feel I am just one of many that are here living what they believe.
Many CDs of your discography are sold out since ages, there are any planes to re-released them without spending a lot of money on eBay? I know that the Polish Metal Minds Production has re-released years ago (in 2008 to be precise) in a limited number of copies "Tales From The North" and "Public Glory, Secret Agony" but the stocks are gone, really really gone and for the young fans that are trying to collect and buy the first albums is a problem, are really hard to find and it's kinda become utopistic have your entire discography.
I heard about it but this is the market and WS is unable to have a say about it. Sad but true YouTube helps this out by publishing the songs for free.
But if you face the truth you cannot earn anything from that…it's not fair! I mean is disrespectful towards you, the musicians.
I know but as far as WS music is broadcasted we will be all right.
So you count that all that people that listen WS on YouTube will support at live concerts and buying the last releases?
YouTube will spread the word, get us more opportunities and maybe some CDs sold but as we said Metal is not the TREND right now but who cares, we will get our message through.
Maybe I'm talking the wrong person (I'm imagine that you collect a lot of vinyls/CDs) but do you think about the digital music stores like Itunes?
Sure Itunes can sell the music. But this will be our label sale policy to decide it.
But now I put the question in a more personal way, as music lover what do you prefer the CD format or the digital one?
Right now in a digital world it would make more sense to get it out via internet I just do love the CD with pictures and lyrics.
Because you can "feel" them right? I mean when I see my collection I still cannot believe it have it and collect them everytime I listen to them and have the booklet in my hand I feel very proud of myself..
Yes, it does become a personal matter, you have it and can ask the musician to autograph it just like your own treasure, so much worth it m/
Hahahah that's true!! Well, we're near the end what are the next planes talking live gigs and promotions? I hope you come again near where I live 'cause some years ago with the old band members WS played a gig!!
We have a lot of gigs on schedule and I do really hope we will have the chance to play in your area as well…I am sure we will meet someday! Keep the Metal on and since then … if it ain' t Metal, well it's crap!!!!!!!
That's for true! As a final question I'll asking you to greet freely you fans and our readers and thanks for this awesome interview, Sister!
To all the metal heads: have a blast !!! WS is back and ready to kick ass just come out and play!!! Thank you for this opportunity I've really enjoyed the interview.
Links
MySpace * ReverbNation * Facebook * Site
Label : Great Dane Records
Review By Tony Cannella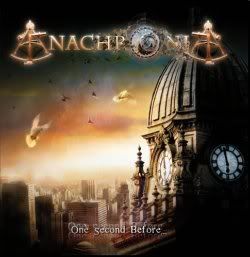 France's AnachroniA have already released one full-length ("The Endless Agony") back in 2004. Now the band has returned to showcase their brand of melodic progressive metal on the newest opus "One Second Before". For those who have not been familiar with this talented French band (like myself), then they will come as something of a revelation. Starting with the deliberate, crunchy riffing of the opener "Winter Always Turns to Spring", AnachroniA gets things off and running with a barrage of riffs and blasts of heaviness. The next track, "Chimaira Builders" is just as heavy as the previous song but also features plenty of atmosphere and a main guitar riff that you just can't shake. Lead vocalist Fay has got a cool, bordering on (but not quite) operatic style. Suffice it to say she can hit some pretty high notes but she is more concerned with her vocals fitting in with the music (which they do, quite well) than performing vocal gymnastics. Zwayn is also there to lend his harsh vocals to the material. On the third track, "Inflamed" the two vocal styles are displayed equally, but this is also one of the best songs here, thanks to an undeniably infectious melody. The 2-minute ballad "Last Prayer – Part One" gives way to the all-out thunderously technical, bordering on thrash metal assault of "Last Prayer – Part Two". Following the brutality of the previous track, AnachroniA change things up a bit with folk metal vibe of "What Dreams May Come". The closing number is "Epitaph". This is a great way to end it and the band concludes the CD with quite possibly their best song. This song is a multi faceted tour de force and I can't think of a better way to end the CD. With "One Second Before", AnachroniA has laid the foundation for something potentially very special. It is always a cool feeling when a new band comes along and reminds you of why you love this form of music in the first place. For me, AnachroniA are one such band.
Rating – 96/100
Tracklist
Winter Always Turns to Spring

Chimaira Builders

Inflamed

Last Prayer – Part One

Last Prayer – Part Two

What Dreams May Come

Secret of Sciences

You Were Wrong – Part One

You Were Wrong – Part Two

The Least

Sekhmet

Epitaph
Line Up
Fay – Lead Vocals

Zwayn – Grunts

Adrien – Guitar

Ben – Guitar

Fab – Bass

DJP – Drums, Samples
Links
6 color styles available:

Style switcher only on this demo version. Theme styles can be changed from Options page.