Browsing articles tagged with " alessandro"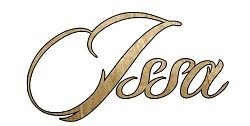 Interview by Andy Axworthy
Our dear readers I think that they already know the AOR/arena rock singer Issa (AKA Isabell Øversveen) and this time, Andy took some time for investigate about her latest release "Can't Stop", where the Norwegian singer collected and recorded some hidden gems/cover of the AOR scene. Just read this exciting interview for know more.
Hi Issa, a warm welcome back from all of us here at Femme Metal Webzine. We last spoke with you after the release of "Sign of Angels" back in 2010 and you have not taken your foot off the musical gas since, leading up to now and "Can't Stop", your latest release. How have you been and what's new in your world?
Hi there, thanks for having me back. Well I've recorded 3 albums in 3 years which has been the main priority of my time really and with each album you have an aftermath of radio and written interviews which also take up a bit of time. I also write songs with my husband James as we have a publishing deal and we have a lot of fun writing in all different styles. I've also recently added my vocals on another Frontiers Records release which is yet to have a press release so I have to keep hush hush unfortunatly on that one. But aside from the music i'm very happy in my life also. Continue reading »
Con l'intenzione di suonare ancora più epici e sinfonici di sempre, i Rhapsody sono orgogliosi nell'annunciare una collaborazione a lungo termine con il direttore d'orchestra PETR POLOLANIK e la sua orchestra della Repubblica Ceca (CAPELLEN ORCHESTRA & CHOIR). Nominati agli "Hollywood Music in Media Awards" del 2011, Petr e la sua orchestra hanno lavorato per i più famosi compositori (Thomas Bergersen, Trevor Morris, Jo Blankenburg, Henry Lai), le più note compagnie di trailer cinematografici (Two Steps From Hell, Position Music, Audiomachine) e per rivoluzionarie librerie di "samples" (Garritan, Sonokinetic, 8Dio). Le sue registrazioni sono parte di film e videogiochi pluripremiati (Sin City 4, Transformers e molti altri). Continue reading »
Interview by Miriam C. & Anna Fortini
Ed eccoci benvenuti alla nostra prima intervista in italiano, probabilmente come mai vi chiederete perché non l'abbiamo fatto prima. Forse, non abbiamo avuto l'occasione giusta, forse eravamo un poco poltroni a non cercarla, chissà… ma l'occasione s'è fatta propizia in occasione del "Valery Records 10 Years Night" siamo riusciti ad intercettare AmbraMarie per una piccola interview. Ricorderete AmbraMarie per la sua partecipazione nella seconda edizione di XFactor nel 2009, senza il forse è stata una delle poche artiste nel talent farsi distinguere per il suo stile rock, molto diverso dalle solite proposte. Da lì, sono passati "3 anni, 2 mesi e 7 giorni" ed è guardacaso proprio il titolo del suo debut, sotto Valery Records. Ne volete sapere di più? Semplicemente state in nostra compagnia e leggete le sue parole.
Ciao Ambramarie benvenuta su Femme Metal Webzine, come va?
Tutto bene, molto bene grazie.
Iniziamo la nostra intervista chiedendoti una piccola presentazione riguardo le tue esperienze passate e il background, che ne dici?
Io canto da quando ho sei anni.. ho fatto un po' di programmi televisivi anche quando ero piccola tipo Bravo Bravissimo, queste cose qua… allucinanti..cose di cui poi ti penti, però le ho fatte ahahahah… poi ho avuto un contratto discografico con la Warner però poi…vabbè ero piccola avevo 14/15 anni… poi verso i 17/18 anni ho conosciuto la mia band…la mia attuale band, abbiamo iniziato a lavorare alle nostre canzoni, a suonare dal vivo ovviamente tra cover e pezzi nostri perché si inizia chiaramente così… e ovviamente l'esperienza che mi ha permesso di diventare musicista a livello lavorativo a tutti gli effetti (perché prima ho studiato, poi ho fatto la barista) è stato quando ho fatto XFactor nel 2009…quello mi ha permesso di diventare musicista a tutti gli effetti… il backgraound vabbè sono tanti concerti, tante cose che ho fatto, questo un po' il prima, ora invece sono 3 anni che giro con la mia band per tutta l'Italia a fare concerti ed ora che è uscito il disco facciamo molti più pezzi nostri dal vivo mentre prima era una sorte di limbo perché presentavamo i pezzi nostri però la gente faceva fatica ad ascoltarci perché non li conosce..molta gente siccome sa che non conosce quei brani purtroppo non ha quell'interesse verso il "nuovo"…dice "siccome non la conosco allora neanche l'ascolto"… purtroppo la mentalità è questa.. allora io cosa ho imparato a fare, le mie canzoni non le presentavo, perché nel momento in cui dicevo "adesso faccio un mio pezzo" la gente andava a fumarsi un sigaretta, andava in bagno ecc ecc… Ma dico! Ascoltala almeno 50 secondi se poi ti fa schifo te ne vai..lo accetto…però sulla presentazione te ne vai…allora ho detto "vaffanculo non presento niente", e presento il pezzo alla fine così almeno magari qualcuno rimaneva ad ascoltarla ahahah
Prima di passare a parlare del tuo album…mi parleresti dell'intesa che c'è stata con Valery Records?
Guarda noi ci siamo conosciuti tramite persone in comune che ci hanno presentato…noi cercavamo persone interessate al nostro disco che era stato già registrato proprio perché l'interesse mio e della band era quello di registrare un disco con le nostre idee quindi con l'aiuto di un produttore che è Alessandro Paulucci (che ha lavorato con Baustelle, Vanilla Sky) volevamo fare un disco "nostro" senza troppe influenze del tipo "tu fai quello, tu fai quell'altro", quindi il disco era già finito… la Valery lo ha ascoltato e ha detto "interessante" così è iniziata la collaborazione… è anche per quello che c'è voluto tanto, non nel realizzarlo, ma per trovare qualcuno che credesse in un disco da idee che venissero solo dalla band, perché come ti ho detto se fai pezzi tuoi alla gente non interessa… questo viene fuori anche da varie opinioni che abbiamo raccolto negli anni, da varie esperienze, perché se non ci sono grandi nomi di autori dietro manco te le ascoltano…questo è un grande problema, allora abbiamo conosciuto la Valery che era molto aperta proprio perché erano cose nuove.. da persona nuove… e così è stato il nostro incontro.
Allora, il tuo album "3 anni, 2 mesi e 7 giorni" …come mai è passato così tanto tempo da XFactor all'uscita di questo album?
Diciamo che io a XFactor sono uscita alla sesta puntata..sono entrata, ho fatto un bel percorso però sono uscita a metà programma…l'etichetta del programma ha comunque voluto tenermi nella scuderia degli artisti però chiaramente bisognava risolvere i contratti con quelli che erano arrivati primo, secondo e terzo e quindi già lì i tempi sono molto ma molto lunghi quando non sei nessuno… poi per divergenze artistiche io volevo fare un determinato sound, loro magari volevano farmi fare un EP io invece volevo fare un disco completo e così abbiamo sciolto il contratto però nel frattempo era passato 1 anno e mezzo…e da quell'anno e mezzo riprendi in mano il tutto, continua a suonare, facevamo sempre il nostro lavoro ma ovviamente volevamo far uscire il nostro disco dopo 8 anni e abbiamo pezzi nostri nuovi, ma anche pezzi che avevamo scritto all'inizio.. e quindi volevamo fare un disco di 14 pezzi…noi ne abbiamo scritti tantissimi, abbiamo fatto una cernita e abbiam detto "questo disco ci piacerebbe farlo con questi brani"… e poi in Italia è difficile coi tempi che corrono capire i personaggi, anche se noi non facciamo un rock da strapparsi i capelli… è un rock normale…però il rock sembra ancora più difficile… appena sentono 2 chitarre distorte la gente si spaventa e quindi trovare delle persone che veramente interessata… poi vuoi una serie di sfighe, problemi nel mixaggio allora è passato tutto questo tempo ma poi la soddisfazione è che il disco è come lo volevamo noi..è un po' come quando fai casa no? La fai e poi guardandola dici "ma magari l'avrei fatta diversa"… come tutte le cose a cui tieni che fanno parte di te… ed è bello perché c'è tutto quello che volevamo, i suoni che volevamo che non è sempre facile, a meno che non sei autoprodotto e allora lì fai quello che cazzo vuoi…
Quindi se tu dovessi dire "per me questo album rappresenta….". Cosa rappresenta?
Rappresenta un po' le mie due sfaccettature che sono: il mio lato più aggressivo, energico del rock n'roll e quello più malinconico… ci saranno canznoni molto più energiche e quelle da tagliarti le vene perché c'è questo mio lato malinconico con testi tristi, tutti con storie che finiscono male ma non ce la faccio a scrivere cose felici…sono una persona felice, però… abbiamo tutti questi momenti ahahah anche perché c'è sempre qualcosa che inevitabilmente va male, è triste…
Nel tuo team possiamo annoverare un pezzo da novanta come Steve Lyon (Depeche Mode, The Cure, Paul McCartney) che ha collaborato attivamente alla stesura dei testi e agli arrangiamenti vocali. Come è stato lavorare con lui e quando l'hai incontrato/contattato per la prima volta?
Lo abbiamo conosciuto sempre per conoscenze comuni… mi han detto "vogliamo presentare questo tuo progetto a Steve Lyon". Che quando me l'han detto mi sono un po' spaventata perché ha presentato grandi artisti come Depeche Mode, The Cure, Paul McCartney, Subsonica e io ho detto "vabbè fateglielo sentire"..lui l'ha ascoltato, gli è piaciuto e ha voluto collaborare a questo disco e mi ha aiutato molto sia con la linea melodica sia con la pronuncia visto che ci sono testi sia in italiano che in inglese..
A proposito di questa cosa, come mai hai voluto fare dei testi in italiano ed altri in inglese?
Guarda noi scriviamo da tanti anni come ti ho detto e all'inizio mi divertivo di più a scrivere in inglese…era più semplice, più immediato e col tipo di musica che facciamo noi è più adatto l'inglese… quindi mi veniva automatico scrivere in inglese ma col passare degli anni, vivi tante cose, cresci, ascolti anche cose che ti aiutano no? Ed infine è trovato negli ultimi anni scrivere in italiano…e nel momento in cui dovevamo decidere che canzoni mettere nel disco ce ne piacevano alcune in italiano e alcune in inglese quindi abbiamo deciso di metterne un po' e un po'… ce ne siamo sbattuti le palle e l'abbiamo fatto come volevamo senza stare a sentire le solite cose che se non scrivi in inglese non vai da nessuna parte… alla fine ci sono canzoni che vanno bene in inglese ma che in italiano fanno schifo e viceversa… però diciamo che così, con queste canzoni in inglese cerchiamo anche di farci un mercato estero…
Ecco pensi che l'estero sia pronto per la musica italiana?
Allora io ricevo sempre tante opinioni…ci sono molti che dicono che all'estero apprezzano le sonorità italiane perché abituati all'ascolto, mentre altri dicono che se non fai i testi in inglese, in un'inglese come dio comanda, non vai da nessuna parte…sento tante cose, anche da esperienze diverse che vanno una contro l'altra… penso che bisogna provarci semplicemente…se va, bene sennò comunque sai di averci provato e amen…non credo che ci sia una regola base per queste cose, certo se le fai in inglese devi farle bene senza dire stronzate anche se dico sempre "hanno così tante cose belle da ascoltare perché dovrebbero ascoltare le mie" ahahha no comunque vedo che hanno sempre interesse ad ascoltare cose nuove cose che secondo me qua in Italia non c'è… come dicevo prima qui non c'è la cultura del nuovo… poi ci sono anche tanti pregiudizi (anche se ti dirò me ne aspettavo di più) perché si arriva da un reality come XFactor, manco fosse il Grande Fratello…è comunque una cosa relativa al canto…ecco mi piacerebbe che la gente mi ascoltasse a prescindere: ti piaccio? Ecco a prescindere dal fatto che arrivo da XFactor mi dovresti ascoltare… secondo me è importante COSA arriva più che DA DOVE arriva…
Pensi che la tua esperienza ad XFactor in qualche modo ti abbia penalizzato?
Ad oggi ti dico di no, poi magari in giro sentirai altre opinioni… io ho fatto il mio percorso, nel momento in cui mi hanno proposto cose che non mi piacevano l'ho detto, l'ho fatto capire, percepire, le ho dovute fare lo stesso perché il gioco è quello senò non ci partecipi e lo fai…. d'altronde in Italia ci sono pile e pile di dischi che nessuno ascolterà mai, perché arrivano arrivano arrivano e tu devi trovare un modo per farti conoscere. Noi, intendo con la mia band, abbiamo fatto un sacco di concerti e io sono entrata per farmi conoscere ma poi comunque so che avrei continuato con loro… ormai in giro c'è troppa musica, non come negli anni 60 che lo facevano alcuni e quindi erano riconoscibili… ora c'è troppo sovraccarico quindi fai un sacco di provini, tra l'altro io non ero convinta di partecipare perché se ti fanno fare cosa che non t piacciono che fai? Allora dici "e ma allora continui a fare cappuccini?" che per l'amor di dio è sempre un lavoro ma allora non fai niente per fare quello che vuoi davvero? Quando sono uscita da XFactor non è che ho fatto subito tutto quello che mi proponevano..io volevo fare quello che volevo io.. infatti è fatto tutto da me e il mio bassista… non abbiamo inventato niente di nuovo da dire "oh mio dio che hanno inventato questi?" è semplicemente la nostra musica. Poi comunque da quando sono uscita abbiamo fatto una marea di concerti…tutte le sere, mica una volta al mese.. quindi non credo che mi abbia penalizzato, ti penalizza nel momento in cui ci sono i pregiudizi però spero sempre che la gente venga a sentirmi dal vivo e cambi idea.
A livello di promozione, i recenti vincitori di X Factor, intendo le ultime 2 edizioni, pensi siano stati molto più "pompati" che nelle prime quattro edizioni andate in onda in chiaro (escluse poche eccezioni come Giusy Ferreri, Noemi e Mengoni)?
Che tra l'altro loro non avevano neanche vinto! Mmm guarda non saprei… ho notato che da quando è passato a Sky ha avuto una forte presa…però non saprei dirti… non so se è stato un fatto di assegnazione di testi o altro… anche perché questo è un mondo che gira in modo strano, a volte a culo o a conoscenze o a badget… non lo so, magari perché è stato seguito molto dal web che ormai va molto… non saprei… magari è una combinazione di fattori. Poi io non mi pongo mai queste domande…di solito penso che se un artista va è perché piace al pubblico ecco…
Parliamo del tuo video "Quello che resta" intanto complimenti perché è davvero stupendo… cosa ci puoi dire riguardo la sua preparazione e la sua location?
Il video è stato fatto da 2 giovani film maker Nicolò Puppo e Francesco Teo. Nicolò è un fotografo ritrattista di Alassio che tra l'altro ha appena vinto un concorso della National Geografic ed è lo stesso che ha fatto le foto e la copertina del disco e aveva anche questa passione per i video e ha preso questa strada del filmaker… gli abbiamo detto di ascoltarsi il brano, gli abbiamo dato carta bianca e infatti ha fatto un lavoro di cui siamo contentissimi… la location era al Palazzo Niccolari di Albenga…abbiamo allestito tutte le scene all'interno di questo fantastico palazzo ed è nato questo video molto scenico diciamo…sono persone giovani che fanno bene quello che amano fare infatti secondo me bisogna far fare alla gente quello che san fare meglio
Ecco una cosa che mi ha incuriosito molto è quel muro tutto tappezzato di fogli che puoi tu strappi via, rappresenta qualcosa?
E' molto metaforico… "Quello che resta" racconta di queste 2 persone a cui è rimasta solo l'abitudine, la polvere, un racconto di cui non vedrai mai la fine e infatti c'è questo manichino immobile che piano piano viene mosso perché in qualche modo la storia deve rompersi no? E i fogli hanno su proprio il testo di "Quello che resta" e lo strapparli rappresenta la liberazione di questo rapporto… Tant'è che l'inizio dice "Aspetto qui lui mi odierà io resto qui lui non lo sa"  perché è nella stanza con un'altra persona e dice "io aspetto che qualcuno mi fermi dal tradire questa persona"  però quello che resta nel nostro rapporto ormai è questo. Poi c'è il mio bassista che si infila in questa bacinella di latte rappresenta la purificazione dopo che è stato bruciato e distrutto… il chitarrista che viene preso dalle mani rappresenta la manipolazione, perché ormai la storia te lo impone. Ognuno aveva un ruolo che rappresentava una metafora di questa relazione.
Il tuo album vede la partecipazione del grandissimo Pino Scotto nella song "Regina di Cuori", come è nata questa partecipazione e com'è stato lavorare con lui?
Guarda non ti dirò le solite cose  "ci siamo conosciuti tra una bevuta e l'altra"… l'ho conosciuto tramite Nicky della Valery, Pino è della Valery, Nicky ha parlato di me a Pino e gli ha chiesto se gli andava di fare un duetto con AmbraMarie, ha voluto sentire come cantavo dopodiché ha accettato la collaborazione e ha pensato che "Regina di cuori" che è dedicata a Freddie Mercury, fosse ideale per un duetto… forse perché anche a lui piace Freddie Mercury, ma d'altronde se non ti piacciono i Queen sei un demente e dovresti essere gambizzato all'istante ahaha poi pino l'ho visto molto come persona "interessata", molto carino, alla mano, una persona squisita…come un nonno rock che aiuta la nipotina ahahah.
Ora per finire, volevo sapere quali saranno i tuoi prossimi progetti per promuovere il tuo debut "3Anni, 2Mesi e 7Giorni"? Immagino tanti concerti, no?
Sicuramente, anche perché siamo un gruppo di straccioni che non hanno il papà che ci paga spazi pubblicitari ahahah quindi sarà sicuramente fare concerti, concerti, concerti… portiamo il disco per venderlo, poi pubblicità sul web, su Facebook… coi mezzi nostri e della Valery che ha tutti i suoi mezzi… ma comunque suonare suonare e suonare anche se i canali più grandi rimangono la TV e la radio… magari fra 20 anni non sarà più così e la TV verrà sostituita da YouTube ahaha. Vorremmo una piccola parte di persone che sia interessata a noi e che aspetti il nostro secondo album…
Bene, AmbraMarie ti ringrazio per quest'intervista. Vuoi fare un saluto ai tuoi fans e i nostri lettori di Femme Metal?
Coi saluti non sono molto brava, è una di quelle cose che mi imbarazza da morire! Molto semplicemente ragazzi vi saluto! Rock n Roll sempre, sostenete la musica, la musica dal vivo.. se non sapete cosa fare uscite e andate ad ascoltare musica!!!
Links
MySpace * Facebook * Twitter * Site
Latest Multimedia
Ed ora una gallery di photos in esclusiva solo per Femme Metal Webzine
Interview by Gaia Stella Rotondi
Transcription by Alessandro Narcissus
Intro by Miriam C.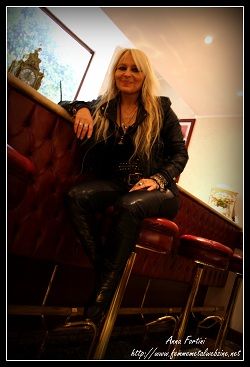 On a hot summer day (to be precise on the 12th September) we've met in a hotel in the centre of Milan during the promo day dedicated to "Raise Your Fist", the German metal queen Doro. Let's hear directly from her the latest news. Some words dedicated to the memoir of the late Mr Ronnie James Dio are present and we join with her to his memory publishing this interview.
Today Femme Metal is pleased to have the metal queen Doro Pesch as guest. Hi Doro, how are you?
Hi there, I'm very good! Thank you for the interview, it's great to be here in Italy!
We know that your new album, "Raise Your Fist", produced by Nuclear Blast Records, will be released on October 19. Could you tell us something about it?
We've worked for over half a year on it. We recordet it all over the world, from New York and New Jersey to Hamburg, we've mixed it in Danmark with Jacob Hansen, who'se the producer and engeneer for all of it. I wanted to make sure that the sound is hard, powerful and really, really good. The first song, "Raise Your Fist in the Air", I kind of had the feeling it might be the first single. So I sent it out to many people, everybody mixed it, and then it was hard to choose 'cause many were really good, but when I heard Jacob's work I said, "Okay, you're the one!". There are some special guests on the record: I sing a duet with Lemmy (Kilmister from Motörhead Ed.) on one of my favourite songs, "It Still Hurts", which is a very touching and emotional ballad, and I love it so much, and I also love Lemmy for the longest time, he's great! Then we have another guest, Gus G, the guitar player of Firewind, and he plays a solo on "Grab The Bull (Last Man Standing)". A good friend of mine made contract with Alex Krull from Atrocity and Leaves' Eyes, and he's a guest on that song as well. Then there is "Hero", which was the first song we wrote for the record, and it's a tribute to Ronnie James Dio: so many fans were totally heartbroken when he died – including myself, I was totally devastated and after all this time I still am! – so I really wanted to say thank you and pay respect to him.
Could you tell us something about the importance that Ronnie had in your life?
Yeah! Beside being an amazing singer, I think definitely one of the best, he was a great friend and my biggest inspiration! I had the chance to meet him many times, we toured together – actually my second big tour, back in 1987, it was with Ronnie James Dio and it was great because it was the peak of heavy metal with big venues and fans, it was unbelievable and really unforgettable! Then we had the chance to tour again a couple of times and one of the greatest experiences was the American tour in 2000, because, as you probably remember, in the Nineties grunge was big and heavy metal had a really difficult time; and then, in 1999 I felt it was coming back somehow and I did a song for Ronnie James Dio's new album, then he held a release party in New York and I was there and I went to say hi, and he was like "Hey, I like the song so much, it's magical!". And a couple of weeks later we had our record done – I was "Calling The Wild". We were in the middle of an interview with a radio station in Tennessee, and we were talking and they asked if we had any touring plans, I was like "Not yet, but of course we want either to open up for someone or do our own club tour", and then the lady said she was like "What about Ronnie James Dio?", and she was going to interview him in a hour so she suggested us to him! And a couple of weeks later we were on tour together and it was great! The last leg of the tour was in Florida and we always sang the encore together! He went to the monitor guy asking for a second microphone and came on stage. In 1987 I could not speak English that well, so we were just like "Hi, great show", but in 2000 we really got much closer and became really good friends.
In "Raise Your Fist" you had the chance to work with many other musicians. As you said, you collaborated with Gus G from Firewind and Lemmy from Motörhead. How did it feel to work with legendary and new generation artists at the same time?
It's great every time! It was a honour to work with somebody special like Lemmy. He's my hero, I love Lemmy! We played together in the very early 80′s and now we were on tour together two years ago, and it's great. He's very soulful and a total gentleman, a great talker, a great musician. With younger generations, when people love music there's always this common ground. With Alex Krull we always met in Wacken and he suggested that we do something together and his wife Liv Kristine, she was at my 25th Anniversary gig and performed on "Celebrate" along with all those great ladies that met on stage. And we all felt connected then. There is one song on the limited edition called "Strong And Proud" which I wrote to talk about this connection with all the female vocalists. I think it's pretty cool because we're all supporting each other and connected, there is a lot of unity.
An EP was released on August 3rd, to precede the upcoming album. The EP contains four songs and it includes also a French version of the single "Raise Your Fist in the Air". Would you like to talk about the reasons of this choice and about the EP in general?
After I recorded the demo of the song, I played it to some people involved with Wacken. When they heard it they were very enthusiastic about it and wanted me to play it at the festival. It was not finished yet, but they really wanted it, so I was like, ok, I can try. Then I played it and I got a great response. Everybody's fists were in the air. It was the first day and I played it in front of about 50,000 people, they all liked it, so I thought it could be a great single. Then I tried it out a couple of times when I played in Europe, in Moscow, and I also wanted to play it in Lyon, in France. I tried to say something in the native language, so I asked "How do you say 'Raise your fist in the air' in French?" and they told me "Lève Ton Poing Vers Le Ciel" and it was really cool! And then there is another story: one day I was introdued to a girl called Vanessa who really wanted to hear a song in her native language because she only speaks French. On my previous album I recorded several versions of "Herzblut", like in Spanish and in Portuguese, so I also made one in French and I dedicated it to Vanessa. She was really happy! She has two sons and said "When I have a girl, I will call her Doro!", which was really cool! I was very happy! So I decided to do another French version on this album.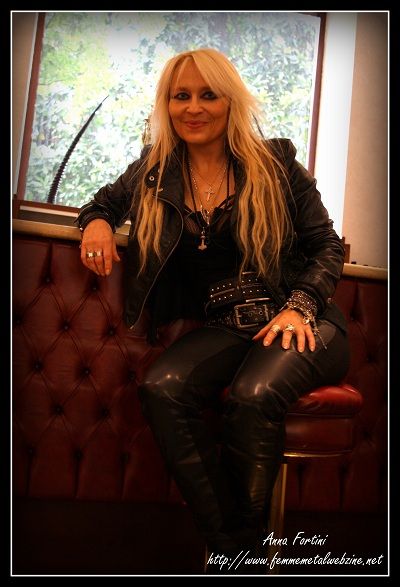 The guitar player on "Raise Your Fist" is Luca Princiotta, an italian musician. How did you meet him?
I met him a couple of years ago. I was in Italy doing a little appearance for Clairvoyance. There I met Luca and I knew he was a great musician. Then joined us for the keyboard when Oliver Palotai was busy touring with Kamelot. We really got along and played many gigs, so he joined in as guitarist for the new album.
You have released also a video for the single "Raise Your Fist in the Air". We know that you love the city of New York, but the video was shooted in the Bronx area. Why did you choose this place and how would you describe this experience?
It was quite an adventure, quite dangerous too! In New York it's very hard to fill in to get a permission and stuff. So we were like, okay, you know what? We just go there with our truck. We go everywhere we want and when the police comes we just get back on our truck and run away! We went all over and then elsewhere too. We went to all kinds of neibourghoods in the Bronx and in Harlem, and while I was singing, suddenly people were coming up to see what we were doing. At a certain point there was like a gang, and we were like, "Oh God, sorry, we were just shooting a little video!", but they liked the song although I think they were more into rap or that kind of music, so we asked them to join us and it was really cool! Everybody came in, we shot under a bridge, there were also some homeless people who showed up as well, even a guy who said he liked jazz but stopped all the same, and my band was in the video too, so… gang members, homeless people of New York, all united by music, it made all of it immediate. It was much fun!
You often play at metal festivals, such as the Wacken Open Air. What do you think about festivals and how is your relation with the fans during these events?
I love playing festivals. My first time playing in Wacken was in 1993 and there were maybe 2000 people. It was very small, just the area where now the bands' dressing rooms are. And since then every four or five years I came back, and a certain point there were 20,000 people and the whole thing was going bigger and bigger. What I love so much was that the organisers of the festival were two die-hard metal fans, because no one wanted to do metal festivals in the early 90′s, so it was a festival from fans to fans, you can still feel it today. And the village near it, everybody is very welcoming to all the metalheads, back then somebody even welcomed us to sleep, which is really great because, you know, all those guys with long hair and tattoos and stuff… So I specially love Wacken, but I also love Gods of Metal, Metalcamp… I love it all, every festival is special in its on way. People from everywhere come and enjoy so much music, you can see all your friends, all those bands, all the fans of other bands, everybody has stuff to do but you can reconnect with the fans.
In 2006 you made your cinematic debut in the film "Anuk". You returned to the set for the second part of this film that will be released at the end of 2013, and it is called "Anuk – The Path of the Warrior". Would you like to talk about this film and the shooting? Is it true that the soundtrack will contains music from the upcoming album?
Yes. The producer is called Luke Gasser. He asked me for the movie and then I did some more music for the film, very different in a way, for there is not only words. We were doing the music together and I just came back for shooting the movie. It was a little more difficult than usual because I also had to do the promotion then go on tour. This is the second part to end "The Path of the Warrior", it's an adventure, the good guys against the bad guys, it's set in 2000 BC. The first movie was a lot of fun! It's an independent movie, the budget is not big, it's just not like a Hollywood budget, but everybody put so much energy in it. It's very demanding, getting up every day in 5 o'clock in the morning, then working hard for 16-18 hours a day, there were 50 horses, many people who did the stunts, I was filming often in the water so I also hoped I would not get ill – but I didn't! On the last record, "I Lay My Head Upon My Sword" was for the movie.
You're on the metal scene since the early 80′s. Is it difficult to hold the crown of Metal Queen for such a long time? What is changed since the beginning of your career?
Well, it's so nice when people have good things to say about you, it makes me so happy! But actually I'm just a normal metalhead. I still love metal, I still love the fans. I just try to make the fans happy, which is the most important thing to me, it's my mission. For so many years it's been great and I owe much to the fans, they always support me in good and in bad times, like when grunge was big in music. I love my fans more than anything and it's my aim in life to make fans happy and to give them something they can believe in and enjoy, give them some positive power. Now, being called a "Metal Queen" is such a big word, I just work each day to make something nice, but it's only me, I still feel like when I started it all, when I was 22. It feels like 6-7 years ago, not certainly like 26 or 27!
Thank you so much for being here and replying our questions. Is there anything else you would like to say to your fans?
Yeah! The most important thing in this world to me, which will never ever change, is my love for them. I'm still there, I'm still giving 100%, and I want to say thank you to all of them! They give me all the energy and all the support, so… thank you so much, it's very important to love each other!
Credit Photos
Exclusive Photos shot by Anna Fortini
Links
MySpace * Facebook * Twitter * Site
Latest Multimedia
Label : Nuclear Blast Records
Review by Tony Cannella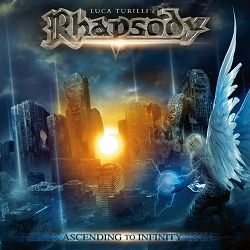 Several years ago the members of the virtuoso Italian metal band Rhapsody found themselves in a unique situation. The band – rather amicably – split into two factions with one half going on to be known as Rhapsody of Fire and the other side (this one) being led by guitarist Luca Turilli and being known (cleverly enough) as Luca Turilli's Rhapsody. While Rhapsody of Fire has already gone on to release several albums, "Ascending to Infinity" is the debut from Luca Turilli's band. With this album Luca Turilli's Rhapsody continues on the path of cinematic metal and brings it to a whole new level. Every song on "Ascending to Infinity" sounds like it could be the sound track to some epic movie. The scope of the music is so huge, ambitious and majestic. Luca Turilli's Rhapsody is not female fronted. Their lead singer Alessandro Conti does a competent job throughout the disc and has the perfect style to go along with enormity of the material – he's also got quite the vocal range. "Ascending to Infinity" includes some songs with choir-like backing vocals and some female vocals as well. Some of the highlights are: "Dante's Inferno", the 8-minute "Excalibur" and the 16-minute "Of Michael the Archangel and Lucifer's Fall" which is divided into three parts and is quite the epic to close things out. Another favorite is the slower tempo song "Luna" which features a female singing some of the lead parts. This song is interesting in that the female parts are sung in English and the male vocals are in Italian. If you are already a fan of Rhapsody than you should love "Ascending to Infinity", if you are not a fan of this band however than it probably won't win you over. Nevertheless, "Ascending to Infinity" is a huge sounding record that should further cement their reputation as purveyors of 'cinematic metal'.
Rating – 75/100
Tracklist
Quantum X

Ascending to Infinity

Dante's Inferno

Excalibur

Tormento e Passione

Dark Fate of Atlantis

Luna

Clash of the Titans

Of Michael the Archangel and Lucifer's Fall (

I.

In Profundis, II.

Fatum Mortalis, III.

Ignis Divinis)
Line Up
Alessandro Conti – Vocals

Luca Turilli – Lead Guitars and Keyboards

Dominique Leurquin – Lead and Rhythm Guitars

Patrice Guers – Bass

Alex Landenburg – Drums
Links
Facebook * Google Plus * Twitter * Site
6 color styles available:

Style switcher only on this demo version. Theme styles can be changed from Options page.