Browsing articles tagged with " alexa"
Interview by Ed MacLaren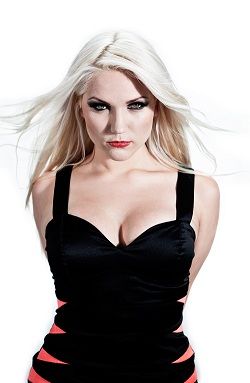 Hearing a band's debut album for the first time is like digging up a treasure chest. You have no idea what's in it but you're hoping that, whatever it is, it's going to make you rich. Uncovering "Breaking the Stillness" – the powerful debut album from Finland's  Shear – is a treasure in its own right – a refreshing and engaging listen that will reward your ears again and again. The album is built on catchy melodies and progressive arrangements but what really raises the eyebrows are the balls-out voice of singer Alexa Leroux. On each track, her vocals cut loose adding some grit to the polished music underneath. Femme Metal Webzine got the inside scoop from vocalist Alexa Leroux on the new album, her powerhouse vocals and how classical training works well in the metal world.
Welcome to Femme Metal Webzine, Alexa! Congratulations to you and the rest of Shear on "Breaking the Stillness". An excellent debut album!
Thank you very much! Glad you like it!
Shear brings a sonic cornucopia to the ears – crunching riffs, swirling keyboards and powerhouse vocals. This album will definitely appeal to fans of power and symphonic metal not to mention the progressive metal faction.
Well, thank you, once again. Our album is a little more melodic mixed with progressive, than symphonic, but I hope it reaches fans of different metal styles also. I believe it's diverse enough, so even if people don't like all the songs they might find some elements they really like.
Are you excited? What are your expectations for the album? The prediction here is that even though it's early in the year, you could be seeing "Breaking the Stillness" on some best of lists at the end of the year.
I am very excited about having an album finally come out. I can't really predict anything and in a way I think it's better I don't even try to, but it would be totally awesome to see it succeed.
Track for track, "Breaking the Stillness" is a powerful listen from start to finish. What's the secret to maintaining that kind of momentum over a whole album?
We really took our time writing the songs. Every song was written with a purpose and they all come from a very personal space, so that is probably what helped the most.
Independent Release
Review by Tony Cannella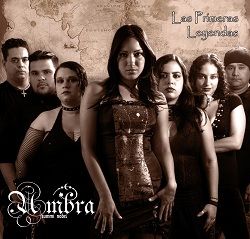 From Venezuela comes Umbra Summi Nobis. Their style is symphonic hard rock/metal and their debut EP is titled "La Primeras Leyendas". As you can discern from the song titles,this band sings mainly in Spanish. The first thing that got my attention with this band is the amazing vocal histrionics provided by Alexa. She's got such a remarkable range,sometimes she goes operatic and at other times she uses a more mid-range style, she got such a huge sounding voice, her voice just left me speechless at times. "La Primeras Leyendas" features a playing time of only about 17-minutes so it is over in the blink of an eye, but there is more than enough time to showcase what Umbra Summi Nobis is all about. The 1-minute intro "Obertura" gets things started and segues into the straight ahead riffing of "Mujer de Las Hadas". This is actually one of the weaker songs featured here but things certainly pick up in a big way with the next track "Nebulosa". This song starts off as a ballad but quickly builds into a mid-tempo groove. The opening of "The Enchanted" begins with an operatic intro as the song transforms into kind of a folk-ish type of song with lyrics sung in English. The final track "Nebula" ends things on a positive note as Alexa turns in perhaps her finest vocal performance and it is also sung in English. I am not sure if Umbra Summi Nobis's brand of Symphonic Metal will catch on but there is no denying the talent that this band possesses and is all too willing to show on "La Primeras Leyendas".
Rating – 80/100
Tracklist
Obertura
Mujer de Las Hadas
Nebulosa
The Enchanted
Nebula
Line Up
Alexa – Lead Vocals
Yareli – Backing Vocals
End – Guitar
Bray – Guitar
Alejandro – Bass
Freddy – Drums
Links
MySpace * ReverbNation * Facebook * Twitter * Site
Label : BMG Rights Management/Audioglobe
Review by Tony Cannella
By now everyone knows what to expect from Trans-Siberian Orchestra. A combination of Rock, Prog, Metal and Classical highlights this musical extravaganza.The band started out as a touring holiday troupe and their annual Christmas shows have become legendary. Now in recent years they have become a year round touring and recording entity. Their latest studio album, now released in Europe after 2 years from its original version, is the epic 2-disc, 28-song, over 2-hours long, "Night Castle". As always, TSO has a great array of endless musical talent – from all backgrounds – at their disposal. The great Jeff Scott Soto (ex-Yngwie, Journey, solo, etc. etc.) adds his immense talents to "Night Castle" as well as three very talented female singers are on board. They are: Jennifer Cella, Alexa Goddard and Valentina Porter. All of which comes from a non-metal background but man can they ever sing! Not to mention some the great musicians who have participated. Alex Skolnick, Chris Caffrey, Al Pitrelli and Jon Oliva among many, many others are all on hand, even progressive rock legend Greg Lake (ELP) adds bass to the track "Nutrocker". "Night Castle" is a complex concept album which you can read about on their web-site or CD booklet; suffice it to say there is a lot going on both musically and lyrically. The album kicks off with the choir dominated "Night Enchanted". The 3rd track "Sparks" has an energetic classic rock feel to it, with a great guitar solo. Fans of Savatage will find the instrumental "The Mountain" to be familiar as it incorporates parts of "Prelude to Madness" from 'Tage's "The Hall of the Mountain King" album. The female singers don't surface until the 2nd disc on the tracks "Father, Son & Holy Ghost" a hugely grandiose part ballad part mid-tempo track featuring some superb vocals from Jennifer Cella. The next track "Remnants of a Lullaby" also features Jennifer taking the lead on the acoustic ballad. "Child of the Night" features the duo of Alexa Goddard and Valentina Porter taking over the lead on this symphony laced track. One of my only complaints about "Night Castle" is the fact that the male singers tend to sound similar to one another so it would have been nice to give the female singers a bit more to do. That is just a mild complaint however, as the material more than stacks up to previous TSO recordings. TSO has delivered another grand, huge, monstrously, unapologetically epic masterpiece with "Night Castle". TSO has continued to ascend to new heights, which I am sure they will continue to do.
Rating – 85/100
Tracklist
Disc 1
Night Enchanted

Childhood Dreams

Sparks

The Mountain

Night Castle

The Safest Way Into Tomorrow

Mozart and Memories

Another Way You Can Die

Toccata – Carpimus Noctem

The Lion's Roar

Dreams We Conceive

Mother and Son

There Was A Life
Disc 2
Moonlight and Madness

Time Floats On

Epiphany

Bach Lullaby

Father, Son and Holy Ghost

Remnants of a Lullaby

The Safest Way Into Tomorrow (Reprise)

Embers

Child of the Night (Bonus Track)

Believe (Bonus Track)

Nutrocker (Bonus Track)

Carmina Burana (Bonus Track)

Tracers (Bonus Track)

Requiem (Live 2010) (Bonus Track)

Toccata – Carpimus Noctem (Live 2010) (Bonus Track)
Line Up
Paul O'Neill – Guitars

Robert Kinkel – Keyboards

Jon Oliva – Keyboards

Al Pitrelli – Lead, rhythm guitars

Chris Altenhoff – Bass

Luci Butler – Keyboards

Chris Caffery – Guitars

Shih-yi Chiang – Keyboards

Roddy Chong – Violin

Angus Clark – Guitars

Jane Mangini – Keyboards

Johnny Lee Middleton – Bass

John O.Reilly – Drums

Anna Phoebe – Strings

Jeff Plate – Drums

Alex Skolnick – Guitars

Derek Wieland – Keyboards

Dave Wittman – Drum, guitar and bass
Lead Vocalists :
Jay Pierce ("Childhood Dreams", "The Safest Way Into Tomorrow")

Tim Hockenberry ("Sparks", "Believe")

Jeff Scott Soto ("Night Castle", "Another Way You Can Die", "Dreams We Conceive", "Time Floats On", "Safest Way Into Tomorrow (Reprise)")

Rob Evan ("There Was a Life", "Epiphany")

Jennifer Cella ("Father, Son & Holy Ghost", "Remnants of a Lullaby")

Alexa Goddard ("Child of the Night")

Valentina Porter ("Child of the Night")
Links
6 color styles available:

Style switcher only on this demo version. Theme styles can be changed from Options page.