Browsing articles tagged with " a&m"
Label : A&M/Octone

Review by Tony Cannella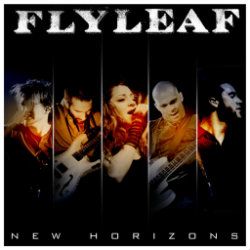 On their 3rd album, "New Horizons" the American alternative hard rock band Flyleaf delivers more of their brand of infectiously melodic songs with both a punk and hard pop rock edge to them. With a playing time of 36-minutes long, Flyleaf wastes little time in getting into it. From the opener "Fire Fire" to the closing track "Broken Wings", "New Horizons" should hold a lot of appeal to longtime fans of the band. Songs like "New Horizons", "Call You Out" and "Saving Grace" are straight-forward hard rocking songs, which remind me a bit of a heavier version of Paramore. I'm sure that they've heard that comparison before, but there is enough here that should separate Flyleaf from bands of their ilk and place them in their own category. The band has been labeled a Christian rock band in the past, due to some of their lyrical subject matter, but their religious leanings definitely don't overshadow the music and they don't come across as preachy. "New Horizons" is probably an appropriate title and is bittersweet for fans of the band. Prior to the album's release, lead vocalist Lacey Sturm departed the band and has since been replaced by Kristen May formerly of the band Vedara. Only time will tell if they can maintain the same high level that their fans are accustomed to. I bet they will.
Rating – 76/100
Tracklist
Fire Fire
New Horizons
Call You Out
Cage on the Ground
Great Love
Bury Your Heart
Freedom
Saving Grace
Stand
Green Heart
Broken Wings
Line Up
Lacey Sturm – Lead Vocals
Sameer Bhattacharya – Guitars & Vocals
Jared Hartmann – Guitar
Pat Seals – Bass & Vocals
James Culpepper – Drums
Links
Interview by Miriam C.
Transcription by Robin Stryker
This was my second phoner interview that I've made in my life, this time I was more calm and relaxed. Enjoy this funny interview (sometimes during the interview she has got line telephone problems and I was going to repeat the questions) with a kind and relaxed Jonsu, vocalist and violinist from rock all female band Indica.
Let's start, "A Way Away" is coming in the stores the 25th June on Nuclear Blast. Why choose this label? I mean Nuclear Blast isn't the typical label that sign rock melodic bands.
When we were touring with Nightwish, Nuclear Blast was the label that was interested to do the English album, and they had showed some passion towards our music. I loved the way they worked and how they put their whole soul and heart to it. So it made us be sure that it is the perfect label for us. Also I have to say that it was a good thing that Tuomas told me before – you know Tuomas [keyboardist] from Nightwish, they have been with Nuclear Blast for many many years – and he told me that "I have no bad words to say about that company". So it was a good recommendation.
Obvious question, how's born the collaboration between Nightwish mastermind Tuomas Holompainen?
It was great. The first thing I did with them was "Erämaan Viimeinen" (The Last of the Wilds), one of their songs. After one of our shows, Tuomas came to ask me if I would like to sing that song, and he said he has been a fan of our band since it started. And I said like "yeah, yeah, let's try it". It went well and then they asked later if we would come on the Scandinavian tour. I think Tuomas and the whole band is great. Tuomas is a really talented musician and composer, so it was great to work with him. And later, of course, to do albums with him. Also on "A Way Away", he wrote lyrics to one song, "Precious Dark".
I found a bit strange to publish an entire album with translated lyrics in English, when take for example such metal acts like Ensiferum, Korpiklaani,they publish without problems album in Finnish language. Why take this decision?
Why did we do an English album? When we started about nine years ago, we did songs in English and in Finnish, but then we had to choose one language. Finnish sounds more natural, but we knew that someday we probably will do anyway an English album. When we started touring abroad, the fans started to request if we could do some songs that they would understand too. There was only really crappy YouTube versions they could listen to. So that was the main reason why we did it now. I think it was a big challenge for us, too, because we have seen every single corner of Finland and every single club, and we have been working there and touring there and doing albums like "Ikuinen Virta" in 2004. So it was a big challenge for us, and also really interesting to see new places and meet new people. Also with the language, I would say that the English language is maybe, when sung, it sounds more beautiful and it's flowing totally differently. Maybe Finnish is more exotic, but anyway the music sounds totally different, so we found it really interesting.
Your last album was called "Valoissa", right? And if I'm not wrong the English translation is "light".
Yes, you can say "in the light". In the song, we are really talking about like traffic lights. It is a little bit ironic text about "what if I die in the traffic light" and you can't just mourn. Don't be sad.
Are "Valoissa" and "A Way Away" titles connected?
"Valoissa" and "A Way Away" … no, there are a couple of songs from the "Valoissa" album in "A Way Away", but otherwise those albums aren't alike. Those aren't connected anyhow.
If I ask you to define Indica's music style what do you reply?
It's a funny question because, as a composer, it's really hard for me to describe the music because somehow I think it's impossible to describe music in words. But, I can say what other people have told. So, some people – like all reporters in Finland – call it like mystic-romantic pop rock, and it was funny how it started. One reporter just said like, "oh, this sounds like mystic-romantic" and suddenly all the reporters were writing it's mystic-romantic. Yeah, one interviewer also said, "it sounds like Disney on acid." (laughs) I think it was a funny description. I'm sure there is some films, movie soundtracks and a lot of movie composers.
On 30th April you've published out the videoclip "In Passing", what is the story behind the video and how was work with Patric Ullaeus Team?
Yeah, in Sweden in Gothenburg. You are talking probably of the "In Passing" video. The story behind the song is that it is kind of a letter from an older sister who is dead to her little sister, and she is trying to encourage her and telling her that "you must go on with your life and move on". It was great to work with Revolver Team, and Patrick Ullaeus I think did a great job. We shot it two videos in Gothenburg. "Islands of Light" I think it isn't published yet, but it will come out soon I guess.
Watching your promo shoots I was astonished about your dresses. Who's the creator of it?
Sometimes we are using different kinds of designers, but there is one Finnish, Anne-Mari Pahkala, who has done many of our dresses. Some dresses we are found from our grandmas' closets or somewhere, like anywhere where we go. But Anne-Mari Pahkala is a girl with whom we have worked the most.
Before "In Passing" video there was another one video called "Snakes and Arrows", I've seen it, have you shooted it in Tokyo?
We had one. It was kind of, you know, zero budget. We deal with just one friend's photographer wanted to do one because he wanted to do some photo shootings there, and we had a show in Tokyo. We spent there a week, so we were shooting the video at the same time. But it was a great experience. I really liked Tokyo, but I couldn't believe that I would live there.
Which is your favourite song from "A Way Away" and why?
My favourite song from the album is, I guess, the ending track "Eerie Eden" … "As If" is also one of my favourite tracks. I always fell in love with the slow songs, so that is why maybe "Eerie Eden" and "Children of Frost" and "A Way Away" are one of my favourites. The girls are always angry to me because I always try to do a slow album where there is only slow songs on there like that. "You are killing the audience! They will fall asleep". (laughs) So, it's good that we have different opinions in our band too, because otherwise it would be only 10 slow songs on the album.
I know that's very very early to talk about that but are you working for the next album with brand new songs?
Composing is my lifestyle, and I'm all the time composing something. But we really haven't sat down yet with the band and talked about what we are going to do, what kind of direction we are going to go in. Maybe after this album comes out, we can sit down and talk about that with the people that we work with and do some planning.
What are the next band planes?
In the near future we are going … tomorrow [the interview was done on the 20 May 2010] we are in Italy doing something and going to Rome, then we go to Leipzig to do one gothic festival and then I go back to Finland to do some TV programmes. Then we are playing in Rock am Ring and Rock im Park (it's in Germany).
It's a very famous festival, with groups from every genre, and MTV is there.
It will be interesting and I think they said that they are shooting the show too. So we are doing some festivals in summer, but mainly touring will start in the autumn. Then the plan is to tour pretty much before Christmas and go around Europe. Let's see, I have a meeting with my gig agents next weekend, then they tell us some ideas.
Italy is in your plans?
Yeah, I'm sure Italy will be on the list. But really, I would love to, I'm waiting to come back to Italy. These days we are doing some acoustic performances in the radios but to do a real live show because I think Italian audiences are great. They are so free and open.
Greet our fans freely!! And thanks!
Thank you very much for the interview! It was really nice to talk with you, and I hope to see you somewhere.
Kiitos! [Finnish word for thanks]
Oh, you know it! Great.
Links
MySpace * Facebook * Twitter * Site
Latest Multimedia
Interview by Miriam C.
Trascription by Kassandra Ortmann
I know, I know what are you gonna say "What's this, that's too short and we want more!". I totally understand you but the occasion was too much inviting to let it go so I took the chance, also for really short but quite, I admit to say, inviting interview with Lzzy Hale from the American new hard rock sensation Halestorm during their unique Italian gig in Milan. For sure there will be another occasion to do an interview but for the moment enjoy this exclusive! For this interview I really thanks for her collaboration and help Mrs. Morandi Anna Marzia from Roadrunner Italy/Warner Italy.
I was asking you about your second album, "The Strange Case of..". I am wondering when you started to compose this album?
Ah well, we um, we didn't have a whole lot time to think about this record and to prepare for it. We had been touring on the last record, um for nearly three years and basically got off tour, had 24 hours to pack and then went right to California to start making the record. We had a handful of ideas, ah, none of them were really finished yet. We had a couple of serious songs. We didn't really know what we were doing yet. Basically we just had to dive in and chase after whatever got us excited. And try not to think to hard about the pressure of making a record. Um, we ended up doing for the first half of the record writing probably the most aggressive songs we have ever written. A lot of riff driven songs, I'm being obnoxious and screaming my head off. And then uh, half way through um, I started really opening up and writing some of the most intimate songs that we've ever written. And it ended up to be, the finished product ended up to be this strange duality of sorts. And just the light and dark, the soft and strong but somehow it still all went together, which was surprising to me. And hopefully the message on this record is that you can be both. (LAUGHS)
I have read here and there some of your lyrics, and some of them are really straight-you-in-the face? What are the facts or things that inspired you during the song writing process?
Oh, it can be anything. First of all I live with uh, anywhere between four to nine boys at any given time, so there is always (LAUGHS) something strange going on (LAUGHS), that sometimes the guys will say something that I will have to write down because it is a little over the top. But um, to be honest, a lot of the recent inspiration especially for this record, came from the fans actually. And uh, we definitely keep in touch with our fans with Twitter and Facebook, and all of the social medias but um we started to get physical letters actually to the studio while we were making this record. And it just so inspiring to hear their stories, to hear what are fans are going through and what our music means to them. I think when we went in to make this record we really had a great idea of who we were actually singing to and um they were giving us alot of fuel in order to make a record they really deserved. In all honesty, Inspiration can come from anywhere though. I mean, I love watching people and I consider myself an observer and a sponge of sorts. So really it could be anything somebody says to you, you write it down, or somebody will be telling you a story and you say "Ja, I should write a song for them". In a lot of ways whether it's my personal experience or somebody else's, it's fun, it's fun because there is no real one way that you can write a song.
I saw "Private Parts" is a bonus track. It features the participation of James Michael. Who was working in singing with him?
He is wonderful, I love James so much. Originally he wasn't planning on singing on the record. He and I wrote the song together. And uh, he had all these ideas about who could sing this song with me was excited to see who it ended up being. And at the last minute I called him up and saying, "You know what James, nobody can sing this as well as you can". Because it is from his heart as well, so um, he ended up singing it with me and it was just wonderful cause he has such an amazing voice and he's such a great guy. So it was a great bonding experience actually.
The "Strange Case of", in the US was published by Atlantic Records and in Europe by Roadrunner Records. How about this collaboration. Any plans for the European market to re-release your past discography. For example, your debut self titled album?
Yes, I definitely think that will happen in Europe. The wonderful thing about Roadrunner Records overseas is that they are such amazing people. Even though things are kind of shaken down right now, (LAUGHS) everybody is so talented. They really knew what they were doing overseas. So the partnership between Atlantic and Roadrunner, really helped give us a leg up in Europe. Because we had come over here a couple of times with different bands and I noticed we had never really had a whole lot of press (LAUGHS) until we started working with Roadrunner Records. And uh, then we came over here for the last tour, and everyday we had something to do, and we were meeting all of these people and doing all these meet and greets. And I was like. "WOW! This is how its supposed to be!". So, I definitely think that more of our material to be released in Europe, especially considering we most likely will be doing a live CD as well as another EP. You can't really limit us to any one thing I think we, uh, we start itching to do something new after every couple of months. So there will be definitely more coming over here.
I don't know if you heard the question about Nightwish and the former singer. I don't know if you read the news. It happened that the singer has quit the band because of too long tours. I ask you, aren't you afraid to feel physically and mentally drained. I read on your website that you do a lot of touring. Are you not afraid to be tired mentally and physically?
Uhm, its definitely a battle, in fact as we speak right now I actually have a cold. But the show must go on, and we're gonna do a show tonight and rock it out anyway. Um, I think that for me the hardest is making sure that you take care of yourself, and you're honest with yourself. That when you are tired you go to bed instead of staying up till 4 AM. (LAUGHS) Or um, making sure you remember that your body is your instrument. A lot of it is just common sense, you know. If it hurts don't do it, uh, you know you try to eat right, try to get a little bit of exercise in everyday. That type of thing. Because unfortunately for singers, and this what I feel with Jacob and a lot of the other singers that are struggling now, is that you cant just go to a music shop and get a new one. (LAUGHS) We don't have that technology yet! (LAUGHS) Like a guitar player if a string breaks, you replace the string, but with singers you can't really replace whats yours, what is inside of you and your body. So, um, its just something you have to keep in mind. I know in past years I struggled, because I am very stubborn at times. So I'll want to be invincible, like, "No! I can do it!", you know, I'll stay up all night and I'll party and do the show. Maybe I could have down that when I was a young teenager (LAUGHS), but not anymore! (LAUGHS)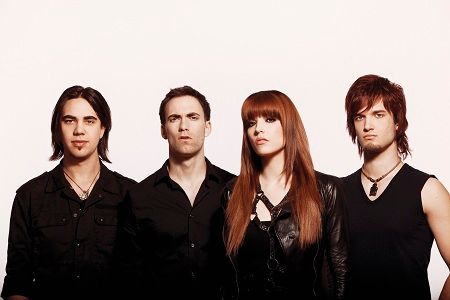 Congratulations for winning the "Hottest Chick in Hard Rock" . How do you feel about it?
I am actually quite flattered. I know there are a lot of women that look at that in a negative light. I never really did. I enjoy the attention. I enjoy dressing up. Um, obviously I am no stranger to the high heels and the short skirts. But I do have one rule and that is to make sure that if I am getting all of this attention for you know, being a girl and being sexy and the rock and roll then I have to make sure that I take care of myself. And that I am good at my instrument and good at what I do. Um, and have something to back it up! You know, because we cant ride solely on the sex because that is going to go away at some point. And one point in time I am going to be a sixty five year old woman and no one gonna want to see me in a short skirt. (LAUGHS) So I have to make sure I am good at what I do!
So you take the advantage now for the time being?
Yeah! (LAUGHS)
Unfortunately we are at the end. We thank you for this short interview and I am really, really happy to have had this talk with you? So … thanks again.
Thank you so much for taking the time for me darling. Its been an absolute pleasure talking to you.
Thank you so much!
Hopefully I will get you meet you one day!
Me too, I hope to meet you but unfortunately today I am not in Milan, I am quite far away from Milan but the best I can get today is to interview you!
No worries, we will be back. I promise you that!
So we are at the end, thank you so much?
Thank you so much! Darling. Bye.
Credit Photos
Photos by Chris Phelps & Alex R. Kirzhner
Links
MySpace * Facebook * Twitter * Site
Latest Multimedia
Interview by Alessandra Cognetta
Marja provides vocals and percussions for the Finnish Hexvessel, whose latest album "No Holier Temple" has been released on the 7th of September by Svart Records. It's difficult to put into words what a surreal experience their music provides, and I probably wouldn't do them justice anyway, so we took the chance to ask her a few questions about the band and all the elements that surround their work. So get ready and follow us on this journey through the forests of old.
Hello and welcome, Marja! First of all, thank you for being with us. How are you?
Hi Alessandra! Thanks for getting in touch! I'm great, we've been touring and rehearsing a lot lately, so tiredly happy!
Since this is the first time we have the pleasure of featuring Hexvessel in the webzine, could you please introduce the band to our readers?
We're a psychedelic forest folk band residing in Finland, founded by Mat McNerney and rest of us have gathered around him since.
Hexvessel's second album, "No Holier Temple", is due for release on the 7th of September. What are your hopes and expectations for this new record?
This is our first album with the bigger live band involved and the sound reflects that. On the first album Mat told some of his and our stories through his sound, and now we've invited the band to channel some of new spells with their unique styles added. We've played some of these songs live for a while now so based on the live feedback from the audience, I believe "No Holier Temple" will be a great successor for "Dawnbearer". It'll probably be easier to get into, and will open up more levels, layer by layer with more listens like the first one.
The front cover of "No Holier Temple" (by the artist Bastian Kalous) is stunning, and really shows how important nature is for you. How was it conceived and, most importantly, how was your bond with and reverence towards the native forest born?
We were looking for the right visual for a long time, from illustrations to paintings until we came across Bastian's work. You can see from his art that he's one with it, and we were stunned how one simple image can be a symbol or a gateway to so many stories. It has the same eerie, beautiful atmosphere as the whole album. Magickal on its own terms. This is how we see the nature as well, it's full of mythical signs of the cycle of life but it also holds the eternity of something more substantial. Only if those trees could speak.
What are the elements of your music that, in your opinion, changed (or evolved, if you wish) the most since "Dawnbearer" and why?
Mat has his own strong sound as a songwriter and singer which has always been present in his works, but now his voice as the narrator and storyteller is deeper and clearer, and the band supports his sound and vision. "No Holier Temple" is a story through music but also a step towards future and ideals, not just looking back.
I found particularly intriguing the "spoken" tracks, like the album opener, "Heaven and Earth Magic", they feel like a prayer, even a shamanic ritual, we could say. As if you were summoning the old gods themselves. How do you manage to bring such magic to Hexvessel's sound?
Words, in any language, possess magick when spoken aloud. Humans have invented complicated communication systems that allow us even to talk about the metaphysical, abstract level using simple words. Poems, lyrics, incantations and prayers are initially the same, conjuring an emotion that stands out from the common day routines. Robert Graves calls poems "stored magic". When you combine that with music, a non-verbal way of expressing emotions, it becomes even better, and the reader and in this case the listener, really completes the circle by joining it.
I've read on Svart Record's press release that the themes of the new album were inspired by eminent figures such as naturalist John Muir and environmental activists Dave Foreman and Howie Wolke. How did you come across their work and in what ways did they influence yours?
I guess we're all looking for something to hold on to these days, some grab a hold to global capitalism and consumerism, some to religion and some to trying to ignore all that's happening around us. If you look at it all in the long term, it's horrible how we're just speeding up the decline of the Earth while people become more and more concerned about their own short term bliss. Mankind seems to be the worst kind of dictator, spoiling its own valuables. This while technology, ecological and moral thinking are on their height and would enable us to be bit better than that. To strive to do the right thing and leave behind something else than garbage and deserts, some ash in an urn – I guess that's what it's about. These guys been doing it, some are still doing it by showing that one man's passion and vision for the common good – not meaning just the mankind here – can really make a difference. It's like standing in front of the disfigured old god, and realizing what matters like the last conclusion in Rilke's poem Archaic Torso of Apollo:
"We cannot know his legendary head with eyes like ripening fruit. And yet his torso is still suffused with brilliance from inside, like a lamp, in which his gaze, now turned to low, gleams in all its power. Otherwise the curved breast could not dazzle you so, nor could a smile run through the placid hips and thighs to that dark center where procreation flared. Otherwise this stone would seem defaced beneath the translucent cascade of the shoulders and would not glisten like a wild beast's fur: would not, from all the borders of itself, burst like a star: for here there is no place that does not see you. You must change your life."
Speaking of influences, what do you draw inspiration the most for you music?
I think we all bring a bit to the table, but overall you could hear some 60-70′s psychedelic themes and sounds, pagan folk and proto metal shavings and more jazzy spoken word poetry, not to mention just jamming at the Wastement. But most of all, I think we are inspired by literature, history, words and acts of meaning and beauty – and those stories find themselves in musical forms after a while.
I was pleasantly surprised to find out that Hexvessel has a Tumblr, as well as many other profiles on different social networks. What is your approach to the internet in relation to music?
We embrace internet as great means for interaction and learning. Long gone are the days when people would use all their money and time shuffling through albums and books on Saturdays – it's all online now. I personally love following blogs and tumblrs for new music and inspiration. One great example is the Youtube channel for Sagan Series, quite epic short videos mashed up of Carl Sagan quotes, audio books, emotional music and excellent video footage. Perfect for the short attention span generation to experience something that you had to really search up before. We also enjoy exchanging music with our fans and friends online by putting up mixtapes of our favorites and receiving back great recommendations of lost and hidden gems so I guess we're quite social online.
You provide both vocals and percussions for the band. Can you tell us about your musical background and how you got into Hexvessel?
I'm an active music fanatic so I've done lots around it, from having the honor to work at a record label with some of the best progressive rock legends in Finland to writing for zines, organizing gigs since early 2000s and taking photos. I loved Mat's early demos for Hexvessel and have been quite involved since as a wife, producer, and even devil's advocate. Lots of Hexvessel material directly relates to the two of us, our life and love so in a sense, we create a lot of it together though Mat is the main vessel. I sing along and play air drums to my fave music so it seemed natural to do that on records and live as well, quite a dream come true.
Director Justin Oakey created a beautiful movie for your song "I Am the Ritual". How did the collaboration develop?
If you check out Justin's earlier work, you'll see what caught our eye when we saw his visuals and he had the same feeling about our work. Mat and Justin see eye to eye so the planning and production of "I Am the Ritual" was very easy and the end result is just amazing. Justin is pretty much a natural extension of the band, he channels the music through the aesthetics. We are so happy to see other bands picking up on Justin's talent now.
You recorded a cover of Paul Simon's "Diamonds" for "Dawnbearer". Was it a one time tribute or we can expect to see more covers (or even guest musicians) in the future?
It was pretty much essential to have a Paul Simon cover on "Dawnbearer" as his music and especially "Graceland" play such big role in Mat's life. I love his take on "Diamonds" – its completely transformed but true to the original lightness of the vocals and story. There is in fact another cover on "Dawnbearer" – "Solomon's Song" by C.O.B. which is bit more in the vein of the original. We've just recently started playing "Solomon's Song" live which I really enjoy a lot, one of my faves.
You promote the Finnish Natural Heritage Foundation through your website and even your T-shirts are created with natural and recycled materials. What do you think is the role of music in raising awareness on environmental problems and the respect for nature?
We owe it to nature so we should give something back, make that difference. To be honest, the nature preservation topic has very little to do with the music itself as we don't preach or even talk about environmental issues in our songs, but as all art, they can be made into a soundtrack to something that stands for a cause. "Woods to Conjure" video is of that sort, its not directly related to the song's theme, but seeing those big trees fall makes you feel and think, and the song acts as a doorway to those emotions. We just try to do our part by preferring ecological and sustainable shirts and inks, using recycled paper and cardboard on our CD and LP covers and donating money to the Finnish Natural Heritage Foundation that buys forests and swamps to stay forever preserved in their natural state. It's the little things that count, and in return we can have our walks in the forests and be in awe of those magnificent trees around us.
That's it, thanks again and we wish you all the best for "No Holier Temple"'s release and your upcoming Finnish tour!
Thank you so much, appreciate the interview and good questions!
Links
MySpace * BandCamp * Facebook * Twitter * Site
Latest Multimedia
Interview by Tony Cannella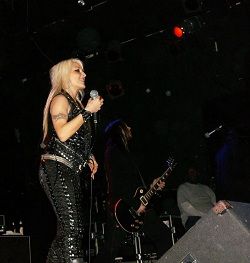 I have interviewed Doro Pesch countless times and she always remains one of the nicest and coolest people to talk to. Her passion and enthusiasm is apparent and what is also obvious is her genuine love for her fans. As she gets ready for another North American jaunt that begins on March 20th in Philadelphia, PA, she was kind enough to take a few moments to discuss her tour and other things.
Hi Doro! The tour begins this week (March 20th). What can fans expect when they come out to see you?
We are going into rehearsal tomorrow and I want to of course get all of the classics in like, "All We Are" and "True as Steel" and play a couple of songs off records that we very much like – all the highlights off each record. I will always play according to the fans, I want every show to be different and I want to feel it out like whatever the fans want to hear. If they want to hear more heavy stuff than I'll play more of the heavy stuff, if they want to hear more anthems than we will put in more anthems, if they want to hear more headbanging, double bass stuff than we will do this. In the encore, they can call out songs they would like to hear and we will try to prepare everything and make it interactive. We want to do a killer, high energy show. I just got to New York on Thursday and yesterday I went to the Iron Maiden show at the Meadowlands in New Jersey and I talked to so many fans there and they are all coming to the shows in the New York area. Touring America is always super, super special and I want to make it special in every way.
So the set list is always going to be changing then?
Yes, every day it will be slightly changing, according to the vibe, to the people and to always keep it fresh. Sometimes some people travel to many different shows and the fans always have something to get excited about and to look forward to. It is not exactly the same every day and it will definitely be a good mix from the Warlock songs and the Doro songs. It will definitely be very special.
Have you ever thought about adding some of the songs from albums that were never released in America?
Yeah, actually we are going to put in a couple of songs and one of the favorite songs from the fans seems to be "Love Me in Black". They call it out usually in the encores and I was so amazed because the "Love Me in Black" album never came out in the states. I'm so glad that the die hard fans are very familiar with even the songs that didn't come out in America.
You came out with the EP "All We Are – The Fight". Tell us a little about that.
It was for a very good friend of mine Regina Halmich. She is the 12 year women's boxing champion. She had a special fight, it was against a guy and she asked me if I would play a classic like "All We Are" and I said OK. We played a little bit different version, we played it live and it was broadcast on TV – in front of like 10 million viewers. After it was broadcast, so many people called the radio stations and the record company called the fan club and said, "Wow, we love it and can we get it?" and some people didn't even know the song, some people were not metal fans and they loved it. The record company said "OK, let's release it", I put in some songs which people who know "All We Are" would be happy to hear some other material on it. There are like five videos on it and four other songs. So I thought it is good to have another single out or an EP.
When you played the song live on TV, you had some special guest musicians with you. Who were they?
It was Schmier from Destruction the bass player and Bas Maas from After Forever was the guitar player. It was just because it was very short notice and Regina called me a couple of days before. At first the plan was that I would sing it alone and then I thought that I would like to invite some friends of mine if I can't have the band over. Schmier is a very good guy and I just did something for his album ("Inventor of Evil"), "The Alliance of Hellhoundz". So I called Schmier up and he said he would love to do it. It was such short notice, otherwise the band would have been there.
You also performed a duet ("Who I Am") with Floor Jansen on the last After Forever album. How did that come about?
I met Bas from After Forever many years ago on a promotion tour in Belgium. We also did a South American tour together in Brazil and in Mexico we played together. It was really, really great and we all got along. I love Floor. I think she's a fantastic singer and I always wanted to do something with another female singer. They called me up and said they have a great song and I listened to it, I loved it and then we did it. I think it came out really good. I was very pleased when I heard it.
Is it flattering to be asked to be on other artists albums?
It's always a big honor when other people ask. Yeah, I love to do it, It's always extra special. Every time I have done collaborations I was really happy to do it and It always came out really good. It's very nice when people ask.
I wanted to ask you about the "20 Years a Warrior Soul" DVD. It's one of the best music DVD's I have seen in quite awhile. Tell us a little about that.
We took so long (to put it out) because the concert now is a few years ago but we had to clear all the rights. We wanted to not only put out the concert but we wanted to make a little tour movie as well, so we just put on the best stuff from the "Warrior Soul" tour. There is stuff on there from all over the world, from Russia, Germany, Spain, so we thought then let's do a double DVD. I always like to put as much on it that I think the fans will find interesting.
The packaging was great as well.
I love good packaging with great artwork.
I think the fans can see that too. They really appreciate the fact that you always take care of them.
Yeah Tony, as you know, I only do it for the fans. Every single day the fans are in the back of my mind and I hope I can make them happy. I get inspiration from the fans. They're the most important thing in the world to me. I always think that I have to do extra, extra good and put as much good stuff on the DVD or CD. Sometimes it's hard, because with the record companies the more you put on the more expensive the production gets.
You are going to do a 25th anniversary show in Germany in December. Tell us about that.
I'm getting really excited for it. We want to do a couple of shows all over the world, but the first one will be in Germany in my hometown Dusseldorf. I want to invite some great bands, many, many special guests. We are just talking to some bands, nobody is confirmed yet except Leaves' Eyes. We have a great big metal market where people can go and check out new stuff. We want to do a great stage show with many, many surprises.
Will there be another Warlock reunion at the 25th anniversary show?
We are in the middle of talking about it. It's a possibility.
Are you working on new music?
Yes, I'm working on the new record. The song writing is going really well and I have tons of ideas. I got so inspired by all the touring experiences. After the American tour I want to go back to songwriting and then go back to the studio and record it. Probably put out the first single or EP later this year, before the 25th anniversary concert and then the new record maybe in December or January. It depends. I don't want to put the pressure on me that I have to have it done for the 25th anniversary, but I definitely want to have an EP out where I can present some new songs. I have some collaborations in the making, which I think the fans will really be excited about.
Do you plan on filming the 25th anniversary show for another DVD?
Yes, we are planning for that. Definitely.
You are playing the Magic Circle festiva. Is it the festival organized by Manowar?
Yes, that's it and that will be the only festival in Germany that we play, because I don't want to overplay I just want to wait for the 25th anniversary. We will do a couple of festivals I think in Spain and Portugal, but I want to keep all of the excitement and energy pretty much for the 25th anniversary, so we will play just a couple of festivals this summer. I think we will play in America again on the 13th of September in Albuquerque.
Do you think that the European only releases of the early to mid-90′s will ever be released in America?
It's so hard, because all of the record company people they change. I don't know, we've tried like a couple of times but it's not easy. At the moment, there are no plans, but I would love that.
Thanks for taking the time to answer these questions. Is there anything you would like to add or say to the fans?
I can't wait for this American tour to start. The last one, it was so fabulous. It was unbelievable, all the experiences and all of the fans I met. I hope they will come out again, I hope they will bring out their friends, so we can have good, packed places and I want to thank them for their endless love and support. I would do anything for the fans and I always try my best and my hardest. I wish that everybody stays happy and healthy and that we can rock together for a long, long time.
Credit Photos
Photos by Tony Cannella. Taken from the site dororocks.net
Links
MySpace * Facebook * Twitter * Site
6 color styles available:

Style switcher only on this demo version. Theme styles can be changed from Options page.