Browsing articles tagged with " amaranthe"
Interview by Tony Cannella
The Swedish metal band Amaranthe recently embarked on their first ever U.S. tour. They are out supporting their excellent sophomore effort "The Nexus" and have been showing the North American fans what they are capable of in a live setting. Recently, prior to their excellent show in Cambridge, Mass. two of the vocalists Elize Ryd and Jake E. were kind enough to take some time following their sound check to discuss a variety of topics. Here is what they had to say…
The new album, "The Nexus" is out. Could you please tell us a little about it?
Elize: Yeah, this is Amaranthe's second album actually. The first one was not released here in the United States, so for the U.S. market this is our first album. There's a lot more of everything, I think, we took it a step further compared to the first one. We have a lot of different kinds of songs. We are very satisfied with the results and it's been received very well. Continue reading »
Label : Spinefarm Records/Universal
Review by Tony Cannella
The Swedish melodic metal band Amaranthe released their impressive self-titled debut in 2011. The album created a huge buzz in the metal world. Since then vocalist Elize Ryd has gone on to touring with Kamelot on their last tour. Now she returns to her main gig for their 2nd album entitled "The Nexus".
Amaranthe continues to utilize three distinctive vocals. In addition to Elize's angelic vocals, Amaranthe also utilizes clean male vocals (Jake E Berg) and harsh male vocals provided by Andy Solveström.
The opening duo of "Afterlife" and "Invincible" are both excellent, but my favorite track is the energetic "The Nexus". The three vocal styles are used quite masterfully here and this is just a great, melodic song. Continue reading »
Interview by Alessandra Cognetta
Many of you remember her from Kamelot, but Elize Ryd's career is so rich I don't think I can fit it all in an introduction. A talented artist and a really sweet person, she agreed to answer some questions for us about her latest effort with the unique band Amaranthe (their second album "The Nexus" will be in stores by the end of March, check their website to see when it's out in your country!). You're going to read about music, dancing, Eurovision (?!), bizarre incidents on tour and, well, I'm not gonna spoil anything, see for yourselves, you're in for a truly interesting interview!
Hello and welcome once again to Femme Metal, Elize! It's always a pleasure to have you with us at the 'zine. Amaranthe's new album is about to be released, and the band has a world live premiere planned for March 2nd in Sweden. How's it going with the preparations for the event? What can we expect to see?
Thank you very much, it's a pleasure for me as well! It is going great, on Monday the band are gonna meet in Gothenburg and start to rehears of the new songs. You will see Amaranthe in full and healthy shape, we all have had some time of the scene so it will be extremely fun to gather again and start this what will be an extremely intense and exiting year
Label : SPV/Steamhammer Records
Review by Tony Cannella & Luisa Mercier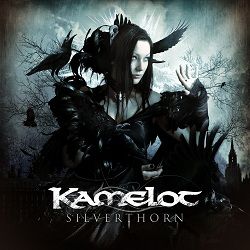 It is finally here. One of the most eagerly anticipated symphonic metal releases this year has to be "Silverthorn" by Florida's Kamelot. Of course it is well documented that the band parted ways with popular longtime vocalist Roy Khan. After utilizing Rhapsody's Fabio Lione to fulfill their remaining tour dates, Kamelot finally settled on a permanent replacement for Mr. Khan… His name is Tommy Karevik from the Swedish band Seventh Wonder. One thing Kamelot has always done is incorporate some of the most talented female vocalists to further enhance their albums and "Silverthorn" is no exception. Elize Ryd from Amaranthe, Alissa White-Gluz from The Agonist and Amanda Somerville has already been on tour with Kamelot and they all turn in tremendous performances when they are called upon. "Silverthorn" is a concept album about "a young girl who dies in the arms of her twin brothers, taking the three siblings' secret to the grave". Kamelot has really outdone themselves in the lyrical department, and the music has that movie soundtrack feel to it to really compliment the lyrics. After the opening intro "Manus Dei", the band goes into "Sacrimony (Angel of Afterlife)". I would say that this is probably my favorite song, which also features some killer vocal performances courtesy of Elize Ryd and Alissa White-Gluz. Alissa adds a more aggressive style. I was surprised to hear that Alissa was on tour with Kamelot and that she sings on this album. She definitely has a more aggressive style to contrast the angelic voice of Elize Ryd. Next is the heavier "Ashes to Ashes". One thing is apparent, Tommy Karevik definitely has Roy Khan thing going with the vocals, I wouldn't say he is a carbon copy sound-alike, but with him at the helm the band loses nothing in the way of vocals and musically this is the most inspired they've sounded in years. "Torn" is next and has an up-tempo style. Next is the ballad "Song for Jolee". Next is "Veritas" which features a huge sounding choir on the chorus. Other highlights include: "Falling Like Fahrenheit" and the closing 9-minute epic "Prodigal Son" which is divided into three parts: "Funerale", "Burden of Guilt (the Branding)" and "The Journey". There are a lot of similarities in both look and style between Tommy and Roy, but for the most part, I like the bands choice of singers, and I don't know if it is a coincidence, but "Silverthorn" is probably my favorite Kamelot album since "The Black Halo".
Rating – 90/100
All of us Kamelot fans were eagerly waiting for this new record. Two years ago, Roy Khan stated that he would have not toured with the band for a while, and after some months he left Kamelot. Since then, I was quite sceptical and curious about his replacement, since Roy voice is unique ine power/symphonic metal and it was the main feature of the band, the one that made Kamelot stand out. It was with relief that I welcomed Tommy Karevik into the band, since he is not the typical power metal singer, but he's quite versatile and really talented. On the other hand, it was the record that partially did not meet my expectations, since it is hit and miss for me. Do not misunderstand me, the balance in the end is good, but it stays quite below legendary records like "The Black Halo" or "Poetry for the Poisoned". There are very good songs and songs that are quite average, not the best melodies, sometimes they are just cheesy and too power for my taste. "Manus Dei" is the usual symphonic intro, nothing new if you love this kind of music: orchestra, piano and choirs that build the climax for guitars and the beginning of "Sacrimony (Angel of Afterlife)", the first single. The song has power/symphonic riffs and Tommy is scarily similar to Roy, so similar that I am almost convinced that it was a conscious choice. In the song, he duets with Elize Ryd from Amaranthe and Alissa White-Gluz that is in charge of harsh vocals. All in all, it is a nice track, nothing oustanding. Another track that did not impress me much is "Song for Jolee", the ballad. Kamelot are masters of ballads, think for example of "Abandoned", but this is way too cliché. Of course there are positive sides and I can name a few. Beside Karevik vocals, I really liked "Torn" that, even though short, has a good variety of styles and tempo changes without relying too much on power. Same for "Veritas" that recalled me the sound of the previous masterpiece "Poetry for the Poisoned": epic, more prog-oriented and Tommy is magnificent. Title-track and "Falling Like Fahreneit" are quite good, but the real highlight is "Prodigal Son" in which Tommy uses several vocal styles and also musically goes from solemn to balladesque to heavy metal, symphonic and epic. I wish the others were the same. Nonetheless, the album is good, not a masterpiece, but the result is positive in the end. So Kamelot fans like me will keep on listening to it.
Rating – 70/100
Tracklist
Manus Dei

Sacrimony (Angel of Afterlife)

Ashes to Ashes

Torn

Song for Jolee

Veritas

My Confession

Silverthorn

Falling Like the Fahrenheit

Solitaire

Prodigal Son

Continuum
Line Up
Tommy Karevik – Vocals

Thomas Youngblood – Guitars

Oliver Palotai – Keyboards

Sean Tibbetts – Bass

Casey Grillo – Drums

Elize Ryd – Guest Vocals
Alissa White-Gluz – Guest Vocals
Amanda Somerville - Guest Vocals
Links
MySpace * Facebook * Twitter * Site
Interview by Ed MacLaren
It's been long considered that in most things two's company and three's a crowd but in the case of Swedish power metal outfit Amaranthe, three is merely the number of world-class vocalists they feature on their self-titled debut album. With clean female vocals along with clean and screamed male vocals, Amaranthe are anchored by a vocal prowess of which few bands can boast. Add the fact that the band weaves progressive, metalcore and techno elements along with a unique pop sensibility into it's power metal onslaught, Amaranthe is a new breed of metal band that fascinates with its innovation. Femme Metal got to spend some time with female vocalist Elize Ryd and hear about the origins of Amaranthe, big success in Japan, and their recent European tour with Kamelot. Your self-titled debut "Amaranthe" was one of the most anticipated releases of the year so far and it looks like it exceeded all expectations. Did you ever think you'd get this kind of public response so quickly?
No, because this is the first time I've released an album with me as one of the main composers and singers, so I didn't know what to expect. But of course, this was exactly the kind of respond I was hoping for, and have been dreaming of ever since I started to work with this band.
It looks like Olof Mörck and Jake E Lundberg put together their version of an all-star metal band – including your formidable vocal skills. How did you get the Amaranthe gig?

(Laughs) It's pretty funny because I became friends with Jake E in 2004; we met at a bar in Gothenburg and he started to talk about his band, Dreamland, and that he needed a female vocalist to record the song "Fade Away". We exchanged numbers and there the story began. I also got in contact with Olof through Jake and we became really good friends. Two years later I participated on his fourth album with Dragonland called "Astronomy".
At that time, I was still educating myself at a school called Performing Arts School – an artist school for professional singers and dancers – in Gothenburg. In 2007, I started to work at a cabaret but in my free time me, Jake and Olof often hooked up and wrote songs together. That year they decided to start a new band since they got a really good sound by mixing their musical ideas together. Their plan was to bring in guest vocalists, which included me among a lot of others as well as Andy (Within Y) to record a demo. After that day it just continued that way, and after a while they decided that they wanted to keep us as a part of the band.

The members of Amaranthe have an extremely diverse musical background. With that said, how did Olaf and Jake E sell the project to everyone?

They didn't really sell the project; Olof is really good friends with Morten (Arcane Order, Soilwork, Hatesphere) so it was just natural to ask him to play the drums, and he said yes right away. They didn't ask Andy if he wanted to be in the band, they just called him and said, "You're in the band now, just so you know…." And he was like, OK. I must add that when I heard the first song, which was "Enter the Maze", I fell in love with the sound so it wasn't even a question for me if I wanted to be a part of it or not… We actually did our first photo shoot without any bass player, but for the debut show we felt that we really needed one and we didn't want to do any audition for that since the rest of us came together as friends in the beginning. We really wanted it to stay that way so Andy asked his friend Johan if he wanted to join us at our next gig, and he did, and he was a perfect match.

Was it difficult to meld all those personalities and influences into a cohesive musical whole?
No, not at all. Everybody got the chance to play exactly what they like; Olof created parts in the music where he could shine with his guitar, Andy could do his screaming, Jake could sing like Axl Rose, me do my pop/rock thing, Morten got free control over the drums and Johan playing his powerful bass.

Amaranthe has a very clean and modern metal sound punctuated by tight progressive hooks. How would you describe the finished product – the Amaranthe sound?
I would describe it as you just did, clean and modern, but also new, powerful, energizing and positive!
Did you ever wonder what the final musical outcome was going to be at any point?
No. Since I've been a part of writing the songs I just got a lot of ideas based on what Jake and Olof created. So it has always been fun, and easy to write, since I could hear the results already from the beginning inside my head. The question was if it was going to end up that way in the end – it mostly did but sometimes even better after everybody else put their hearts into it.
For a metal band with progressive and even some metalcore elements, the music on Amaranthe is very accessible. It could bridge a lot of genres and open you up to a very large fan base. Was that an intentional decision by the band or was it really a happy product of the band's diverse musical background?
It was a really happy product of the band! I think the reason for why everybody wanted to build something with this band was because everybody got the chance to play their own taste of music – which every one of us really got room for. And that's also a big part of our sound. You have a really good point there; I'm very happy that all of us like the same kind of things but I guess that's just how it ends up when you write music together with like-minded friends.
Despite the huge number of bands the members of Amaranthe are involved in, Amaranthe doesn't feel like a side project – it has real long-term possibilities. Do you and the band feel the same way?
Yes, we do! When we got our first record deal offer, they had to ask themselves if this was the one band that they wanted to make a priority. Well, of course it's hard to decide since we had no clue how it would turn out but everybody seemed convinced that they wanted to have Amaranthe as their first choice. For me personally, it was hard to decide since I had to quit my job as a musical artist. But since my dream has always been to tour, see the world and perform with my own material, it was not really a hard decision to at least give it a shot.

How did the recording sessions progress? Olof is a self-confessed detail geek, isn't he? Did you do most of your composing in the studio or was it mapped out well before hand?
Everything was totally mapped out before we got into the studio except Olof's guitar solos which he was working on at night. We tried to copy the sound we had on the demos since they were very well composed with keyboards, vocal harmony parts and all that. So it was just trying try to get into the same mood as in Olof's and Jake's living rooms where we recorded all the demos. So Olof's perfectionism had already been applied to the music before we got into the studio. (Laughs)
In Amaranthe, the vocalists almost outnumber the rest of the band! That's a very unique sound dynamic. Does it give the band a distinctive musical chemistry – something different to let Amaranthe stand out?
Oh yeah, I think so, we singers are a different breed. (Laughs) We really have to think differently from a guitarist or a bass player, for example, not at least when we go on tour. We have to stay healthy and in good shape to be able to sing. No late nights and booze for us so it feels really good to not be the only boring one! (Laughs) Well maybe it works for Andy; he just gets that little extra rasp in his voice.

There's been a lot of online buzz around the band for a while now but Amaranthe seems to have really struck a chord with the Japanese. Is it true that you've been out-selling Lady Gaga on the import charts over there?

Yes that's actually true! (Laughs) Insane isn't it!? We topped all sale and import lists the month our album was released.

What is it about Amaranthe that the Japanese are responding to?
Most of all they respond to our strong melodies and the catchy refrains. The whole concept has been received with open and enthusiastic arms. They really appreciate the new metal sound.
Maybe Japan is just ahead of the curve when it comes to your music? Do you think that Amaranthe's music will resonate in time just as well with the rest of the world? Maybe world domination only happens one country at a time…
(Laughs) That sounds like a plan. After being there we saw how hard our record company Universal had been working with promos, commercials, spreading our name through radio – TV's also been extremely good. And that, of course, has been a huge help to our success. So if every country would work like Japan, it could lead to world domination pretty fast I guess. (Laughs)

Your touring slot supporting Kamelot didn't hurt – not to mention your solo turn as the featured female vocalist during the Kamelot set. How did you get involved in performing with Kamelot?
Jake E used to work for Kamelot back in 2008. At that time they became friends and after hearing about Amaranthe they listened to our music on MySpace. Both Roy Kahn and Thomas Youngblood really liked the music and I think it was in that moment they got the idea to bring me as a backup singer on their tour through Europe. They simply sent an e-mail to Jake and asked them if I was available, which I was since I just quit my job.
How has that touring experience impacted your own musical outlook?
Well, I think I've realized the power of music by touring around the world. Before, I wrote music for my own sake because it made me happy like a need to express other feelings. Now I have seen that the songs you've been making in your livingroom actually can make other people feel something.
I've been to live shows before but to see the audience from the stage is a totally different thing. I did my first big tour with Kamelot in 2009 and that was the first time I met real metal fans: it was unbelievable to see their response. I was shocked at first and pretty shy when we walked out after the show because I wasn't used to that kind of attention. But after a month touring and doing a dozen big festival gigs like Wacken, Rock am Ring, Rock im Park during the summer, I learned a lot. I'm happy they gave me that experience. To see people smile and cry, that really touches me and now for future writing I'll have all these people in mind which really gives me inspiration. I've also got a lot more knowledge and a reminder that we all are one. I meet people I would never have had the chance to meet if it wasn't for the music. That feels unreal for me to be honest.
Considering how close you are with Kamelot it must have been a shock to hear that Roy Khan was leaving the band. You were in close quarters with the band for such an extended period of time – was it something that you saw coming?

No not at all. It was as big a shock for me as it was for everybody else! It was a sad summer when we had to cancel all the shows in the U.S. – for me, the band but most of all for the fans. At first I thought he would come back for the European tour we did. But as everybody knows he didn't. A big praise to all those who showed up still supporting the band. The tour became a huge success. Fabio Lione did a phenomenal job so he's also going to join Kamelot on the upcoming U.S tour which starts on the 26th of August in Atlanta.

After recording the album and completing your first tour, what's surprised you the most about being a "big rock star"? Was there anything that made you rethink what you've gotten yourself into?

(Laughs) No not yet. But if my career had began with all this I would probably think like that. But I've worked my way up pretty slowly for a long time which I think is healthy. I've been dreaming of this since I was a little girl so now it feels more like a relief to finally be able to do what I feel like I was born to do.

You, Jake E, and Andy Solveström onstage together makes for a very active stage show. Do you have to map out your own area of the stage so you don't run into each other?
(Laughs) If it was up to me I would have done that, I'm used to working that way, so yes, I actually tried to make a small kind of choreography in every song, like, "You stand there, and then I sing my part, you step to the sides, Jake appears in the middle, we walk out and give Olof space for his guitar solo, then we go back in and stand in a row and then…" and so on but they refused. Well, after playing a few shows now I guess it's not that necessary. We can feel each other and give each other space on the stage – that's no problem. But maybe I'll get my will through in the future. (Laughs)

How would you describe the Amaranthe live show for those new to the band?

Our live show is, as you now know, not choreographed. It's like a party and we improvise a lot. It's all about the energy, great music and passion! In the future we, I, hope to bring in a lot more influences to the show, like maybe dancers, a choir, a light show and much more when we make our headlining shows in the future – like Rammstein and Kiss types of things. (Laughs) That would be a dream!

With you being so up-close and personal with the Kamelot guys on stage, were you able to learn any tricks you could "steal" and take back to Amaranthe?

Sure, they have a lot of tricks; I can't tell though… Just kidding! (Laughs) That must be all the influences they put in their show, like the theatrical intros, a choir, a belly dancer. I think that was a really cool mix with the metal music. I'd like to do that in our show some time, if the boys allow me to decide… They also gave me a tips to wear ear plugs on stage. But now I have an in-ear system which is even better. I want to be able to hear my grandkid's voices in the future… (Laughs)

Now that the Kamelot tour is finished, what's next on the tour agenda? Japan must be salivating for Amaranthe to come and perform live. Not to mention the Americas…

Next up is Bloodstock in the U.K, then I'm going on a one month U.S. tour with Kamelot featuring Simone Simons. On the 15th of October, Amaranthe is going back to Japan, we're going to play at Loud Park! Soon after that, Amaranthe has a nine week long tour through Europe. Can't tell you more than that right now. But keep your ears and eyes open because more info is coming in the very near future…

(Famous) Last words?

Good questions! We played with Symphony X a few months ago in Tunisia, and the drummer, Jason Rullo, gave a tip in an interview to young musicians which I think was awesome. He said, "Practice creates luck". Keep on rocking people!
Latest Multimedia
Photo Credit
Photos by Johan Carlén
Links
6 color styles available:

Style switcher only on this demo version. Theme styles can be changed from Options page.