Browsing articles tagged with " anathema"
Label: Kscope
Review by Luisa Mercier
Last year in September, Anathema held a special event, a very special event: a concert with the Plovdiv Philarmonic Orchestra in the Roman theatre in Philippopolis, among ancient ruins. Now that event has been captured into "Universal", the DVD recently released.
Upon watching it, I feel compelled to say that was one f the most mystical experiences of my life and one of the best shows I have ever seen because of the feeling and of course, the Anathema music.
The setlist is mostly comprised of tracks from the last two masterpieces " We Are Here Because We Are Here" and "Weather Systems" plus some other songs from their recent past. Only "Fragile Dreams" is the witness of their past, coming from "Alternative 4". The set was divided into a main one with the orchestral part, while the final 30 minutes are devoted to rock only with four pieces played in the usual way. Continue reading »
Interview by Miriam C.
For the second time in this webzine we give space to the Italian progressive power metal band Lunocode promoting their latest work "Celestial Harmonies". This time the questions have been replied by drummer Perseo Mazzoni and singer Daphne Romano. Just a curious info – this interview was scheduled to be face to face but 'cause of the bad weather our editor Alessandra didn't make to be at the location by the way at the end it come out a real nice, as always.
Hi Perseo and Daphne, welcome to Femme Metal Webzine and how are you??
Perseo: Fine thanks, a bit tired but happy. The last two weeks have been great with two concerts, the first in acoustic, at Teatro di Anghiari with the show "C'è Vita intelligente sulla Terra?" (Is there intelligent life on Earth?) togheter with Francesco Cecconi and the last, just two days ago, in Rome, with Ivory Moon and Blind Horizon. We discovered that our acoustic side works very well and playing in a theater is something very special, something magic.
Daphne: Yes, two different and exciting gigs. The acoustic set in particular: I have to admit that it's been really thrilling.
Well, first of all, do you mind give us more insights about your biography?
Perseo: Lunocode formed in 2004 under the name "Anima". We played mainly cover for about 2 years and had another singer. Then we started writing new material and in 2006 we released the demo "Birth". The demo went well and we continued writing new material. At the end of 2010 we gained a contract with Spider Rock Promotion and in January 2011 we released the EP "Last Day of the Earth" that also went very very well. At the end of 2010 our previous singer left the band and we found Daphne. After releasing "Last Day" we continued writing and in January 2012 we released our debut album, titled "Celestial Harmonies". And here we are.
According the site, the band's name "lunocode" is a wordplay between Lunokhod and the english word Code. From where did you get it?
Perseo: I was watching a documentary about this Russian rover sent on the moon. It's been the first radio controlled rover to be sent on another planet. I thought it was very interesting and I proposed this name to the band. Giordano came out with the wordplay and everybody liked it so we took it as the new band name.
In your discography we can count the demo "Birth", the "Last Day of the Earth" EP and your debut "Celestial Harmonies". As I remember "Last Day of the Earth" EP was a stand-alone piece of concept. This time with "Celestial Harmonies", as your label states "It's a moving journey thru the Cosmos with the purpuose to search the origins and life's origins" although you declare that the album is not a proper concept. Can you tell us more about the album's lyrics?
Perseo: "Celestial Harmonies" is not a concept in the sense that we're not telling a single story that starts on a song and continues through the other songs of the album like a concept album usually do. "Celestial Harmonies" has a fil rouge, a loose connection between every song, but it's not a concept. Every song tells something about humankind, the cosmos, life or nature and things like that so, in a sense, is a trip through cosmos, a voyage by which we can explore the meaning of life, the universe, the pain and the joy of being alive.
"The Origins of Matter and Life" is a suite long almost 30 minutes. What insight can give us about it and also are the suite's lyrics a concept ?
Perseo: "The Origins of Matter and Life" is actually a story which develops through the songs "On Matter and Mind", "High", "The Cosmic Architect", "Tree of Life", "Crossing the Line" and "Albert II". Is a fictional story about a character (at the very end his identity will be revealed) who starts thinking and, by this act, gives birth to a universe in which he finds himself in. He then starts exploring this new world and he asks himself questions about what's happening all around him and even to himself. Following this questioning the story of this suite unfolds till the end when a dramatic turn of events occur. I prefer not to explain all the details of this story, as I think everyone, if interested, has to discover the message by himself.
For what I get the album was mastered by Ronan Chris Murphy, that has worked with legends like King Crimson, Steve Morse and Ulver. When and how you have contacted him and why work specifically with him?
Perseo: I followed him on internet, on his YouTube channel, on his Facebook and as I think he is a great engineer and producer, I asked him if he was interested in working with us. This was happening in 2010, during the "Last Day of the Earth" mixing sessions. He said yes and I sent him all the audio bounces. As I find myself very confortable working with him, I contacted him again in 2011 and asked him to master "Celestial Harmonies". Again, he said yes and I sent all the material. He made a great work and he was surprised about the songs quality and the big step forward we made in songwriting during the last year. Working with him has been so great!
"Celestial Harmonies"'s cover transmit a feeling of peace. Do you mind explain the meaning's cover building into your personal opinion about it?
Perseo: I too think so and this sense of peace was one of the goals I wanted to achieve with this cover I developed. The airplane you can see on the cover has a particular meaning to me, as actually is a wheater vane my grandfather has built. The cover is in fact a photo and not a computer generated image.
What are the band's influences?
Perseo: I think we are working hard to find and extract our real self so for sure there are influences but I think they are becoming more unconscious day after day. If I had to name just one band, I would name Anathema.
What difference you can see between the debut EP "Last Day of the Earth" and "Celestial Harmonies" in matter of musical style and lyrics? Do you feel more mature?
Perseo: There are big differences but, at the same time, the differences are not so big. In both albums the writing style of the lyrics remains the same, maybe in "Celestial Harmonies" our acoustic side is more prominent, but even in "Last Day of the Earth" there is a completely acoustic song called "Invisible Tears". Maybe in "Last Day of the Earth" the songs sounded more heavy but even in "Celestial Harmonies" we have heavier songs, like "The Cosmic Architect" or "Sin Cara". I think "Celestial Harmonies" is a more mature work, and a natural evolution from "Last Day of the Earth".
Daphne, what are is your musical background? Did you ever do any vocal training?
Daphne: I like different kinds of music like rock, metal and electronic. About my influences, I can say Freddie Mercury, Anneke van Giersbergen and Lisa Gerrard have always been a great inspiration for me. Today I found with Lunocode some new colours in my voice and in my soul that I've never suspected to have. I think I'm evolving…but, who doesn't? I studied opera singing for 1 year, years ago. Now I'm studying modern singing with a great Italian singer. I think singing is a vast world where you can always discover something new: I'm curious, I have a thirst for knowledge and I think exploring the voice potentialities is one of the most stimulating and satisfying elements of singing.
What we can expect next? I read in the website an East European tour with Theatres des Vampires…
Perseo: Yes, we've been on tour with TDV and JTR Sickert and it's been a great adventure and a great experience for the whole band. They are smart and nice people and we enjoyed very much visiting East Europe and Turkey! Then, two weeks ago, as I already said, a dream came true for me, to play with Lunocode in a real theater, in acoustic. We played 10 songs in Teatro di Anghiari (Tuscany, Italy) for about an hour of show. We re-arranged some songs from "Celestial Harmonies" and "Last Day of the Earth" in acoustic and we even played "The Origins of Matter and Life" from start to end! The show has been recorded so maybe we will use those recordings in the future! Other plans for the future? We have some ideas to record a new album, you will hear from us soon!
Daphne: Yes it's been amazing and crazy sometimes! Cool musicians and stuff, great audience, life on the road and foreign countries.
Well, Perseo and Daphne, I really thank you for this interview, I hope you like it! Please greet our readers (and your fans) freely! Thanks again!
Perseo: Thank you for your time, hope to see you at our shows! If you want, you can buy our cds at www.lunocode.com or follow us at www.facebook.com/LunocodeFan
Daphne: Thanks to you and all the readers of Femme Metal Webzine! See you soon!
Links
MySpace * ReverbNation * Facebook * Google Plus * Twitter * Site
Label : Equilibrium Music
Review by Stina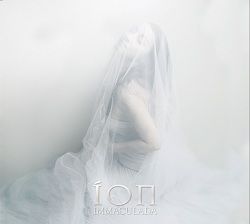 There are very few people in music who can lay claim to hold an influential status as much as Duncan Patterson – not much can be said about the musician (British by birth, globetrotter by vocation) that hasn't been articulated in some form or fashion in recent and not so recent past. Thankfully enough, Duncan also happens to be one of those Artists whose Music speaks more than any word could possibly do. After contributing to spawn a whole genre with Anathema and embarking on a sorrowful journey with Antimatter, time has been up for Duncan to embrace a spiritual and creative turning point that led him to the creation of Íon, marking his move away from the claustrophobic, hopeless end of the emotional spectrum explored with the previous bands, and a sojourn into more soothing, luminous realms, pervaded and dominated by the effortless grace of the feminine. Since the figure of the female vocalist gained foothold in metal and related genres, it's always been easy to get tired of the sizable exploitation of the female presence on behalf of the bands which settle the mainstream metal scene, often with no other purpose than mercantile tactics. In Íon, the female presence conveyed through a plethora of talented guests from all over the world is none of this, but rather a defining mean to shape a concept of spirituality inspired by archetypical feminine qualities – this is what lends Íon's music its calming, peaceful and nurturing allure.
Rating – 90/100
Tracklist
Immaculada
Temptation
Adoration
Damhsa Na Gceithre Ghaoth
Invidia
Cetatea Cisnadioara
The Silent Stars
Return To Spirit
Line Up
Duncan Patterson – Mandolins, guitar, bass, piano, keyboards, percussion
Vic Anselmo – Vocals on "Adoration"
Oana Alexandra Coman-Sipeanu – Spoken word on "Cetatea Cisnadioara"
Gokce Coskun – Violin
Aoife Cuthbert – Vocals on "Cetatea Cisnadioara", "Adoration"
Lisa Cuthbert – Vocals on "Temptation", "Adoration", "Invidia", "Cetatea Cisnadioara", "The Silent Stars"
Ana Figueiredo – Flute
Colin Fromont-Placenti – Djembe, cajón, darbuka
Mark Kelson – Vocals on "Damhsa na Gceithre Ghaoth", 12 string guitar
Mila Maia – Spoken word on "Return To Spirit"
Steve Mullen – Uilleann pipes
Veronica Neumann – Spoken word on "Immaculada"
Gina Rios – Spoken word and vocals on "Immaculada"
Nuno Roberto – Portuguese guitar, classical guitar
Viola Roccagli – Spoken word and vocals on "The Silent Stars"
Laura Santos – Vocals on "Return To Spirit"
Filipa Vale – Violin, cello
Links
Label : Pias/Agua Recordings
Review by Luisa Mercier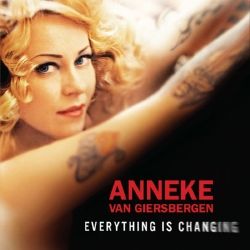 After releasing "In Your Room" I was a bit sceptic about Anneke's new record. Beware: I was not sceptic about her vocals (never been and never will, she is always amazing), but I did not like tracks like "Hey Ok!" or "Sunny Side Up" which I found way too much cheesy. On the other hand, I loved songs like "Wonder", so I had sort of mixed up feelings about her previous album. For "Everything Is Changing" she teamed up with the Portuguese producer Daniel Cardoso (also live musician for Anathema) and the result is very, very satisfying. She abandoned the easy pop atmospheres and embraced a rock sound which is explored in all of its nuances, but it is always present. The opening track is "I Feel Alive", the first single. Lively, happy, sweet, romantic, this song is the perfect tune to cheer you up. Guitars are heard, but they' re not overwhelming. A very nice pop-rock that can be enjoyed while walking or driving. In the same vein there is "You Want to Be Free", which is a little bit heavier, but always catchy and very positive. Of course, Anneke's vocals are the main focus, but the surrounding music context is equally interesting. The title-track is an atmospheric ballad with a soft electronic background, keyboards and quiet mood. Maybe not the highlight of the album, but it is worth more than a listening. "Take Me Home" starts with a dance beat that soon turns into a rock, up-tempo song. Guitars and electronics mix creating a modern, melodic track that all of you will love. Definetely electronic, but more ambient/world music sounding is "I Wake Up" which has a certain pathos, an uplifting feeling. One of my favourite off "Everything Is Changing". I had already listened to "Circles" in a live video and I appreciated the sweetness of the piano and voice arrangement. The voice of Anneke that brings everything to an upper level is the real treat of this song. "My Boy" is a nice mid-tempo that becomes faster in the chorus. Electronic again blends with rock tunes creating a track that maybe is little bit more melancholic than the others, but the real rock comes with "Stay". The beginning is almost metal but it becomes more melodic when vocals kick in. Definitely the heaviest and angry track on the album. Let's go back to pop-rock territories with "Hope, Pray, Dance, Play". The arrangement slightly recalled me Depeche Mode; maybe because of the 80′s sounding keyboards. Another up-tempo song is "Slow Me Down" which slows down only in the title, I believe. The song is very fast and it will be great to play live. Metal again with "Too Late", which is darker than the rest of the record but very enjoyable for me. I mean, I love positive atmospheres, but heavyness is also a pleasant surprise in Anneke solo record given the acoustic style of the first and the pop songs of the second album. "1000 Miles Away from You" is an interesting track that mixes a lot of genres: pop, rock, post-rock, electronics. A very beautiful way to end "Everything Is Changing". I have no doubt this is her best solo release: it contains a variety of music styles, you never get tired of it and of course there is Anneke. How can you get tired of her?
Rating – 85/100
Tracklist
Feel Alive

You Want to Be Free

Everything Is Changing

Take Me Home

I Wake Up

Circles

My Boy

Stay

Hope, Pray, Dance, Play

Slow Me Down

Too Late

1000 Miles Away From You
Line Up
Anneke Van Giersbergen – vocals

Daniel Cardoso – producer, composer, multi-instrumentalist
Links

Interview by Miriam NocturnalConcerto
Transcription by Robin Stryker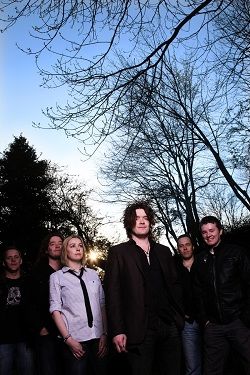 I cannot tell you how excited I was to doing this interview with Danny Cavanagh, Anathema singer and guitarist, for a lot of causes, take it because was my first phoner interview, take it because I was worried that something gone wrong. The interview has started with a delay of 30 minutes preview by the slot I was very nervous but in the end I'm happy to share with you this interview, hope like it!
Since are passed 7 years from your last album "A Natural Disaster", why it passed so much time?
Well, mainly it is because we didn't have a manager. We didn't have a record company, and one or two of our band members had family commitments they had to attend to. Different things were happening in their lives. You know, at the time, you don't realise… one month becomes another month, becomes another month. It was just one of those things. Without a record company, it was just something that happened, and it will never happen again.
And also we must add that is your first album under KScope Music (excluding the semi acoustic album "Hindsights"), why have you chosen this label?
Why did we choose KScope Records? Well, they are very good and they believe in us very much and they wanted it more than anybody else did. They were really keen to have our record, and they wanted it for many years. We saw that, with the work they did on "Hindsight", they are actually quite good. They do things properly and they don't spend a fortune. They don't spend quite a lot of money wastefully. Our manager — we have a manager now — he recommends we take this and we did. We were not the kind of band at that time that could attract a much bigger label, so we went with that one. We are happy and I am happy that we did.
I make a question about the title of the new album – it sound like a statement, who came up with title and why?
Well it's not very very important and it's not very meaningful. It is the title that we all liked. It's the only title that everybody in the band liked. We couldn't find another one where six people agreed. That's the only one that six people agreed on. For me personally, it doesn't have the greatest meaning for the songs. It does though, however, suggest the bond that we have as a band together… the family, the friendships, the caring that we have for each other. It is suggested in that title because we are here for each other, so I like it for that reason. I like it because it suggests "being there for each other" to me. It's not a great statement, it's not a spiritual statement or an anti-religious statement, or anything. It is just the fact that we all like it. Also, the fact is, it comes from a very moving story from the First World War in Europe when many, many millions of men and women died for no real reason. That was one of the most extreme situations that humanity has ever seen. And, during that war, young men in England used to sing this song, "We're Here Because We're Here". You can actually hear a very small selection of that song… as the song "Hindsight" is tuning into the radio, you can hear it there. They used to sing that song in defiance of the situation that they were in. They were in an impossible situation, and there was no reason for them to be there, so they used to sing that song, "We're Here Because We're Here". We like that story. And we like the meaning behind it and the memory of those men, so we chose it.
A question about the cover – How's your interpretation and in some manner, is it related to the lyrics of the album?
Yes and no, really. The front cover and all of the artwork is related to Anathema, to the people and to our childhood, our story, and to our personalities. They are childhood memories of everyone… an old school, an old playing field, an old street that we lived in. The beach with the man in the distance is actually Liverpool Beach in the north of Liverpool. The mountains in the distance are the Welsh Mountains, the mountains of Wales where we spent many, many years on holiday as kids. So, what I love about the artwork and title is not that it relates very, very, very closely to the meaning of the songs. It relates to the meaning of the band and to the people in the band and the personalities and the family and the heritage and the love and the memories that we have together. And that's why I like it.
I've listened to album like I said before and my favourite album song is "Everything" with the duet of Lee. What your favourite track?
My favourite track is "Dreaming Light" because it is probably the most personal one to me, and it is the one I am most proud of it. That's my favourite one, but I love them all really. I think it's the first record that … okay, well maybe not … I would say that it's a consistently good album. All the songs are very good, and (for me) one or two are truly great. Those two would probably be "Dreaming Light" and "Universal". What I like about "Dreaming Light" is the optimism in the melody and the emotion in the melody. I remember the day it was written, I remember how it came through me and I remember how I felt after it was written. It was just a special time. It was a special feeling to have that feeling come through. To feel that tune and feel those words. I do think it's a gift. That song is a gift.
So now I have three curiosity to satisfy: How's born the collaboration with HIM singer Ville Valo, how's working with Steven Wilson and who sang the spoken words on "Presence"?
Ville Valo is a lovely guy. He is a very nice person, and I like him very much. He is a good friend. And that is the only reason, really, that we asked him to do it. He's been very kind to Anathema and he's been a loyal fan, if you like, of the band. He likes the band very much and he's been supportive of Anathema very much. I wanted in a way to say "thanks" to Ville Valo because he's been such a gentleman and a kind person to us that it felt appropriate for me to ask him. And he said yes. It was simple and he has added something very good to the song. It's a background, but it works for me. He adds something to the song "Angels" and doesn't take anything away. I like it very much. And that was really just a matter of friendship, he's a good friend. Second question, Steve Wilson. Well, that was much more involved because we worked together for two weeks to mix the record, or maybe longer. It was a great pleasure working with him because he is very very very good at what he does. So I would go to his house, sit on the couch and drink tea and listen to his work and comment and work on the collaboration and he would suggest some things. He would try to make us think carefully about all the choices that we're making, and he would try to encourage more simplicity in the record. I had a clear vision, almost, of how it should sound. What I appreciated about Steve was his willingness to allow us to follow that vision and to only speak up when he really felt that something was a little bit wrong. We worked well together. There was no real difficulty and I like him very much. So that was a great pleasure and I am delighted we did that collaboration with him. I think it makes a difference in the impact of the record also, because people are talking about this record because of it. The final question was the spoken word on "Presence". That is an interview I made with a gentleman in Liverpool , England where I was living at the time. A gentleman called Stan Ambrose. He is a very beautiful person, he's a musician and a radio presenter. He was involved in counselling for a long time and he is a local activist. Just a gentleman who many people like… many people like this man. He is very humble, very kind and we became friends. We started to talk about spiritual things and the essence of life and these things. He's always been interested in those things, interested in mediation and all that stuff. So I interviewed him actually in the Cathedral — in Liverpool Cathedral I interviewed him – and he began talking about a book by Eckhart Tolle, who is a spiritual writer, a very successful spiritual writer whose message of stillness is making an impact around the world. Stan is a person who is very much interested in these things and very sincere. When he spoke to me about this, he almost had a tear in his eye. I made the interview with him, and it just seemed to fit with the song, "Presence". Also, the fact is that he is talking a little bit about the possibility of life beyond death and I know that he was thinking about that. And that relates directly to "Angels Walk Among Us", which is also asking that question. Just the same as "Are You There?" was asking that question: "Is there something beyond?"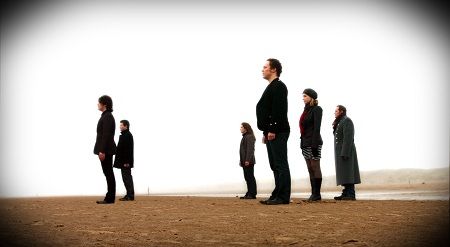 With this album you have confirmed Lee Douglas like a full member in Anathema. Can you give more infos about her and say something about the decision to confirm her in the line up.
Lee is family, and a very good friend, and a very very good singer. She was always there… she sang on all the records since "Judgement". Ever since "A Natural Disaster", she became more involved because she sang the lead vocal on that song. It just, you know, developed. When she came to the studio to record, she did say that she would like to be more present at the live concerts because she has to balance it with work and stuff. She has always been there, really. If I'm honest, she's always been there, so it's okay. We are very glad about it because she is one of us. She does fit very well — a very good singer, easy-going and easy to be around, fun. So, no problem there, really. We're happy about it.
So, now some advices for the new fans, what Anathema album to advise to start from?
I would advise to begin with the new album, "We're Here Because We're Here". That's what I would advise. And the reason is because that is the best one, and also it's the picture of who Anathema really is right now. I would start with this record. I would suggest that it is just open-minded music. A powerful rock band, it's emotional and it's honest and it's real … from the heart.
I would say that you have similitaries with The Gathering, you know, you first started like a doom metal band after you came through with an alternative rock band.
I understand what you're saying. They really developed and changed and grew into much more of an alternative rock band. And I suppose we did the same. But, I'm looking at the interview schedule and it's still Metal webzine, it's in Metal Maniac, it's in Metal Hammer (Germany). Those are our roots. The band is much more than metal and has not been a metal band for many years. Real musicians — like Radiohead or The Beatles, Pink Floyd, Led Zeppelin, Black Sabbath, U2, band like this – the real musicians, they do evolve. We are of that stock. I love Iron Maiden and their music has evolved a little bit. Our heritage is much more in the Radiohead, the Pink Floyd, the Led Zeppelin and the Sabbath and that area of evolution, which is much more expansive and open-minded. That's just our style. And if they don't like it, that's tough shit.
What are the next band planes (talking about tours ecc.)?
We are in between playing Turkey and Russia right now. In three days we're going to Russia, and then there is a show in London. Then I'm touring with Anneke van Giersbergen in South America. It's just one or two festivals over the summer and a time over the summer to collect ourselves, to relax, to gather our strength and to do some new writing. Then, in the autumn, a natural machine will start, and a long tour will happen. I look forward to that, actually.
We know that you do acoustic tours with Anneke van Giersbergen and now I make you a question, do you think that in the future there will be a project or a collaboration with Anathema? I mean not only with your solo project…
We have talked about that, and she would be welcome because she is such a great person and such a great singer. So, she would be welcome. But, the fact is, we have a female vocalist in the band. You know what I mean? Lee has the voice for our style, so she's in the band. I did have ideas for Anneke to sing on the new record and she would have sounded beautiful. But Lee Douglas is there and she's committed and it wouldn't really be appropriate. But we certainly love Anneke very much. She has sung live with Anathema. We love her very much. I think she is a wonderful person and a really wonderful singer and a really good professional. Of course, it's a possibility.
So we're at end greet as you want our readers.
Thank you, my dear. Ciao and grazie.
Links
MySpace * Facebook * Twitter * Site
6 color styles available:

Style switcher only on this demo version. Theme styles can be changed from Options page.