Browsing articles tagged with " ancient"
Label : Svart Records
Review by Luisa Mercier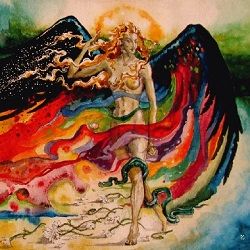 After their high praised self-titled debut, Finnish Jess and The Ancient Ones are back with a elegant new EP. They are a band that can deal with their different nuances, creating a mood, an atmosphere that were so dear to the rock of the Seventies.
The EP is made up of three tracks bathed by a magic breath, a liquid sound that is found also in the instruments. There is feeling, focused on awakening the souls that are sleeping through doomish moments, blues influences and airy keyboards.
Jess's voice is not as harsh as that of other female singers in occult rock, but it is dark and mysterious and I love it all the same. Her performance is great, you will get shivers if you are into this kind of music. Continue reading »
Label : Yidnet
Review by Luisa Mercier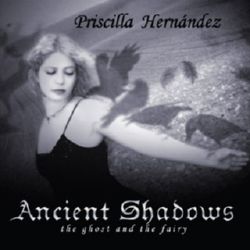 Straight from Fairyland, here she comes. The Spanish singer-songwriter Priscilla Hernandez is multi-talented musician who created a record completely devoted to fairish, ethereal ambient music.
The listener will be lead in a world made of green forests, pale maidens, medieval landscapes. The mood of the album ranges from the creepy "Facing the Dream" to the sensual "Away". Her sweet vocals play on electronic and piano soundscapes, creating a relaxing, chilling atmosphere.
Some melancholia may appear here and there as in "Ancient Shadow" or "I Steal the Leaves" which is my personal favorite on the album. Completely inspired by the world of fables and fairies are "The Willow's Lullaby" and "The Call of the Nymph" which also has a slight folk feeling. Recommended to fans of ambient, positive and heartfelt music. Continue reading »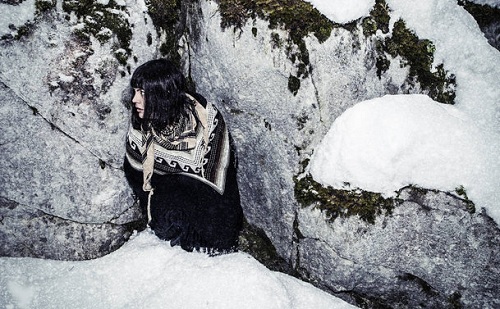 SVART RECORDS announces February 22nd as the international release date for JESS AND THE ANCIENT ONES' brand-new Astral Sabbat. Although it's been only nine months since the release of their brilliant and spellbinding debut album on SVART, Finland's JESS AND THE ANCIENT ONES have already moved on. After a split 7″ with Spain's Deadmask last November on Doomentia, the band is already gearing up for something new: a three-song EP titled Astral Sabbat - to be released on CD, LP, and digital download - is expected to shatter most of the preconceptions some already held against the band. Tracklisting and cover follow below. Continue reading »
Label: Svart Records
Review by Luisa Mercier
Jess and The Ancient Ones has just released their self titled debut. They hail from Finland and were created by Thomas Corpse and Thomas Fiend, the two guitar players to explore the magical realms beyond the mundane. This is really apparent in the lyrics, based upon the occult experiences of the writers that combined with the music, give birth to an unforgettable experience. They draw inspiration from the heavy metal, hard rock classic such as Iron Maiden, Mercyful Fate, but also Abba. The opener "Prayer for Death and Fire" is a classic metal track with '80s influences. The song is quite lively and Jess vocals soar over the music, dark but feminine and emotional. This is something I always feel is missing in occult rock female singers, so I was very satisfied by her performance. I would also highlight the work of Abraham on keyboards. More mid-tempo and rock is the following "Twilight Witchcraft", I can feel some blues and doom. For sure, it is a mesmerizing track.
The beginning of "Sulfur Giants (Red King)" is very prog-oriented as well as the guitar solo at almost half of the song, while the rest of the track is strongly driven by southern rock and classic heavy metal. A strong mix that will leave you speechless. Second half is calm, whispering voices fill the air while percussions create a serene, alienating atmosphere, before another rock explosion takes place. "Ghost Riders" is another long journey into the abyss of occult rock, just lay down and listen to it without no one disturbing you. "13th Breath of The Zodiac" was already on the 7 inch released before the full-length. It has some '70s influences, good guitar riffs and the dark atmpsphere required by this genre of music. The approach is more psychedelic than doom or metal here. "Devil (in G Minor)" is not rock, nor metal. It is more a blues, jazz song, quite different from the rest.
"Come Crimson Death" is a massive hard-rock/metal piece which contains all of the above characteristics of the band . If you love occult rock, this band is strongly recommended, solid debut. Continue reading »
Label: Black-Listed Productions
Review by Tony Cannella
Formed in 2002 the Japanese symphonic metal band Ancient Myth released their debut album "Astrolabe in Your Heart" in 2010 – this coming after a series of demos and singles. Now Ancient Myth returns with album number two "Akashic".
The lyric sung by Ancient Myth and their vocalist Michal are sung almost entirely in Japanese and musically their direction is really cinematic – similar to Nightwish in that regard. The opening to "Ashes and Crowns" sets off the cinematic style and as it builds to a crescendo the band comes crashing in and the track really gets moving. This was easily one of my favorite songs on the album and a good indicator of what Ancient Myth are all about.
Vocalist Michal has got a strong and powerful straight-ahead vocal presence throughout the album; she really has a commanding style. After the initial intro the song takes on a Stratovarius kind of power metal vibe. Musically I would also think of early Yngwie Malmsteen as an influence – they really do have a virtuosic presence. The straight-forward power metal riffing introduces the next song "Rw-rw-rw-" and this is probably the most aggressive number complete with gang style background shouts. The opening of "Shade in Dusk" returns us to the cinematic nature of the music before transforming into a consistent mid-tempo song. Other highlights include: "Force of the Fifth" and "Afterglow" among others. Ancient Myth certainly has a lot of virtuoso qualities and with "Akashic" there is no denying the talent and class that lies within. Continue reading »
6 color styles available:

Style switcher only on this demo version. Theme styles can be changed from Options page.