Browsing articles tagged with " ancient"
Label: Inside Out Music
Review by Tony Cannella
Arjen Anthony Lucassen released the last album on the Ayreon moniker back in 2008. Since then he has kept his creative spirit alive working on various other projects. Now he returns with the latest Ayreon opus entitled, "The Theory of Everything" and for someone who has a long career based on big, grandiose epic productions, "The Theory of Everything" may just be his biggest and most thoughtful yet. It is always interesting to see some of the musicians Arjen uses on the Ayreon albums and "The Theory of Everything" is no different. Some amazing singers make appearances here including: Tommy Karevik from Kamelot, Marco Hietala from Nightwish, John Wetton from Asia, King Crimson and Uriah Heep, Cristina Scabbia from Lacuna Coil and Sara Squadrani from Ancient Bards. Continue reading »

Interview by Alessandra Cognetta
In this interview we get to know more about Chaostar with the help of their lovely vocalist Androniki Skoula. Trying to describe Chaostar's music is a demanding task, a bit like telling your friends about a really good book you've read without spoiling the sudden twists or surprises. When you approach their music you have to prepare for the unexpected, the wonder, the emotions and lots of talent. Their latest masterpiece is "Anomima" (which we reviewed here already, a recommended read if you want to get an idea of how it sounds), released through Season of Mist at the beginning of May. Androniki gave us an in-depth overview of the creation process behind the new album, her own path as a singer with Chaostar and as a person, Eve's Apple (I'm always more than happy to talk about it!) and the immortal women of Greek tragedies like Medea and Antigone, but also the Greek philosopher Hypatia of Alexandria, who some of you may remember from the 2009 film "Agora". But enough with the spoilers, scroll down and start reading! Continue reading »
Label : Svart Records
Review by Luisa Mercier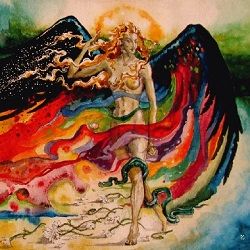 After their high praised self-titled debut, Finnish Jess and The Ancient Ones are back with a elegant new EP. They are a band that can deal with their different nuances, creating a mood, an atmosphere that were so dear to the rock of the Seventies.
The EP is made up of three tracks bathed by a magic breath, a liquid sound that is found also in the instruments. There is feeling, focused on awakening the souls that are sleeping through doomish moments, blues influences and airy keyboards.
Jess's voice is not as harsh as that of other female singers in occult rock, but it is dark and mysterious and I love it all the same. Her performance is great, you will get shivers if you are into this kind of music. Continue reading »
Label : Yidnet
Review by Luisa Mercier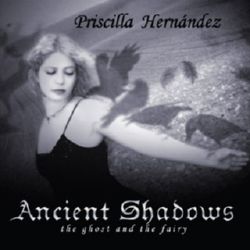 Straight from Fairyland, here she comes. The Spanish singer-songwriter Priscilla Hernandez is multi-talented musician who created a record completely devoted to fairish, ethereal ambient music.
The listener will be lead in a world made of green forests, pale maidens, medieval landscapes. The mood of the album ranges from the creepy "Facing the Dream" to the sensual "Away". Her sweet vocals play on electronic and piano soundscapes, creating a relaxing, chilling atmosphere.
Some melancholia may appear here and there as in "Ancient Shadow" or "I Steal the Leaves" which is my personal favorite on the album. Completely inspired by the world of fables and fairies are "The Willow's Lullaby" and "The Call of the Nymph" which also has a slight folk feeling. Recommended to fans of ambient, positive and heartfelt music. Continue reading »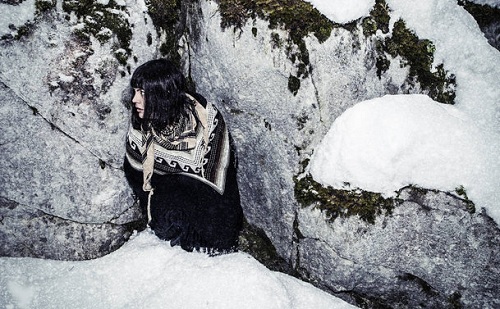 SVART RECORDS announces February 22nd as the international release date for JESS AND THE ANCIENT ONES' brand-new Astral Sabbat. Although it's been only nine months since the release of their brilliant and spellbinding debut album on SVART, Finland's JESS AND THE ANCIENT ONES have already moved on. After a split 7″ with Spain's Deadmask last November on Doomentia, the band is already gearing up for something new: a three-song EP titled Astral Sabbat - to be released on CD, LP, and digital download - is expected to shatter most of the preconceptions some already held against the band. Tracklisting and cover follow below. Continue reading »
6 color styles available:

Style switcher only on this demo version. Theme styles can be changed from Options page.