Browsing articles tagged with " and"
Label: Island Records Australia
Review by Luisa Mercier
Gin is a New Zealand singer-songwriter, and "Gravel and Wine" is her second effort that is now being released globally. Even though coming from Oceania, her main influences clearly are from the US, so since the opener "Black Sheep", you can distinguish country, Americana, trash can riffs and her throaty vocals that remind me of British singer Duffy. "Man Like That" is a rock, danceable tune with a hook that you cannot escape, even some trumpets appear.
"Poison" is a blues-tinged tune that is filled with melancholy and will bring you along the Mississipi river, while following "Kill of The Night" is more of a rock song, but the Southern vibe is present, even though in the shape of Southern Rock. But there is also space for ballads. "If Only" is a sweet, slow song with an old-fashioned feeling that won't pass unnoticed.  Continue reading »
Interview by Laura Medina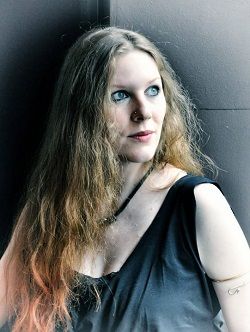 Caladmor is an Epic Folk female-fronted Metal band from Switzerland, who has just released their sophomore album, "Of Stones and Stars" in which is currently out now. Caladmor is not only making a name for their band with a "more mature sound" that you can be heard in their current release but also they are proving to their fans that they do belong and are here to stay! What I liked most about Caladmor is not only are they are a female fronted band but they sing about topics that brings fans from all over the world together like wisdom, truth and enlightenment. I had the absolute and complete honor and pleasure to chat with Babs Brawand of Caladmor to discuss Caladmor's current release, her favorite hobbies like sewing and much more.
Hi Babs and welcome to Femme Metal Webzine! Thank you so much for allowing us to interview you today!
Continue reading »
Interview by Alessandra Cognetta
This interview's guest is someone who surely needs no introduction. We had the pleasure to ask a few questions to the lovely Candice Night, lead singer and founding member of Blackmore's Night. Their latest album, "Dance and the Moon", was released in June through Frontiers Records and from amazing folk tunes to carefully crafted covers it features everything one could expect from a Blackmore's Night album and more. Candice told us about the band and their music, but she also had some interesting things to say about art in general and our relationship with Nature and how we can improve it, plus some special recommendations for Medieval music you should definitely listen to if you love the genre.
Hello and welcome to the 'zine, Candice! It's a pleasure and a honour to have you with us. How are you and how's it going for Blackmore's Night? The new album has been release a couple months ago, with amazing response from the press. I wonder how has the public reacted, instead? What did you hear from the fans?
Continue reading »

Interview by Vard Aman
Mortalium is a Gothic Doom Metal band from Kharkiv in Ukraine. However, don't let the the phrase "Gothic Doom Metal" fool you into thinking that you know more or less what they will sound like before listening to them – they are much more than that, and they are much more diverse than that. Mortalium is a band that have, in their very few years of existence, carved out a corner of the genre that belongs to them and to them alone. They have recently released their debut album, entitled "A Gap Between Birth and Death". I caught up with their vocalist and guitarist, Maria Nosyk, for a session of Q & A.
Hi and welcome to Femme Metal Webzine! So, when and how did Mortalium start up?
Hi! Good to see you finally and thank you for your invitation! Well, Mortalium started about 4 years ago in mid 2009. After 2 years of cooperation in a gothic metal band called Apparent Distinctions, Yaroslav (keys, vocals) and Maria (vocals, guitar), discovering particular points of contact in the views on musical activity, offered a new band development project to their mates. Continue reading »
Independent Release
Review by Luisa Mercier
After the "Stay" EP that I already had the privilege to appreciate in the past weeks, now Jennifer Paige and Coury Palermo have released the follow-up to that little gem. "Go" keeps the same features that made the previous EP so valuable, first of all the variety in styles.
Hence, the opener "Against the World" is an uptempo, ultra catchy and classy song with electro-pop and rock pop hints, while "Like Fire" is a delicate, sweet acoustic ballad which reminds me of Coury solo works.
It highlights his soft voice together with Jennifer one which entwine with each other, especially in the chorus. While "Like Fire" was more focused on male vocals, "For You" let Jennifer shine with Coury appearing in the chorus. Continue reading »
6 color styles available:

Style switcher only on this demo version. Theme styles can be changed from Options page.