Browsing articles tagged with " andrea"
The Sevendust, Coal Chamber, Lacuna Coil tour rolled into Hartford, Connecticut and played to a packed and crazy house at the Webster Theater.
Just joining the tour is the California based experimental metal band Stolen Babies. This is a name that I have heard only in passing, and this would be my first time experiencing them live or otherwise. Their sound is a quite interesting mix of metal, cabaret, polka – how's that for an eclectic mixture? The band is fronted by female vocalist Dominique Persi; she also plays the accordion throughout most of their set. Yep, you read that right, a metal band with a full time accordion player. They played for about 30-minutes and I was impressed with their performance. They had a lot of energy and they eventually won over the crowd. Most impressive was the drummer Gil Sharone – he attacked his kit non-stop through the whole set. They are touring in support of their new album "Naught" – which I'm told is "pretty good." Continue reading »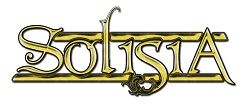 Interview by Matteo Bussotti
After some years of stop due to a line up change, Solisia are back with a masterpiece published on 2012 via Scarlet Records called "UniverSeason". Their third album sees the debut of the new singer, Elie Syrelia and for this reason, we've reached her and asked her some questions about her background, "UniverSeason" and how she got the singer spot in the band. Enjoy!
Hello Elie! We are so glad to have you here on Femme Metal! How is the public reacting to your latest album "UniverSeasons", which came out about 2 months ago?
Hello Matteo, thank you for this interview! Everything seems to be going well and we are very happy with the outcome. Continue reading »
Label : Prophecy Productions
Review by Andrea "Disgraced"

September and its last thoughts. Fursy Teyssier brings finally to the calm and sweet light of autumn twilight the long awaited and – by its creator – desired debut album. Thank god or whoever in its place he didn't give up since he created the project in 2003! Now let's make a brief prologue for those of you out there who aren't familiar with this particular scene, born some years ago but only now coming to the attention of bigger audiences – relatively speaking, of course. Bigger audiences are always after something not even half close to the art delivered here but… you know, de gustibus. And, just to spam you with another ol' saying, we could say that "every genre has the hero it deserves".

So, lately France has been a fantastic cauldron for these kind of bands, born in the cold and deadly riffing of extreme black metal, who chose to go beyond usual and old stereotypes still typical of many bands (see above: anyone's free to do what he/she/they want) and not just add new elements to their music but, directly blending and mixin it in a promiscuous relationship with (dark but not necessarily) ambient, new wave and shoegaze above all. Recognizing certain soundscapes reminiscent of Joy Division, Cocteau Twins, The Cure (mostly "Disintegration" and "Wish"-era), Slowdive, Jesus and Mary Chain is extremely easy and pleasant. Pleasant for lovers of that kind of music of course but also for those open-minded metalheads (or simply good music-lovers, which should be the only important category) who like to sink in a music full of emotion, deeply heart-moving, that didn't lose any aggressiveness at all but on the opposite just gained in sheer beauty.
Of course we might make a similar speech for other musical genres, even remaining inside of the metal field, that were born in the last 20 years and that bring a big handful of contaminations with them – just think of those dear, I'm sure about that, to the readers of this webzine like gothic metal, symphonic metal, and so on. But here the situation is slightly different: I still have to understand, and leave the matter open to every listener out there, if it's the inner world of the musician(s) which serves well to the designated musical style or… or is it the music a good servant, the perfect means for the artist(s)'s emotions to come out hre into our so-called real world? Or maybe both? I don't have an answer right now.

So let's dive into the music of this album. Here the black metal elements are even more hidden that what did and does his friend Neige in Alcest or Teyssier himself in his other projects; one of the heaviest tracks is the long and epic "Chanson D'Automne" (Autumn Song), always walking on the edge of metal, post-rock and neo-folk. Another heavy song that will make you clap at these musicians for their skills in blending together many styles without losing a clear idea of what they want to do – you know, many would end up just creating a ridiculous mess – is the wonderful "Les Feuilles De L´Olivier" (The Leaves of the Olive). Its central part, let's say from 2:05 on will bring you on the border of a forest together with the two children of the cover artwork (more on this later), with the darkness behind your shoulders in the shape of a soft pillow ready to take you in and the sun keeping its distance on a wasteland in front of you… but still, there's hope. I hope most of you won't be disappointed by the overall lack of female vocals, provided there and then by the good Audrey Hadorn, who anyway contributes with lyrics as well. Teyssier's vocals are very good, though he just chants out with lots of emotion and few technique but who cares?

His vocals don't reach the immense poetry of such untouchable masters like Brendan Perry or Peter Murphy but they flow very well with the music, just like they're expected to do I guess. "Effet De Nuit" (Effect of Night) shows us a very good rythmic section with an increasing tension finding a glimpse of peace only towards the end, where the guitar finally traces space to take a little breath. Final song "Une Matinée D'Hiver" is the tiny but strong, not weak at all, well deserved light but not at the end of the usual gallery, there are no obscure and frightening galleries in this record; that light, granted by the guitars and vocals which climb on each other, is like the smile I imagine the two children of the cover will have in the end, something like, after all we made it to here, we're alive in front a beauty that can be scary and we're aware there's a lot of horror going around. But, we'll keep on going on. Before I finish my review an important note must be done, that is about the artwork and Teyssier's incredible talent in painting and drawing. He actually is a renowned artist also doing cover artworks for other bands but apart from that a great, great painter able to depict sceneries of calmness, innocence and sadness without looking banal or ridiculous but always with that sense of being on the edge of two worlds, and you can't decide if and which one is better than the other. Teyssier possesses a great technique, maybe even greater than the musical one; from the depth of my ignorance, it reminds me of Renoir's warm strokes, not to mention Turner's light and Constable's love for certain landscapes. At this point, just let me tell you there's a limited edition of this album (1000 copies) that consists of CD, DVD (with Fursy Teyssier's award-winning short film "Tir Nan Og") and a stunning 56 pages art book. What are you waiting for?!
Rating – 85/100
Tracklist
L'Envol des Corbeaux
L'Echappée
Les Feuilles de l'Olivier
Song for Mountains
Sur le Quais
Effet de Nuit
Septembre Et Ses Derniéres Pensées
Chanson d'Automne
Svipdagr & Freyja
Une Matinée d'Hiver
Line Up
Fursy Teyssier – Vocals, Guitar, Bass
Audrey Hadorn – Vocals
Winterhalter – Drums
Links
Interview by Robin Stryker
Good things come to those who wait. In this case, a thirteen-year wait has brought the metal scene a lovely slab of eclectic tunes from Italian speed/progressive metal band, Darksky. Femme Metal chatted with Alis Bos to learn what happens when musicians with interests in classical, power, progressive, thrash, rock and pop come together.
Hello Alis, and congratulations on Darksky's full-length debut album "Where Angels Hide"! Is the album everything you hoped it would be?
Hello Robin, first of all I want to thank you for the opportunity of giving this interview. Concerning "Where Angels Hide" I can say I'm really satisfied … Even if it's already time for us to think about our next release!
Why did Darksky choose "Where Angels Hide" for the album's title?
We have chosen this title because it well reflects the concepts we talk about in our lyrics. These ideas are also emphasized by the cover of the album. The lyrics deal with important themes like sin, salvation, decadence and love. We liked the idea that even the purest being (an angel) could be attracted to human weaknesses, escaping from Heaven in order to hide in an unknown place. The listener should find this secret place!
The album includes a lot of different musical styles — progressive metal, speed metal, symphonic metal, gothic rock, and even a bit of electronica. What three words do you think best describe Darksky's sound?
Innovative, dynamic and… romantic!
What were the challenges of self-releasing an album like, "Where Angels Hide"?
Well, working on an album is not so easy and we made a lot of efforts (for executive production too!). Before the release, you can't even know if the people would appreciate it!
I can listen to "The Last Rose" again and again without ever getting tired of it. Which song means the most to you, and why? Do you have a favourite song to perform live?
The song which is nearest to my personality is "The Colour of Dreams" because at the beginning it is sweet like a ballad then there is a "strange" break and finally it explodes with a Metal ending. And I am like that!! My favourite song to perform on stage is "Lightstorm"!
The band was formed in 1997 by brothers, Francesco (guitar) and Max Diblasio (keyboards), as a male-fronted band. How did you become the vocalist for Darksky?
I have been part of Darksky since 2001, after the ending of my collaboration with Thy Sirma. I felt like doing something new, but always related with the Metal sphere. I liked Darksky's new compositions ("Crimson Butterfly") very much because they combined the power of Metal with melodic parts. We made some rehearsals and… here I am!
Did you always know you wanted to be a singer, or did you consider other paths for your life?
I would like to be a professional singer but… no strings pulled! (laugh) I think that my voice is my best quality; I was born with music in my own blood and I have always been quite in tune. But I started studying music late, at age sixteen.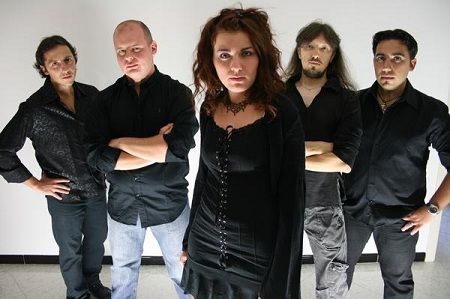 Would you please tell us a bit about your musical background and the backgrounds of the other band members?
My greatest luck was to meet a very special singing teacher: Carola Caruso. She built my voice, my own personality, and I want to thank her for this. I am still studying with Carola! The Diblasio brothers (Guitars and Keyboards) have a Classical/Power/Progressive Metal background. Davide Martinelli (Drums) comes from Thrash and Progressive Metal and our bass player Paolo Sciaresa loves Pop, Rock, and Metal in general.
Comparing the versions of "Lux Aeterna" on the mini-CD "Crimson Butterfly" (2005) and on "Where Angels Hide", the two versions sound quite different, particularly with the growling male vocals on the earlier version. Why did Darksky pick this song to re-record for the new album?
"Lux Aeterna" was the "Crimson Butterfly" song that obtained the best success. In the meantime, our line-up changed and musical evolution brought us to release it again in a lighter and more particular version.
In what ways did Darksky's music evolve between "Crimson Butterfly" and "Where Angels Hide"?
I think there is a big difference between the two works. "Where Angels Hide" is surely the result of a work done with higher maturity and consciousness. "Crimson Butterfly" is a "sharper" work in which we all were in the quest of our personality. In the new album we added some electronics and more catchy melodies. Moreover, the instrumental parts have been designed expressly for my voice.
When Alessandro Bertagna left the band, did Darksky consider getting another male growler?
In the beginning, we thought about it, but then, we understood that my voice was enough!
Having been in a couple of bands (S.K.A. and Thy Sirma) and provided vocals on Monumentum's "Ad Nauseam" album, how has your experience with Darksky compared?
They are all different experiences, but Darksky is the most gratifying one! In my past bands, I have always felt myself like a performer of somebody else's ideas … With Darksky, I can sing what my soul wants to express; so I can show how I really am and, in my opinion, this is the best union!
Andrea Stefanelli is a guest vocalist on the song "A Way Out for the Sinner". Did you know him from when you both recorded vocals for "Ad Nauseam" or some other way?
Andrea and me, we are old friends. We have known each other before the duet on Monumentum's "Ad Nauseam" album. I think our voices are on a pretty wavelength, so I like to sing with him very much. I hope we will have other common projects in the future!
You have been part of Italy's music scene for more than 15 years now. What are the biggest changes you have noticed during that time, whether good or bad?
There were not big changes in Italian scene… here in our country, you always have to fight. Abroad, the "Metal woman" role has had a big success in these years, so I hope we will get positive feedback and success in another country, sooner or later. In other countries, like England or the U.S.A., people are more into going to live shows, even if a band is not that famous. Sometimes, here in Italy you have to pay if you want to play live, and nobody cares about new and promising bands, overall if they come from Italy. There is a sort of xenophilia.
What are your goals for the future of Darksky?
We are already composing new tracks for the next album that will be a concept about man's multiple personality. The new thing is that, for the first time, I will write all the lyrics. And I am really excited!
Thank you for talking with us today, Alis! Do you have any parting words for your fans at Femme Metal?
I want to thank everyone who supports Darksky and listens to our music. I want them to know this is really important for me and the band. And thanks to Femme Metal for this opportunity and for the nice interview!
Links
MySpace * ReverbNation * Facebook * Twitter * Site
Label : Prikosnovenie
Review by Stina
If you have a weak spot for haunting, subtly transporting soundscapes crossed by quiet rivers, inhabited by mythical creatures and enveloped in the soothing darkness of an Autumn wood, there are many wonderful moments on "Vernes-Monde" that are bound to inspire undiluted awe. Made up of textural, spacious three- to six-minute coldwave/ethereal/Dark folk compositions with 'heavenly voices'-like, mostly French-sung vocal lines, "Vernes-Monde" is a welcome reminder of how some albums do not need bombastic, pumped up arrangements to feel magniloquent and absorbing. Whether heard in earphones or on a stereo, the music of this long-standing collective going by the name of Collection d'Arnell-Andréa – who has thus far flown beneath my radar, or rather maybe soared far above it, in spite of having a long story that traces back to the 80's! – is so warm and enveloping that will be felt all around the listener, weaved through lush synths, cello laments, cherubic acoustic guitars and lead singer Chloé Saint-Liphard's flawlessly discreet, almost fragile vocal performance laying down Romanticism-inspired lyrics – elements that coalesce into a sound that it's solemn and evocative without coming off as artefact or redundant. For these reasons and much more, "Vernes-Monde" will appeal to anyone with even a casual interest in the genre, and the outstanding vocals of Chloé showcase an introspective, nightly face of female interpretation that will undoubtably endear any fan of female voices.
Rating – 88/100
Tracklist
La Beauce, l'Errance
Au Chevet des Faunes
The Coming of Believes
D'Autres Voix que le Vent
The World We Leave
Les Champs, Demain
Dawn Again
Les Sables-Mémoire
The Wan Plain
Vernes-Monde
Line Up
Chloé St Liphard – Vocals
Vincent Magnien – Electric guitar
Carine Grieg – Piano, keyboards & vocals
Jean-Christophe d'Arnell – Piano, keyboards, drums
Franz Torres-Quevedo – Bass, acoustic guitars & vocals
Thibault d'Aboville – Viola
Xavier Gaschignard – Cello
Links
6 color styles available:

Style switcher only on this demo version. Theme styles can be changed from Options page.