Browsing articles tagged with " angra"

Interview by Robin Stryker

Two years after releasing their debut album "Reversing Time", Greek/Turkish progressive symphonic melodic metal band, Dreamtone & Iris Mavraki's Neverland, returns with its second album "Ophidia" (AFM Records 2010). Femme Metal sat down with Greek female vocalist, Iris Mavraki to get the inside story on the band and its new album.
Welcome, Iris, and thank you for joining us today! Would you start off by telling us why you joined forced with the Turkish band, Dreamtone, to form Neverland? What was it about Dreamtone's music that caught your attention?
First of all, hello Robin; it's a pleasure to be with you! Well…. A few years ago, my son Orpheus Spiliotopoulos, who was at that time reviewing for the Greek site MetalTemple.com, suggested I listen to a CD entitled "Unforseen Reflections" by a band called Dreamtone. I was immediately, tremendously impressed by the power of their compositions and the symphonic elements in their music. Then I found out that they are from Turkey; a nice surprise to me as I was then also singing with the Turkish Symphony Orchestra, so I suggested we get in touch. There was something in their music, something really different.
Neverland was born as a project to combine metal with a symphony orchestra for live performances. At what point did Neverland mature from a concert project into a full-fledged band?
That didn't take long really! As I mentioned above, that's how it started in my mind for sure, the metal band working with an orchestra and being about the live performance. It was certainly our first idea for it, but we quickly realised that there was so much more interesting material and potential that could be shared, and that it had to be right to start a new band recording our own music! We decided to unite forces and become Dreamtone & Iris Mavraki's Neverland, and we've never looked back!
For someone who has never heard "Ophidia", how would you describe the album's sound? And, for fans of "Reversing Time", what are the biggest differences between the two albums?
I think "Ophidia" has the more powerful sound of the two but it also combines, in some parts, an Anatolian, Mediterranean, spicy touch, Medieval parts, symphonic parts and bombastic melody too. I think it goes further than the first one! "Reversing Time" was maybe more symphonic; we had The Istanbul Philharmonic Orchestra play on it, but both albums ultimately have the identity of Dreamtone & Iris Mavraki's Neverland because they're written with all the musical styles present.
Which bands have influenced Neverland's sound the most?
Hard to say as I think each and every one of us have different influences. But, if asked specifically, I would say: Blind Guardian, Jon Oliva's Pain and many others!
What does "Ophidia" mean, and does the title play into the album's overall theme?
Well, "Ophidia" basically tells the story of how the evil inside every one of us slowly corrupts anything and everything. Our title track is basically a semi-electronic, semi symphonic, mid tempo piece with its subtle change of pace as well as some nice guitar tricks. The song covers the theme from the perspective of "evil" as having a tongue and speaking. The song presents evil as a "snake", slowly crawling inside our minds. "Ophidia" means worshipping the snake or following the path of the snake. Since humans almost always lie, the song suggests that we are all Ophidians… In the album, there are a lot of different meanings in the songs as well though, I don't think we had a total concept of "Ophidia", but just tried to represent just a few of them.
Please tell us a bit about your musical training and background. Also, who are your personal musical heroes?
Well, I studied classical piano and had singing lessons at the National Conservatoire And Hellenic Conservatoire of Greece in Rhodes. I was a member of the Municipal Choir of Rhodes for about 10 years, and a member of an amateur theatrical group there. I have been singing alone and with bands for many years and with Symphony Orchestras from Turkey and elsewhere, at numerous concerts for the "environment", "against racism", "antiwar concerts", "for human rights", etc. I had many different influences, starting with: Joan Baez, Maria Callas, Janis Joplin, Pink Floyd, Metallica, Trans Siberian Orchestra, Leonard Cohen, Blind Guardian, East West Divan Orchestra and Daniel Barenboim, plus Mikis Theodorakis who you might know? I was very lucky back in the 80's to have had an audition with David Gilmour (Pink Floyd). I think that all these years of experimenting with many kinds of musical styles and in several different languages, have given me a wide range of repertoire and experience.
With your background participating in human rights concerts and given the historic tension between Turkey and Greece, how important are politics to Neverland?
It's not really about this, but there is some aspect of it to think about I suppose! If you think about it, our countries have had bad relations for many years and are slowly recovering from these wounds of the past, so it is important that we help promote such a conscience, especially in the young. To build a cultural bridge through music is the best way to spread messages of hope and peace, as music is a universal language, no? "Politics" in the narrow sense of the word, is for Politicians. I think, for us, it's a matter of keeping eyes open helping people to be more aware of things. We, as people from Greece and Turkey, have far more to share than those who try to divide us can take away! We share the same sun, and that means "light". It's politicians that create the problems, not us!
The new album has fantastic guest appearances by metal vocalists Jon Oliva (Savatage, Trans Siberian Orchestra, Jon Oliva's Pain), Edu Falschi (Angra, Almah) and Urban Breed (Pyramaze, ex-Bloodbound, Tad Morose). How did these collaborations come about?
Oganalp and our band members contacted all of them and asked them if they would accept an invitation to be our guests basically, and it's so wonderful that they all accepted. It's really wonderful having people like this on our new album. It's humbling!
Neverland will be touring Europe with Jon Oliva's Pain in October. Is the tour a direct result of his guest vocals on "Ophidia"?
We were planning to go on tour anyway, but, I think Jon's appearance on our album definitely played a role. I think the general reaction to the album from the fans is also so great that that plays its role too and is the main reason for us being accepted on the tour.
One of the most touching songs on the new album is "Places Unknown", a farewell to Mike Baker (Shadow Gallery) who passed away in 2008. During the upcoming tour, will Neverland perform "Places Unknown" or "Reversing Time" (feat. Mike Baker) — the title track from Neverland's debut album, which was also Mike's last official release before his death — or are emotions still too raw to sing these songs during a live performance?
Emotions are, of course, still present and raw. It was such a shock for us, and especially for the Dreamtone guys, who were in touch with Mike for a long time. But the fact that he sang "Reversing Time" and that this was his last song recorded; you know the lyrics of the song? Well, it seemed to me, very strange. There are sometimes things you simply just can't explain in words and that is one of them, sorry! Yes, we will be playing these two songs, definitely! May Mike rest in peace and in our memories.
Speaking of tours, how was ProgPower Europe 2009? What is your best memory from the festival?
It was a terrific experience; bands from different countries, a fantastic audience that came just for the Festival. It was amazing. I was impressed by Evergrey's acoustic performanc. We had lots of fun and good memories. We hope to be there soon, once again. Promoters, audience and bands were all awesome and very friendly to us!
Congratulations on the video premier of "This Voice Inside" on Headbangers Ball (MTV Greece)! Why did Neverland pick this song as the album's first music video?
Well, "This Voice Inside" is about the main character of "The Wheel of Time" series, Rand Al'Thor, one of the main characters of the book. It mainly tells of Rand's unwilling turn into an anti-hero, whilst constantly trying to battle with the voices inside his head. It's a powerful song. You're right. It had its premier on Headbangers Ball (MTV Greece)! In fact, they will be presenting it again, as we have a concert in Rhodes at the Colorado Club (Rhodes) on June 10th. We picked the song because it was powerful, of course, but also because it somehow defines the album's sound. There are more complex and alternative tracks than that one, but it shows generally, what to expect from the album!
Which is your favourite Neverland song of all time, and why do you feel a strong connection to the song?
Mine is actually "Black Water", off "Reversing Time". It talks about, black water; oil, or more specifically petrol and reminds us of the eternal fight humans seem to need to have to keep control over it. It is a lovely song also, from the pure musical side!
If you could design the perfect Neverland gig, what would it be like (venue, guest appearances, etc.)?
I would love to do this! First of all, I would design it with a Symphony Orchestra, of course, live with Neverland. I would have all our guests appear also, in memory of Mike Baker. I'd do two big concerts. One in Athens and one in Istanbul. And I would give this the title, "Connecting Bridges"!
How is 2010 shaping up for Neverland?
So far, it looks very exciting. In Rhodes, the concert is organized by the Road Knights, the MCC of Rhodes (The Harley Davidson Club of Rhodes) and my son Orpheus will present "Ophidia" and us. Orpheus presents Headbangers Ball (MTV Greece) now and is also writing for Rock Hard (Greece) and they will be our Media Sponsors. Then we're preparing for our European tour with Jon Oliva. It will be great. There are many shows booked, and we will visit several countries. I believe we've just added two more gigs, one in the Czech Republic and one more leg in Germany? It will be a great experience,w e will have a real chance to connect with our European listeners, and I'm so looking forward to it. 2010 is probably going to be our most active year to date.
Thank you for taking the time to chat with us, Iris. Do you have any parting words for your fans at Femme Metal?
I thank you also, it was a pleasure to speak to you. Thank you for some really good questions. I send our greetings from this part of world and hope to perform somewhere close to you soon, hopefully in the UK? Keep listening and supporting Metal Music; it's a good way of life and it rocks!
Links
MySpace * Facebook * Twitter * Site
Latest Multimedia
Interview by Andy Axworthy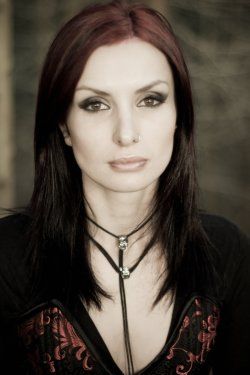 Based out of São Paulo, Holiness have hit the ground running with their first release, a gem of an album boasting as good a set of melody-driven metal tracks that you are likely to hear this side of 2011 and one that grows on you more with each listen. Femme Metal sat down with vocalis Stéfanie Schirmbeck to talk about the power and the potency that is "Beneath The Surface".
Hi Stéfanie – welcome to Femme Metal. It must have been some journey, starting from Erechim in 2006 to Sao Paolo in 2010. What has it been like and what can you tell us about your fellow band members in Holiness?
Hello everyone from Femme Metal!! Since Holiness' beginning it has been a really hard working time for all the band. We are still building our base as a metal band. In São Paulo we are having more opportunities to show our work than we did in Erechim, so we are really glad! I believe that me and the guys are going through a learning period; they are really dedicated musicians, and easy people to live with.
Your first album "Beneath The Surface" is new to us, however it's been available for a while in Brazil. How has having a CD released changed life for the band and how do you feel the album has been received by your fans?

Actually, the decision to launch the CD was completely ours, we didn't have a label supporting us, so from the beginning we were prepared to leave our family and our home. We all feel that the album has been really well received by fans and critics here in Brazil. They are interested in our ideas and in what made us choose this kind of music.

The album was produced by Aquiles Priester with keyboards performed by Fabio Laguna, both members of Hangar. How did they become involved and what was it like to work with them on the album?
Aquiles was doing a workshop in Erechim and we told him we had a band. At the time he was part of Angra, which is a band known around the world. We sent him our demo and he liked it, so we arranged the details and started to record the album. We were able to see how things worked; we really learned a lot – it was a new world shown to us.

You also employed the talents of Adair Daufembach as sound engineer and Tommy Newton on mixing/mastering duties. What did you gain from the experience that they brought to the recording process? Also, how did it feel and what did you think when you were recording and listening to the playbacks for the first time?
Adair is an amazing professional, and most important, he's an amazing person! We became friends after the recording. We learned a lot from him and Tommy Newton was really open and attentive to our taste. The first time I heard the songs, when they were ready, I felt very happy and satisfied.

The pre-production video on your MySpace page shows a band that look like they are really enjoying themselves. What can you tell us about that time, the place and your adventures with the swimming pool? ; )
Haha, that place is my father's farm, he lent the house for the pre production and recording of the album. We were isolated from the world at that period, so we ended up getting kind of retarded, hahaha!! On the last day of recording we had a party to celebrate, I was all dressed up and they threw me into the pool, and the water was really cold!! The results certainly speak for themselves – "Beneath the Surface" is a very good album. Your style has been described variously as melodic power metal to romantic and emotionally charged. How would you describe Holiness to readers who have never heard your music before?
Thank you! I think is a huge mix of influences from all the members. I really like the definition that a friend gave to our sound: he said it's "Modern Metal".
You also have the video to "Into The Light" up on your MySpace page. What is the story behind the song, the film, and the location?
The song talks about moving on, leaving a bad situation by choice, and we did the screenplay based on Spiritualism.The guys are lost souls who don't accept their own death, so another spirit comes to send them to the other side. The location has a really interesting story; the house belonged to former governor of Santa Catarina, a very important person for the country's history.
You have a beautifully rich and resonant voice. How did you get into singing and how do you take care of your voice now you are in a band?
Thank you! I started singing because I used to play guitar in a band that had no singer, so it was like: "you'll sing", and I started to like it – it was a long time ago… I take care of my voice doing singing lessons, sleeping well, rarely drink and eat soft foods.
Who or what are your influences, both as a singer and on your music in general?
As a singer right now I'm searching for my own style, as a musician I like to listen to Hard Rock, Heavy Metal, Progressive, Metalcore and gothic Metal. I don't listen only rock bands, I also like pop rock bands and some Brazilian rhythms.

You have already worked with Hangar, providing vocals on their track "Dreaming of Black Waves". Do you have any more collaborations planned and if you could choose any one musician to play on a song with Holiness, who would that be and why?
Right now, I don't have any collaborations planned but if I could choose someone I think it would be James Labrie, we are all Dream Theater fans and it would be amazing to have his voice on our record.
There is a cover of Alanis Morissette's "Uninvited" on the album, and you have also covered Eurythmic's "Thorn In My Side" for the Japanese version of the album. How did you come to decide on these two tracks, and if you could pick one Holiness track to be covered by the band of your choice, which track and which band would you choose?

We decided we wanted "Uninvited" for the Album because Alanis is one of my first influences as a singer, and I love this song! It's really intense and spiritual…
If I could choose a song I think it would be U2 playing "Waiting for a Change" because they sound unique and we would like to hear the result.

Talking of the album release, at present the cd is available from yourselves and Die Hard Records in Brazil, with a couple of tracks available through Talent Space Records in the US. "Beneath the Surface" cries out for a more general release. Is this something you are working on and if so, how are things progressing?
Yes, we are looking for a nationwide distribution in Brazil; we would also like to sell our record in Europe. Right now we are making contacts and reviewing proposals.

Can you tell us about your tastes in clothes and jewellery? What catches your eye and do you find yourself going for a certain style or is it down to whatever your favourite things are in that moment or whenever you play live?
I used to wear a black a lot – now I'm in a lighter stage. When I'm on stage I like to use corsets, leather gloves, jeans and combat boots. I don't wear jewelry much, I have a necklace my mother gave me and I use it everyday, that's all.
Talking of live performances, you have a couple of shows in Sao Paulo in September. How is the music scene in that area and if and when you come over to Europe, which festivals would you like play if you could take your pick?
I think São Paulo has the stronger Metal scene in the Country; it is the best place to be if you want recognition and opportunities. We would really like to play in Europe, in festivals like Wacken Open Air, Download Festival, Graspop Metal Meeting…

If you were not singing for Holiness did you have a Plan B? What would you be doing instead?
I went to college and graduated. I studied fashion and I would be starting my business. Some day I will – It's in my plans.
Finally, what sort of plans do Holiness have for rest of 2010 and into 2011?
We'll be working on Beneath the Surface tour until next year, we hope it leads to all corners of the world and then we'll start working on our next album.
Stéfanie, thanks for sharing your thoughts with us. Is there anything else you would like to say or add before we let you escape? : )

Thanks, I really enjoyed it!! I would like to thank the love and support people have given us!
Thanks for the Space!
Links
MySpace * Facebook * Twitter * Site
Latest Multimedia
Label : Spider Rock Promotion
Review by Tony Cannella
"Last Day of the Earth" is the title of the debut EP from Italian Progressive/Power Metal band Lunocode. The band lists artists such as Dream Theater, Stratovarius and Angra as influences, so it is easy to discern where Lunocode are coming from musically. Within this 6-song, 34-minute debut effort there can be no denying the musical capabilities of Lunocode. After a brief intro "Different Meaning", the band is out the gates like a shot with the Stratovarius style opener of "Flow, My Tears", the best song in my opinion. After the sound of thunder, a monster guitar riff begins the next track "Universal Plan". This song continues the same up-tempo metal style that the previous track displayed. "Heart of the World" is next and it kicks off with a mini-drum solo before the track kicks in. The 9-minute ballad "Silent Thoughts" was probably my second favorite track and features a stellar vocal performance, despite its length, this song managed to hold my attention for its duration. "Last Day of the Earth" concludes on a rather quiet note with the acoustic "Invisible Tears". The style that prevails for the most part on "Last Day of the Earth" is closer to Stratovarius style Power Metal than anything else I can think of. Vocalist Cecilia Menghi does a good job throughout the disc, she does not utilize an operatic style, like so many singers in the genre and instead she has a soaring, powerhouse metal style that really elevates the material on the album. "Last Day of the Earth" is a rock solid debut from Lunocode and one for fans who love energetic, guitar-driven power metal music.
Rating – 83/100
Tracklist
Different Meanings

Flow, My Tears

Universal Plan

Heart of the World

Silent Thoughts

Invisible Tears (Acoustic Version)
Line Up
Cecilia Menghi – Vocals

Paride Mazzoni – Guitar

Giordano Buoncompagni – Guitar

Francesco Rossi – Bass

Perseo Mazzoni – Drums
Links
MySpace * ReverbNation * Facebook * Google Plus * Twitter * Site
Label : Free Minds Records
Review By Tony Cannella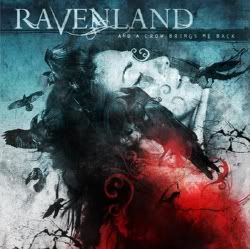 It is hard to believe that Brazil's Ravenland have been in existence since 1997. Even though it has been 13-years since the band first got together, they are only now releasing their debut full-length. They have beforehand released a number of demos and EPs, but "…And A Crow Brings Me Back" is their second full-length effort. Ravenland features the duel male/female vocals of Dewindson Wolfheart and Camilla Raven. The male vocals of Mr. Wolfheart are very similar to Fernando Ribeiro of Portuguese Goth legends Moonspell and Camilla boasts a powerful and dramatic voice. The two vocalists are split pretty evenly throughout the album. Musically and lyrically the songs on "…And A Crow Brings Me Back" paint a definite conceptual picture that certainly holds the listeners attention and makes for an interesting listen. The CD also includes a video of one of the best songs, "End of Light" is a pretty cool looking clip that was filmed in a castle and shows the band performing the song. The songs also have a darkly romantic quality to them. "…And A Crow Brings Me Back" is a 15-song, 60-minute dark, Gothic journey of a full-length by Ravenland, that fans of Moonspell and old school Goth will surely love.
Rating – 76/100
Tracklist
After the Sun Hides

She Will Bleed Again

Presage

The Last Sunset

The End of Light

Velvet Dreams

Burning for You

Soulmoon

Nas asas do Corvo

The Crow

Tragic Romance

Till Death Unite Again

Zodiac

Regret

Soulmoon (Bonus track)
Line Up
Camilla Raven – Female Vocals & Violin

Dewindson Wolfheart – Male Vocals

Albanes Gonçalves – Guitars

João Cruz – Bass

Fernando Tropz – Drums
Links
6 color styles available:

Style switcher only on this demo version. Theme styles can be changed from Options page.