Browsing articles tagged with " arcane"
Interview by Miriam C.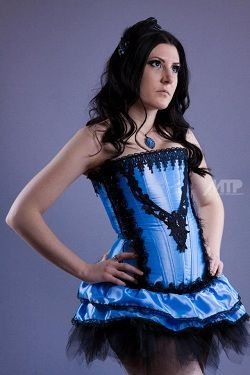 Schoolcraft is the solo musical entity leaded by Canadian singer and instrumentalist Lindz Riot. Recently she landed the touring female singer and keyboards position on UK symphonic extreme metal band Cradle of Filth and for this reason I thought it was a nice idea to ask her few questions about her next projects, her background and least but not last about her (former?) band Mary and the Black Lamb and her last release "Rushing Through the Sky". I'm sure that if you love ambient music, harps and cellos, you'll be get intrigued by Lindz.
Hi dear, how are you? I would like to start this interview asking more infos about your musical background/training. Also how do you manage to balance your classical training with the contemporary one?
Hey Miriam! Thank you so much for having me at Femme Metal Webzine. I actually started in country music when I was a child. I was taught guitar by my dad and that's where my singing started. I think the country style of voice training was a good foundation for me because it taught me the basics of belting as well as softer folky tones in the higher range. Well, I wouldn't call it training more so as just my own interpretation of it.
In my tweens I gave up music for a bit, but then when I turned 15 I discovered punk music and became very passionate about it. I formed an all-girl punk band and that's where I began in the music business and played bass for 8 years. I took lessons twice a week and really developed my song writing and basic theory skills at this time. I sometimes wonder where I'd be if I didn't give up the bass. I'm pretty sure I could handle technical death metal pretty easily, but the bass just wasn't in the cards for me anymore after the age of 20. Continue reading »
Label : Arcane Records
Review by Luisa Mercier
Schoolcraft is the solo project of Lindz Riot, singer of the Canadian gothic rock band Mary and The Black Lamb.
As solo artist, she decided to show us her skills with piano, since she is classically trained, drawing her inspiration from nature, fantasy, orchestral music and trip-hop.
"Your Mind" is a 2-track single which features the title track and "Where You Go".The first is a simple piano-driven ballad, sweet and melacholic. The mood reminds me of singer songwriters like Kirsty Thirsk or Johanna Stevens. "Where You Go" is more electronic based, with a trip-hop vibe. The vocals are more sensual and less naive, feels like floating in the air.  If this is just an appetizer of the album that will come, I will be really glad to listen to it! These two tracks sound really promising and diverse, so I am eager to listen to what she can do on her own! Continue reading »
Interview by Gabriella Chiodo

We have reached Julie Kiss, singer of UK Prog Metallers To-Mera, for let you know to our readers all the latest news in the house.
For who don't know yet, what is the meaning and the origin of the bandname To-Mera? Where do the idea comes from?
Well, according to some sources it is how the Ancient Egyptians used to call Egypt. I found it in a book I read about the association of sophisticated technology with magic in Egypt.
Could you describe the band briefly? Could you describe the style of the band? Could you quickly present what his To-Mera music?
That's not as easy task partly because To-Mera's music has never been too easily definable and partly because it has evolved a lot through the years. Perhaps you could say that from a mixture of goth-prog-symphonic-thrash-death it evolved into something a lot more heavy, melodic and rhythmically complex with some slight jazzy overtones…
Which music genres influencing the composing work of music and lyrics?
Musically it really depends on what Tom's been listening to, which has recently been a lot of jazz & classical music as well as bands like Textures, Pain of Salvation…lyrically it's a mixture of personal thoughts/feelings/events entwined with deeper philosophical and more recently socio-political content. In the beginning there was also an influence of dark gothic literature such as Poe and Lovecraft.
Most of the tracks are long around 8 minutes. Is it a choice or is it a spontaneus event?
It's spontaneous in that Tom will develop a song until he feels like it's complete. This apparently seems to happen around 8 minutes.

How do you see yourself compare to the others female fronted metal bands?
Well, I like to think the music of To-Mera is a fairly unique concoction within the metal scene in general be that female or male fronted bands. Going from our experiences at the Metal Female Voices festival, we've certainly raised a few eyebrows while impressed others. That's just how we are – an odd bunch I suppose.
Let's talk about the new EP "Earthbound": what's the evolution on To-Mera music from the first album?
Arguably it is still the same band, however the style has changed quite a bit. The song writing is much more polished and the music a lot more homogenous in a way. Influences from in and outside the metal scene are still present but are a lot more subtle. So interestingly although the music in a way is more accessible from a song writing point of view, from the opinions around it seems the EP is one of those records that need a few spins before they reveal their true selves.
Could you tell which themes are present on the songs of the EP? How would you describe the general feeling and atmosphere of "Earthbound"?
I think it's a lot more 'laid back' and confident but with a sinister duality – it's passionate and uplifting yet it also slightly subdued and disillusioned, which perhaps is not surprising considering the last couple of years…The lyrical themes, as usual, are a mixture: The starting song "Mesmerized" is basically about the blindness of society which has integrated in itself a system of consumerism which it follows with an almost animalistic determination. Everything is fair game, everyone's disposable, all that matters is profit. It knows that it's not making it happy/happier yet it blindly follows anyway even if it eventually leads itself towards self-destruction. The 2nd song "Arcane Solace" is then quite a contrast. It's plainly and simply about being terrified of falling in love…In the face of a 'mystery too great to deny' however, there is no other choice but to give in and let yourself burn whether it elevates or consumes you. "Earthbound" was literally inspired by my extreme difficulties in getting out of bed in the mornings!;) Of course there is a lot more to it and in fact it's probably my favourite set of lyrics on the EP. It's about waking up and realising that your dreams have changed that you as a person have changed…that things that you dreamt of are just not important in the same sense anymore and yet it still hurts to let them go. The final song "Another World" then sort of runs along similar lines as "Mesmerized" but on a lot more personal level. It's about realizing that you're not powerless as an individual and wanting to take an active part in changing the world or..well, just to live as you feel is right as opposed to what's expected by society.
The last question : why, after 2 full lenght, you have decided to split from Candelight Records?
It's simply that we couldn't agree on the particulars of the new deal so we decided to just go and do our thing…a bit of an experiment if you like.

Links
MySpace * Facebook *Twitter * Site
Label : Curzweyhl
Review by Luisa Mercier
"Arcane" is the fourth Elane release and its music is inspired by the work of Kai Meyer, a German fantasy author that has published more than 50 books since '90s. Elane and Kai met at a concert in 2006 and both agreed that their books and music could be perfect together, so "Arcane" is inspired by his novels and characters. The themes are present both in music and lyrics so let's start this journey! "The Gift" is a short atmospheric intro, while in "Heart of the Desert" we get a taste of Joran's powerful vocals: the production quality is very high; just listen to acoustic guitar, keyboards and percussions. "Samarkand" has a strong Middle – Eastern influence and it marks a new influence in Elane's work, world music. In "Arcane Ride" you can hear all of the Elane influences combined together: folk and progressive mixed with Joran's beautiful voice. The transition from a passage to another are smoothly arranged through the use of violin. Similar structure for "Magdalena", with sultry strings arrangement and choir in the background, one of the highlights of the album. The band does write also in other languages than English and "Wasser und Fels" and "Die Geheime Melodie" are two short example of German-titled instrumentals with tin-whistles, strings and Joran's vocalise. Cello makes its first appearance in "My Ivory Fairy", slow folk ballad with rich strings arrangements in the chorus. "Abendruf" is a mysterious song sung in German, while reminiscent of the band old works is the acoustic "Lurlinnlight". Enriched with flute it sounds sweet and delicate. Another folk-Celtic instrumental follows "Spinnerhaus", and then the Latin "Deae Noctis" adds a different flavor to the album, being gloomier and heavier, though the strings and Elane typical arrangements are still present. "Dammertal" is another piece in the puzzle of beautiful instrumentals, "Masken" is the only track sung by male vocals. Last song is "Goddess of the Night", more pop-oriented than the others, but equally good. "Arcane" is definetely a good album which can be enjoyed by folk lovers, but also by people with a different taste in music.
Rating – 85/100
Tracklist
The Gift

Heart of the Desert

Samarkand

Arcane Ride

Magdalena

Wasser und Fels

Die Geheime Melodie

My Ivory Fairy

Abendruf

Lurlinnight

Spinnenhaus

Deae Noctis

Dammertal

Masken


Goddess of the Night
Line Up
Joran Elane – Vocals

Nico – Vocals & Keyboard

Skaldir – Vocals, Guitar & Keyboard

Simon – Cello, Clarinet & Violin


Katrin – Violin
Links
MySpace * ReverbNation * Facebook * Twitter * Site
Interview by NocturnalConcerto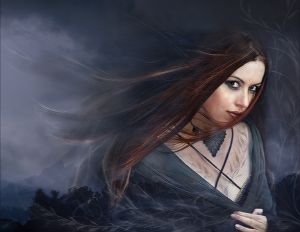 From the South of Germany comes the dark fantasy folk act Elane that present a challenging project called "Arcane", challenging because wants to merge literature and music with a hint of mysticism and ethereal vibes. See what the singer Joran and keyboardist Nico have to tell to us.
Hi Joran, thanks so much for accept the interview. First of all thanks so much! How are you?

Joran: Hi Miriam, thank you for your interest! I am fine, thank you.

Can you introduce the band with a little of history of it? Joran: Elane's members are Joran (Me) – vocals and flutes, Skaldir – Guitar, Nico – Keyboards, and Simon – Violin, Viola and Cello. Our sound is often called mystic folk. Well, the idea behind Elane was to start a soloproject, but soon the other musicians, Skaldir, Nico and Simon joined the band with their musical influences and ideas. The main mind was to create fantasy music… something that is very rare today.
Your latest album is called "Arcane" and it's based on the works of a Germany writer named Kai Meyer. First of all how it born this decision and who's Kai Meyer?

Nico:
Kai Meyer is a famous contemporary author of fantasy and historical novels in Germany. His books were also translated into many foreign languages, e.g. English, of course. I knew Kai's works before we personally met. And this was indeed a coincidence. I recognized Kai in the crowd during one Elane concert, and from that day the idea of "Arcane" grew.
Also why call the album "Arcane"? Does it to you have a particular meaning?
what's represent the cover album? There's this woman in the fog… Joran:
Yes, the cover artwork tells us that we can always expect something really mystical in nature and our environment. As written in "Loreley" you find something arcane behind the things, thus you'll find it in music as well. The lightsparks floating out from the hand lantern also symbolize the magic.

Did, during the composing of the lyrics, you have consult Mr. Meyer himself? And what Kai thinks about the album? Nico:
Kai was a perfect consultant. First of all he wanted "Arcane" to be a pure Elane album, not a soundtrack nor an audiobook-like story collection. And so he said: "Whatever you want
" Arcane"
to be – it is your decision". But, of course, we always asked for Kai's advice about the music and the lyrics. And he often gave the right little adjustments or redirections. Working together with Kai is simply fantastic. He gives you so much respect for your own work.
Doing a simple research I've discovered that Kai Meyer has already published 50 books, from which of these stories/novels you have taken more inspiration and why? Joran: I chose "Loreley" and "Die Sturmkönige" ("The Storm Kings") for two reasons. Firstly, I liked the settings of both books, because I always wanted to write something with oriental and medieval influences. And also because Kai signed a copy of "Loreley" for me with the words: "For Joran, who understands a lot of magical singin". Nico: For me his Books around the turn of the century till the 1920s are of great attraction. So I chose "Das Zweite Gesicht" ("The Second Face") for my songs "Masken" and "Goddess of the Night". It is the story of Jula Mondschein, an early film diva of high society Berlin of the 1920s. After her death her sister Chiara comes to her funeral and gets into a maelstrom of intrigues and mysteries herself. Then I contributed lyrics to Skaldir's song "Heart of the Desert", dealing with Kai's novel "Göttin der Wüste" ("Desert Goddess"), a magical book settled in former German colony of today's Namibia around 1900. Also I contributed "Magdalena" (based upon "Herrin der Lüge" ["Mistress of Lies"]), which is a song about the girl Saga. She was exploited to lead a crusade of virgins into the promised land under the name of "The Magdalena".
In the site in the banner appear in order, the following words : Mystic, fantasy and folk. Do you think that represent a sort of a band's anthem? Can you explain, you point of view, of this words for you, Joran?
Joran: It's almost impossible to describe a musical artworks style within just 3 words. It's like the smell of a flower, you have to try it yourself to know what it's like. But it is a small try to give just an idea or direction for people who don't like us yet. Let's doing a step back, what you can tell about the previous album "The Silver Falls"? Can you share with us some memories about the recording, writing process of it? For this album what was your source of inspiration? Nico: For us "The Silver Falls" was a break-out. The first 2 albums were pretty folky music, with mostly acoustic instruments with wide soundscapes and a fragile sense for melodies and instrumentation. But after the unexpectedly huge success of "Lore of Nén" we simply did not want to copy ourselves. First of all we wanted to give it a little try to do something different. And that is, what "The Silver Falls" was about. We used more distorted electric guitars than ever, had a studio drummer to make it sound a rock album with some mystic folk touches, but also some electronic sounds. And it was good to make your mind free for something different.

According to your site you are still signed on Curzweyhl label (and any news on the label site is present about "Arcane", so I presume that you're self produced) but I've noticed if I'm not wrong that "Arcane" is self produced, how's it hard to stay alive in the music business? How you plan the band activity? And why this choice? Never thought to sign with a suitable label? Nico: We always produced our albums ourselves. Skaldir is a brilliant sound engineer (Simon, too, by the way), so why enter another one's studio? And it was always important for us to decide about the music, lyrics, cover artworks and our future route ourselves. It is almost impossible to negotiate a record deal with a major label that allows you so much freedom of art. Regarding the music business it is indeed not easy to make the right decisions nowadays. It's not a secret that Elane's music is luckily able to refinance itself. But if we would not do everything by ourselves, this might look different. So, you see, there are no huge benefits for us, the composers and musicians. If you expect to make benefit with music, then stop doing what you like and start doing what the masses like. This is why we are happy about things being the way they are.

What are the next Elane projects? Joran: We are already writing songs for a second Kai Meyer-inspired album, because we had sooo many ideas. And for the future, we plan to continue doing what we love, without losing our roots.

So now I ask you this question, mainly my webzine promote metal bands, so really distant from your music genre but in some ways close in matter of ideas. If you should advice 5 celtic/ambient/folk album to a beginner, in your opinion what they are? Joran: Yes, Metal and Folk are somehow similar, they wear just another "robe" (I use to say). Well I like Loreena McKennitt, some albums of Clannad, and also some unknown Irish folk bands. Nico: I would advise the music of Dead Can Dance, Brendan Perry, ROME. I very much like Skyclad or recently I listen to Corde Oblique. But I don't prefer to think too much in genres. You should simply listen to good music, never mind about the instruments it's played with. Well, Joran, thanks so much for this interview hope you like it!! Love, Miriam x Joran: WE have to thank you, dear Miriam, for this interesting interview! Best wishes for you and your webzine.

Photo Credit
Photos by R.Hartmann/Glenvore Art
Logo by Glenvore Art
Links
MySpace * ReverbNation * Facebook * Twitter * Site
6 color styles available:

Style switcher only on this demo version. Theme styles can be changed from Options page.